The EE 4GEE Home Router 2 is designed as an alternative to conventional home broadband, as it delivers your connection over EE's 4G mobile network.
There are good and bad points to that as a concept, and also to this box specifically. We'll dig into all of those things below, but on the face of it, this is a promising router – it's fast (by 4G standards), it can get a lot of devices online at once, and it's very quick and easy to get up and running.
So, should you opt for the 4GEE Home Router 2? Or are you better off getting your broadband elsewhere? Read on to find out.
Design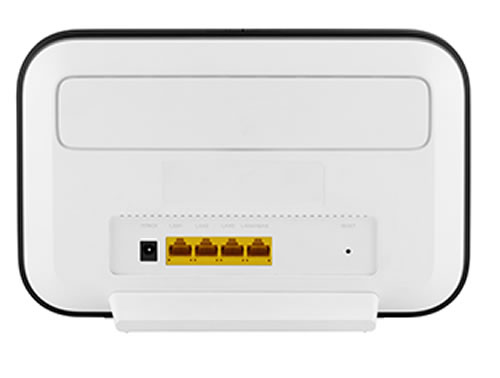 The EE 4GEE Home Router 2 is a white rectangle with a black frame. The two colours contrast nicely, but the shape is fairly ordinary – failing to stand out like the monolith-like Vodafone GigaCube.
Still, 'standing out' is usually low on people's list of wants from a router, and the 4GEE Home Router 2 instead fits in – especially if it's placed near other white or black gadgets.
It has a white stand, so it can sit upright, and it's reasonably small at 40 x 155 x 29.5mm. There's not a whole lot else to say about the design – it won't win any awards, but nor does it look any worse than most 4G home broadband routers.
Setup
Setting up the EE 4GEE Home Router 2 is simple, but no more so than most similar devices. EE claims that you can set it up in seconds, and that's more or less true, as while it comes with a quick-start guide, getting it up and running really just requires you to plug it in and turn it on.
So there's no need to schedule an engineer, and no need for a landline – that latter point potentially also saving you money if you don't need a landline for other things.
Settings (such as changing your device SSID and password) can be adjusted by connecting the 4GEE Home Router 2 to a computer, either using a USB cable or Wi-Fi.
This slick, simple process means even people who struggle with tech should have no real trouble setting this up, and it means you can get online in no time – the only wait is for the router itself to be delivered.
Performance
The 4GEE Home Router 2 supports download speeds of up to 300Mbps, and upload speeds of up to 100Mbps, both of which match or beat many rival devices, as well as being at the very high end of what can realistically be expected from 4G.
Indeed, your actual speeds will depend on a number of factors, most notably your coverage. EE claims that some areas average 31Mbps, so don't expect to get close to the top speeds in most cases, but that's still faster than many standard fibre broadband connections.
That means if you're in a place with good EE 4G coverage but poor broadband speeds, then the 4GEE Home Router 2 could be a great alternative to fibre broadband. However, it's never going to match the very fastest fibre speeds – but they're not available in most properties anyway.
Another thing to note is that of course this isn't a 5G device. That might not matter much now in most cases, since 5G coverage is very limited at the time of writing, but it means it's not as future-proofed as it could be – though it's also therefore cheaper than some 5G alternatives.
Beyond the speed, another key aspect of performance is how many devices a router can get online at once, and the EE 4GEE Home Router 2 performs well there too, topping out at 64, which should be far more than most homes need. Plus, it's got a 30 metre Wi-Fi range, so all but the very biggest homes will be able to get fully connected. There are four ethernet ports too, if you'd rather use a wired connection for any of your devices.
And if you need an improved signal there's also scope to attach an external antenna to the router, which can improve performance.
Alternatives
If you're open to other networks then there are a number of alternatives to the 4GEE Home Router 2 – though in all cases you should of course check your coverage before buying one.
There's the BT 4G Home Router for example, which actually uses the same network as EE's router, so coverage won't be a problem if you have coverage for the EE 4GEE Home Router 2. It also matches EE's for speed, but it can only get up to 32 devices online at once, and only has two ethernet ports, so it's slightly worse overall.
There's also the Huawei B535 (available from Three), which is a match for the 4GEE Home Router 2 in all the key areas – from speed, to simultaneous connections and ethernet ports. Though note that Three's 4G network isn't typically as fast as EE's.
Or you might want to consider the 4G version of the Vodafone GigaCube, which matches the 4GEE Home Router 2 for maximum download speeds, but tops out at a slower 50Mbps for uploads. It also only has support for getting up to 20 devices online at once, and just one ethernet port, so it's substantially lesser overall.
That said, there is a 5G version of the GigaCube, which ups the specs in a number of ways, as well as being far faster (if you have 5G coverage). Indeed, if you are in an area with 5G it's probably worth going for a 5G router to get the best speeds possible. You don't have to look beyond EE for that though, as the network also offers the 5GEE Home Router.
If you only have 4G coverage though, then as you can see the 4GEE Home Router 2 is a seriously competitive option in terms of specs and features.
Conclusion
The EE 4GEE Home Router 2 has just about everything you could ask for from a 4G router (other than gimmicks like the Huawei AI Cube). It's fast, can get loads of devices online at once, has loads of ethernet ports, and a decent range.
It's not 5G, and it's limited a little by EE's lack of an unlimited data plan at the time of writing, but those minor points aside it's a great buy – just check your EE 4G coverage first.