The BT 4G Home Router (or BT 4G Home Hub is it's sometimes known) is a 4G home broadband router designed to work with either BT or EE's mobile network (as BT owns EE and shares its infrastructure).
It's not entering a particularly crowded market, but it is a market that is proving hard to stand out in, as there's not a huge amount to differentiate most 4G routers.
So, does the BT 4G Home Hub do enough? Or are you better off spending your money (and getting your connectivity) elsewhere? Read on to find out.
Design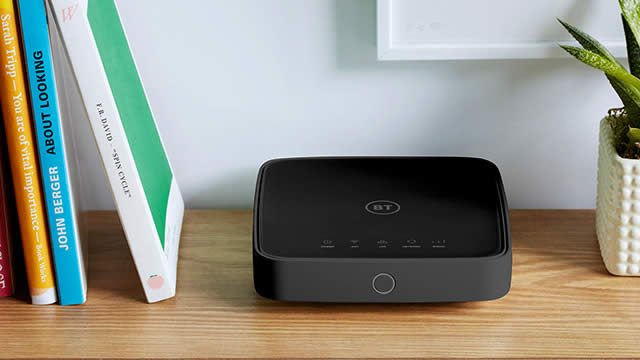 The BT 4G Home Router is a bit different to most 4G routers offered by networks simply because of its colour – it's black, where most rivals – such as the Huawei B535 – are white.
Colour aside it's not visually too much different, though it has a wider base than many and is designed to sit flat, where many other 4G routers stand taller but narrower. This makes it look more like the sort of router you'd typically get for a conventional wired broadband connection.
The design of the BT 4G Home Router is fairly plain though. There's BT's logo and some status lights but otherwise it's a plain black box. Which is fine, since a router doesn't need to be a looker, and indeed few are.
Setup
Like most 4G routers, the BT 4G Home Hub is easy to set up, as it's basically just plug and play – there's no need for an engineer to do anything, you can do it all yourself, so the only waiting is for the router to arrive.
You can manage settings from a PC, connecting the router to it by Wi-Fi or cable. This will allow you to change security settings and the like, and it's all very straightforward.
As you're connecting to a mobile network you also have the flexibility to take the BT 4G Home Router with you and immediately set it up again when you move to a new house, or even if you stay in a hotel or something – as long as there's coverage.
This also means there's no need for a landline – so you can ditch yours if you're not using it for calls, potentially saving you money.
Performance
Performance is the main area where 4G home routers can differ, as well as typically being the most important aspect of them.
On that front the BT 4G Home Router performs well, but not quite as well as some. For speeds it's highly competitive, as it's a Cat 7 device with support for up to 300Mbps download speeds and 100Mbps upload speeds. At the time of writing you won't find a faster 4G router offered directly on a UK network – though some match it, as detailed below.
Note however that in practice you're not likely to get those speeds. BT claims that the average download speed offered by its router is just 30Mbps, though this too is in line with rivals. Your actual speed will of course largely depend on your BT 4G coverage.
BT claims that the BT 4G Home Hub has a range of 30 metres, so it should be able to cover all but the very largest of homes.
So far so good, but where it's not quite a match for some is in how many devices it can get online at once – that's limited to 32, while some rivals offer double that. Still, 32 will be plenty for most people.
The BT 4G Home Router also supports dual-band 802.11a/b/g/n/ac Wi-Fi, so it works on both the 2.4GHz and 5GHz bands. It has two SMA sockets for connecting an optional external antenna (handy for boosting performance in some locations), and there are two ethernet ports for wired connections – though note that some rivals offer four.
Alternatives
The first thing to note is that if you want to buy a 4G home broadband router from BT, this is your only option, but if you're open to other networks then there are some notable alternatives.
The Huawei B535 offered by Three is the most notable, as it matches the BT 4G Home Hub for speed and antenna sockets, but it can get up to 64 devices online at once and has four ethernet ports – in both cases double what the BT router offers. Though also in both cases that will be of limited use to most people, so this isn't something to worry about unless you have a huge number of internet-connected devices, or need a lot of wired connections.
Then there's the 4G version of the Vodafone GigaCube, which is a lesser device, as while it has download speeds of up to 300Mbps, its uploads top out at 50Mbps. Plus there's just one ethernet port, and only the ability to get up to 20 devices online at once.
One alternative you might be considering is the 4GEE Home Router 2 on EE, as this uses the same network as the BT 4G Home Router. It's also a very similar device, with the same maximum speeds and number of ethernet ports, but it arguably edges over BT's option as it can get up to 64 devices online at once.
Finally, we'd highlight the oddity that is the Huawei AI Cube. This – like the Huawei B535 – can be bought direct from Three, and as a 4G router it's not special – while its max download speeds are 300Mbps, its uploads are 50Mbps, and it has just one ethernet port, though it does have the edge over the BT 4G Home Router in one way – it can get up to 64 devices online at once.
However, the real reason to consider the Huawei AI Cube is that it also has a smart speaker built in, one which uses the Amazon Alexa voice assistant. So you can play music, look up information, and control smart home devices through it, all with your voice.
Conclusion
The BT 4G Home Router is a highly capable 4G router. It's among the fastest you'll find on a network, has decent range, and multiple antenna sockets. It also benefits from being on the UK's fastest 4G network (BT / EE) according to most tests.
That said it's not perfect – those with particularly connected homes might want the peace of mind offered by a router that allows for more simultaneous connections. The limited number of ethernet ports could also be an issue for some, as could the lack of an unlimited data plan on BT.
If you don't specifically want to be on BT there are better alternatives, most notably the Huawei B535, and there's also the 4GEE Home Router 2 on EE, which is arguably slightly better and uses the same network. But most buyers will be absolutely fine with this, and it's certainly a stronger choice than some 4G routers.