If you're considering 4G home broadband on Three then you only really have one option when it comes to a router: the Three 4G Hub.
But if you've read about a Three 4G Hub in the past, that probably wasn't this, as the network has upgraded the hardware, replacing the old model (a rebranded Huawei B535) with a new one (a rebranded ZTE MF286D).
We won't dwell too much on the differences here, but in short the new model is a clear improvement, offering higher maximum speeds.
What we will look at though is how good it is in the age of 5G, and how well it stands up to rival 4G home broadband devices on other networks, so you can make an informed choice on whether to buy the current Three 4G Hub.
Design

The Three 4G Hub – or the ZTE MF286D as it's called if you choose to buy it elsewhere – is a sleek white monolith that gently curves upwards so that it's wider at the bottom than the top.
It has a blue segment in the centre that contrasts nicely with the white sides, especially when viewed from the sides, but front-on it's a fairly plain white box.
Coming in at 180 x 170 x 30mm, the Three 4G Hub doesn't take up too much room, though its design means that it's tall rather than wide, which might or might not work well for your space.
Overall we'd give it a visual edge over many other 4G home broadband routers, such as the even plainer EE 4GEE Home Router 2, but that's subjective, and neither device is overly stylish.
Setup
If you've ever had conventional broadband – such as fibre – installed then you'll probably be familiar with what a headache that can sometimes be. It tends to involve a long wait followed by an engineer visit, but with the Three 4G Hub there's none of that.
Once you receive the Hub (with free next working day delivery offered) it's a plug-and-play device – in other words, it's basically good to go as soon as you switch it on.
You may – especially if you don't get it from Three – need to insert a SIM card first, and there are additional aspects of setup that you can carry out, such as changing the network name and security settings in the admin panel, but this is all straightforward.
In terms of just getting your devices online, that can be achieved almost instantly, and with no technical knowledge required. And of course, no engineer visit.
It's worth noting however that the ease of setup here isn't unique to the Three 4G Hub – this is a selling point of all 4G (and 5G) home broadband routers.
Performance and speeds
The Three 4G Hub is a speedy little device, supporting maximum download speeds of 600Mbps, though typical download speeds are more in the region of 50-100Mbps.
Still, that's in line with most fibre broadband connections, and the top speed is far higher than most rival 4G home broadband devices, such as the EE 4GEE Home Router 2 and the Vodafone GigaCube 4G, both of which top out at just 300Mbps.
The Three 4G Hub is a Cat 12/13 device, and also supports upload speeds of up to 150Mbps – though again, real world speeds will be a lot lower than that.
The Three 4G Hub also supports up to 64 simultaneous connections, which should be plenty for any home, and it includes support for both the 2.4GHz and 5GHz Wi-Fi bands.
Features and software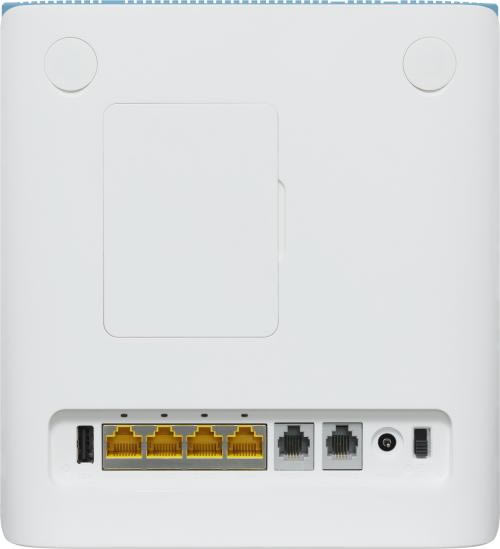 The features found on the Three 4G Hub are fairly standard, but worth mentioning nonetheless. For a start, you get four Ethernet ports here (all located on the back of the device). So these can be used to plug things in for a wired connection, if they don't support Wi-Fi, or if you just want the greater speeds and reliability that a wired connection can bring.
Beyond that, it not only obviously has an internal antenna, but also a pair of external antenna ports, so that you can optionally attach an external antenna. This could boost the performance of the router, so it's a useful option to have.
Software-wise there's a web interface for changing the Three 4G Hub's various settings – though this is something you'll have to access from a separate device, such as a PC.
Alternatives
There are a number of alternatives to the Three 4G Hub, but if you're signing up for home broadband directly with a mobile network (rather than buying a router separately and then finding a SIM-only plan for it) then the EE 4GEE Home Router 2 and the Vodafone GigaCube 4G are the main rivals.
These are both 4G home broadband devices, and both support maximum download speeds of 300Mbps, which is just half of what the Three 4G Hub tops out at – though none of these devices are likely to get close to their maximum theoretical speeds anyway.
You also get slower upload speeds, of just 50Mbps on the GigaCube and 100Mbps on the 4GEE Home Router 2.
As for simultaneous connections, the Vodafone GigaCube 4G tops out at a disappointing 20, but the EE 4GEE Home Router 2 matches the Three 4G Hub at 64. It matches the Three 4G Hub for Ethernet ports too, with four included, while the GigaCube 4G only has one.
So it's hard to recommend Vodafone's option over Three's, unless you have better Vodafone coverage at home or find it on a great deal. EE's though is a worthy alternative – it's potentially slower and therefore slightly worse, but in real world use you might not find much difference.
Of course, if you want the highest speeds possible then you'll want a 5G home broadband router such as the Three 5G Hub, 5GEE Router 2021 or Vodafone GigaCube 5G. Behind the scenes the first two of those are actually the same device as each other, and all are far faster than the Three 4G Hub – but only if you have a 5G signal.
Plans
You can get the Three 4G Hub on its own on a 1-month, 12-month or 24-month plan. The cheapest monthly cost is on the 24-month one, which comes in at £22 per month with no upfront cost, while 12 months is £25 per month with no upfront cost, and 1 month is £30 per month with £29 upfront. All of these plans come with unlimited data.
At the time of writing you can also get it with bundles, which include the likes of an LG TV, an Apple TV HD, a Nest Hub, a Nest Audio, or an Echo Show 5. Some plans come with a combination of these things, and while some cost extra, others are thrown in free.
Those are impressively low prices compared to much of the competition, especially considering that the plans all come with unlimited data – something which not all networks even offer for 4G broadband.
Plans also come with a 14-day money-back guarantee. Of course, while all of this was accurate at the time of writing, it's possible that the plans and prices will have changed by the time you read this, so double check before buying.
Conclusion
The Three 4G Hub is the top 4G home broadband router option that you can get direct from a network at the time of writing, and that's before you factor in Three's palatable pricing.
So if you have decent Three 4G coverage where you are then this would be our number one choice in the category – though some of the alternatives aren't much worse.
Of course, 5G home broadband is even better, so if you have 5G where you live then it's worth considering that, though it will cost you more.