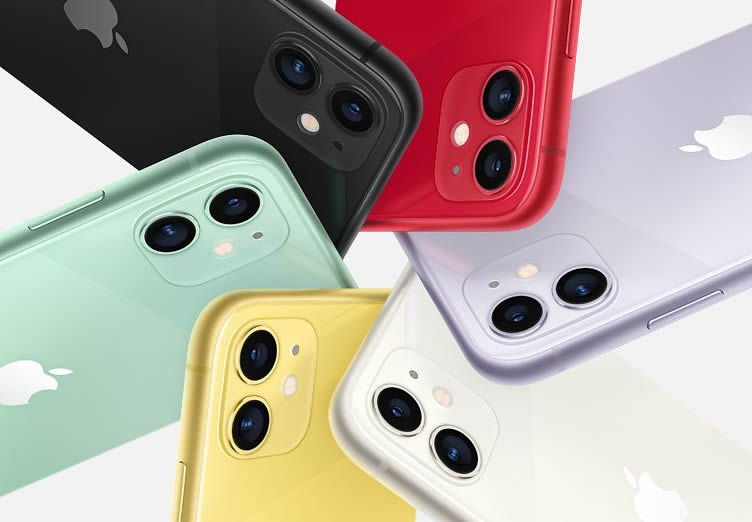 Apple didn't used to offer many different iPhone sizes, but now there are quite a few, going from under 4 inches to almost 7 inches.
However, different sizes are better suited to different people and to different use cases. So to help you find the right size iPhone for you, below we'll look at what the good and bad points of each size is, and what type of user they're best suited to.
We've split Apple's iPhone selection into three different size ranges for this article, and one of the three will likely be ideal for you, so read on to find out which.
Which iPhone is best for me?
Over 6-inch screen models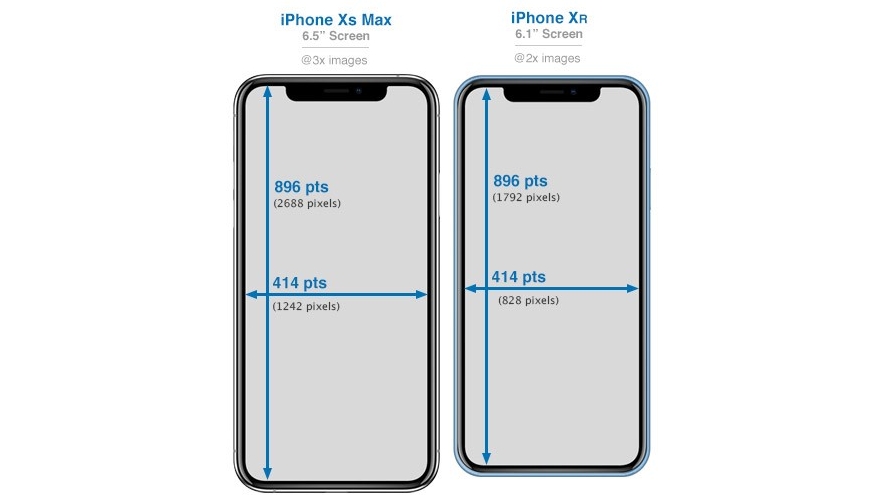 The biggest iPhone models have screens of over 6 inches. These include at the very top size the 6.7-inch iPhone 12 Pro Max, followed by the likes of the iPhone 11 Pro Max at 6.5 inches and the iPhone 11 at 6.1 inches. The chart below details all the iPhone models in this size range.
These phones are of course trickier to use with one hand than smaller iPhone models, and may prove especially awkward if you have small hands. The large size also makes them less friendly to small pockets.
Though it's worth noting that all of these biggest screen models have the modern iPhone design that lacks a home button. That means smaller bezels, so while the screens are big, the overall footprints aren't always any bigger than some of the 5.5-inch models below.
For example, the iPhone 12 with its 6.1-inch screen is 146.7 x 71.5 x 7.4mm, while the 5.5-inch iPhone 8 Plus is 158.4 x 78.1 x 7.5mm, making the phone with the smaller screen longer, thicker and wider.
As such, you need to consider not just screen size but design if you're concerned about the overall size of the handset.
That caveat aside, a big screen (as opposed to just a big phone) is beneficial if you want a large view of apps, games, and videos. It's especially useful for videos, games and photos, where having a larger view can make a real difference (after all, watching a film at the cinema is better than on a TV, and by the same logic it's better on a large phone than a small one).
If you want the most immersive screen possible though then size is only one factor – you should also opt for OLED rather than LCD (as the former offers better contrast and is generally superior). Better yet, go for one of the newer OLED models – the iPhone 11 Pro and 12 Pro are both OLED for example, but the 12 Pro is better, as Apple improves the tech with each generation.
And it's also worth considering resolution and pixel density – all modern iPhones are decently sharp, but until the iPhone 12 range, Pro models tended to have the edge. With the latest models Apple has evened things out here somewhat, with the iPhone 12 and iPhone 12 Pro having the same pixel density as each other, and the iPhone 12 Pro Max also being virtually identical on that front.
Though interestingly the iPhone 12 Mini is actually the sharpest of all, as while its resolution is the lowest of the range, its pixels are packed into a much smaller screen. The difference is still small though, so you only really need to worry about pixel density when buying an older iPhone or a budget one like the iPhone SE (2020).
5-inch to 6-inch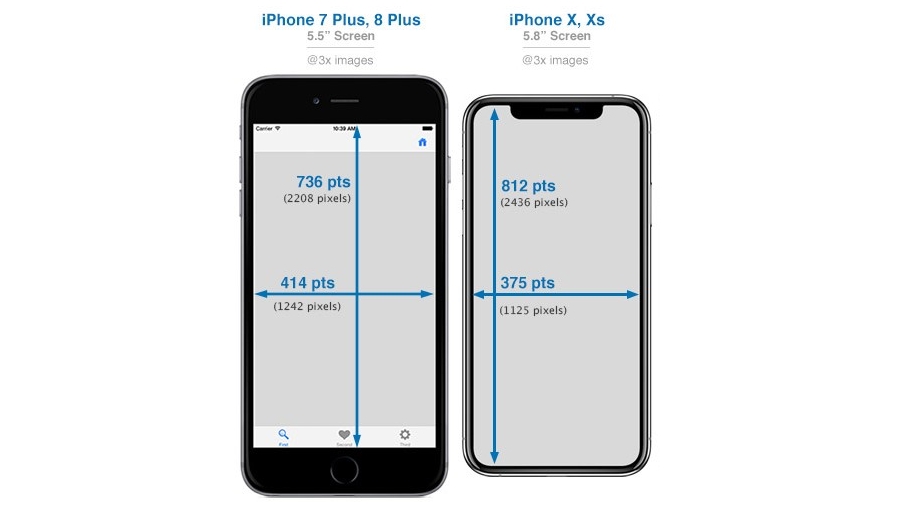 iPhones of between 5 and 6 inches are the mid-size ones, though in practice they're almost all more towards the 6-inch end, coming in at either 5.5 inches or 5.8 inches, with the exception being the 5.4-inch iPhone 12 Mini.
Still, that's some way down on the 6.7-inch iPhone 12 Pro Max, and it makes for a noticeable difference.
iPhones in this size range are still a reasonable size but – particularly in the case of ones with a modern design (meaning a notch at the top and no home button) – they're fairly manageable in the hand.
That means that many people will be able to operate them one-handed, making it more convenient to navigate apps and websites than on a larger iPhone, particularly for those with smaller hands. They'll also fit more comfortably in pockets than the biggest models.
Of course, the trade-off is that the smaller screen makes them slightly less good for things like watching videos and playing games, where a larger screen makes for a more immersive experience, and in the case of games also allows more room for any on-screen controls.
5 to 6 inch iPhone models
iPhone model
Display size / type
Dimensions
iPhone 12 Mini
5.4-inch OLED
131.5 x 64.2 x 7.4mm / 133g
iPhone 11 Pro
5.8-inch OLED
144 x 71.4 x 8.1mm / 188g
iPhone XS
5.8-inch OLED
143.6 x 70.9 x 7.7mm / 177g
iPhone X
5.8-inch OLED
143.6 x 70.9 x 7.7mm / 174g
iPhone 8 Plus
5.5-inch LCD
158.4 x 78.1 x 7.5 mm / 202g
iPhone 7 Plus
5.5-inch LCD
158.2 x 77.9 x 7.3mm / 188g
iPhone 6S Plus
5.5-inch LCD
158.2 x 77.9 x 7.3mm / 192g
iPhone 6 Plus
5.5-inch LCD
158.1 x 77.8 x 7.1mm / 143g
Compare iPhone deals
As with the larger models above there are also a few other considerations beyond just screen size. Firstly, there's whether to go LCD or OLED – and again, OLED is the better choice, as it's a typically superior display technology, with the newest OLED models (the iPhone 12 range) being the best of all.
Then there's the fact that old-style iPhones such as the iPhone 8 Plus, which have big bezels above and below the screen, can actually be a lot bigger than modern-style iPhones, even if they have a smaller display. The 5.5-inch iPhone 8 Plus for example is larger overall than the 6.1-inch iPhone 12 Pro.
So if you're more concerned about overall size (which affects how easy it is to use one-handed, and fit in a small pocket) than screen sizes (which affects viewing immersion) that's something to bear in mind.
It's worth noting also that the iPhone 12 Mini is the only recent iPhone in this size range – all the other models are getting on a bit, so it's clear that Apple is more focused on bigger phones.
Under 5-inch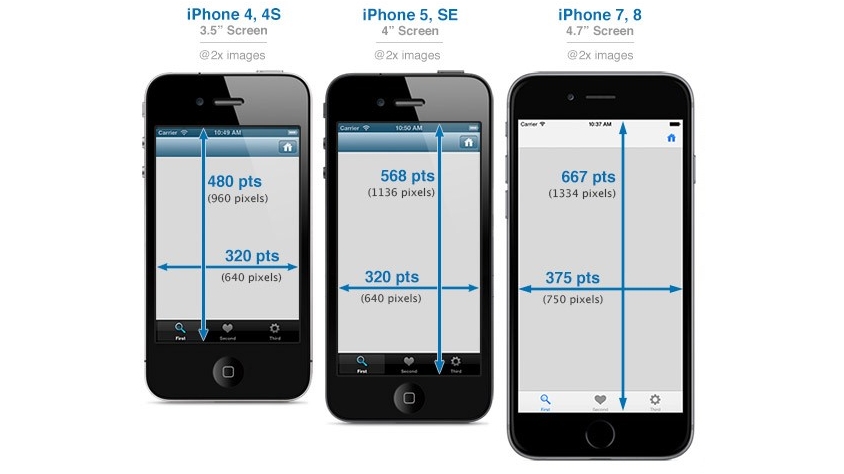 The smallest iPhone models are those that are under 5 inches, and this isn't a size range that Apple often goes in for anymore, though the company has of course launched the iPhone SE (2020), which has a 4.7-inch display.
At the time of writing that's the only particularly recent iPhone of under 5 inches, so it's probably the one you'd be considering (and generally the only one you should consider). But if you can find an older model such as the iPhone 8 at a good price then it may be worth purchasing. Similarly, if you want something super tiny like the 4.0-inch original iPhone SE, then it could be worth buying even though it's a lot older.
We'd hesitate to recommend the even smaller 3.5-inch models such as the iPhone 4 and iPhone 4S to anyone though – these really are very old at this point, and are likely to prove a frustrating experience.
Under 5-inch iPhone models

| iPhone model | Display size / type | Dimensions |
| --- | --- | --- |
| iPhone SE (2020) | 4.7-inch LCD | 138.4 x 67.3 x 7.3mm / 148g |
| iPhone 8 | 4.7-inch LCD | 138.4 x 67.3 x 7.3mm / 148g |
| iPhone 7 | 4.7-inch LCD | 138.3 x 67.1 x 7.1mm / 138g |
| iPhone 6S | 4.7-inch LCD | 138.3 x 67.1 x 7.1mm / 143g |
| iPhone 6 | 4.7-inch LCD | 138.1 x 67 x 6.9mm / 129g |
| iPhone SE (2016) | 4.0-inch LCD | 123.8 x 58.6 x 7.6mm / 113g |
| iPhone 5S | 4.0-inch LCD | 123.8 x 58.6 x 7.6mm / 112g |
| iPhone 5C | 4.0-inch LCD | 124.4 x 59.2 x 9mm / 132g |
| iPhone 5 | 4.0-inch LCD | 123.8 x 58.6 x 7.6mm / 112g |
| iPhone 4S | 3.5-inch LCD | 115.2 x 58.6 x 9.3mm / 140g |
| iPhone 4 | 3.5-inch LCD | 115.2 x 58.6 x 9.3mm / 137g |
| iPhone 3GS | 3.5-inch TFT | 115.5 x 62.1 x 12.3mm / 135g |
| iPhone 3G | 3.5-inch TFT | 115.5 x 62.1 x 12.3mm / 133g |
| iPhone (original) | 3.5-inch TFT | 115 x 61 x 11.6mm / 135g |
Those caveats aside, there are plenty of reasons you might want a compact iPhone, the main reason being just how comfortable and easy such a device is to use with one hand, as most people will easily be able to reach right across the screen without employing a second hand.
That means you can operate your phone while holding, say, a drink in your other hand. And the small size also means these models easily fit in even tiny pockets and bags.
However, all compact iPhone models at the time of writing sport Apple's older iPhone design, meaning big bezels above and below the screen, so they're not always quite as tiny as you might expect from the screen size. They also all use LCD, which is inferior to the OLED screens on some other iPhones.
The small size plus the use of LCD means they're significantly worse for watching content on, or even playing games and viewing photos, than some of the larger iPhone models. So that's a mark against them.