The Huawei B535 - also known as the Three 4G Hub or the Huawei HomeFi Plus - is a 4G home broadband router, which, as well as being able to buy SIM-free from some stores, you can also get on contract from Three.
It's one of two 4G home broadband devices available from the network at the time of writing, but with the other (the Huawei AI Cube) also being a smart speaker, this will likely be the default device for many buyers.
So the question is: just how good is the Huawei B535? And should you buy it or should you look elsewhere for your home broadband needs? Read on to find out.
Design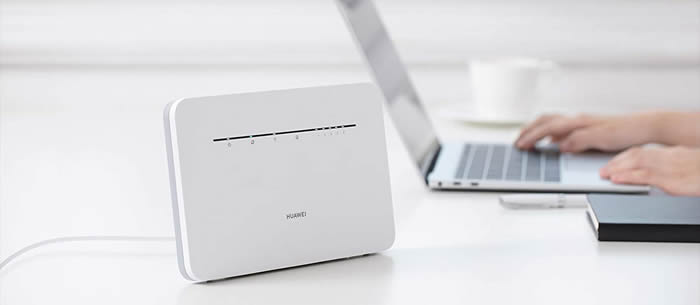 The Huawei B535 WebBox isn't much to look at, but that's not a criticism, as most people don't want a flashy router.
It's a simple, plain white rectangular box with some status indicators on the front and a grey band around the edge. It looks fine, and for better or worse it won't stand out as much as the aforementioned Huawei AI Cube, or even the likes of the Vodafone GigaCube, which is plain too but has a more noticeable tower-like design.
As such, the WebBox won't look out of place in most homes, and at 219 x 130 x 15mm it won't take up too much space either.
Setup
One of the joys of 4G routers is that they're usually incredibly easy to set up, as is the case with the Huawei B535 / Huawei HomeFi Plus.
Simply stick the supplied SIM card into the router, plug it in, and you're basically good to go. You'll find login details on a sticker on the back, and you won't need to get an engineer out to hook anything up, as you're just connecting to a mobile network, just like you do with your smartphone.
So the only wait is for the router itself to arrive, which shouldn't take long, especially when ordering from Three. And this simple setup also means you can take the Huawei B535 with you if you move house, or even potentially if you're just away for a day or two – as long as there's a mains socket and Three's mobile network, you can blanket any area in Wi-Fi.
Performance
Here's where things get a bit more complicated, as while the Huawei B535 WebBox is a good performer by 4G router standards, it's no match for a 5G router or many wired connections. And the actual speeds you get will in large part depend on your coverage.
It's a Cat 7 device with maximum 4G download speeds of 300Mbps, and maximum upload speeds of 100Mbps. Those are some great speeds, but in reality your speeds will probably be a lot lower, with download speeds in most cases topping out at more like 100Mbps.
You should also check what your coverage is like on Three (or whatever network you plan to go with if buying SIM-free) before opting for this, as if your coverage is poor then your connection could be flaky.
Still, even with the likely lower speeds you'll be getting this matches or beats most rival devices, as we'll discuss more below, so if you're specifically after a 4G router (which you might be for convenience, cost, or lack of decent fibre in your area) then the Huawei B535 / Huawei HomeFi Plus is a great choice.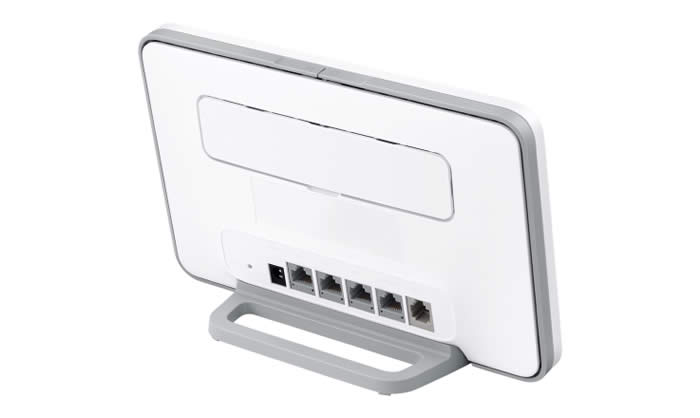 It also benefits from being able to get up to 64 devices online at once, which should be more than almost any home will need. Plus, the Huawei B535 has four ethernet ports for wired connections, which is more than most rivals, and there are two sockets for connecting an external SMA antenna to improve performance. Wi-Fi specs meanwhile are dual-band 802.11a/b/g/n/ac (2.4GHz and 5GHz).
Alternatives
There are a few main alternatives to the Huawei B535 WebBox. Assuming you're specifically after a 4G router then there's the Huawei AI Cube, which is also available on Three, the Vodafone GigaCube, and the 4GEE Home Router 2 on EE.
The Huawei AI Cube is a Cat 6 device, with 4G download speeds of up to 300Mbps (the same as this), but upload speeds reaching just 50Mbps (half of this). It also has just one ethernet port, but like the Huawei B535 WebBox, it can get up to 64 devices online at once.
Overall then it's a bit weaker, but it comes with the addition of a smart speaker built in. This runs Amazon Alexa, making it a lot like an Amazon Echo, so it's a solid choice if you want a router and a smart speaker, but for just a router it's worse.
The 4G Vodafone GigaCube is also worse, as it has up to 300Mbps download speeds and 50Mbps upload speeds, just one ethernet port, and support for connecting just 20 devices at once.
The 4GEE Home Router 2 meanwhile matches the Huawei B535 / Huawei HomeFi Plus for speed, and can connect up to 64 devices at once, but it has two (rather than four) ethernet ports. So again, it's not quite as good as the B535.
That said, this is only an issue for people who plan to make use of more than two ethernet ports – and EE's network is often faster than Three's, so it's a strong alternative for some buyers.
Conclusion
The Huawei B535 WebBox / Huawei HomeFi Plus is one of the very best 4G routers available and arguably the best sold by a UK network at the time of writing.
It ticks all of the key boxes, most notably offering high speeds and lots of simultaneous connections, but also plenty of ethernet ports, antenna sockets, and – if bought through Three – unlimited data plans.
It's worth noting that you'll still get better performance from a 5G router such as the 5G version of the Vodafone GigaCube, but that depends on you having 5G coverage, and often costs most. So if you're limited to a 4G signal and don't want wired broadband, then the Huawei B535 is a top choice.