The EE 5G WiFi is a mobile broadband device that provides instant access to 5G, for all your web-enabled gadgets that don't have a SIM card of their own.
So it's a powerful alternative to public Wi-Fi or tethering, allowing you to get your laptop, tablet, or whatever else you have with you connected to the internet even when there's otherwise no Wi-Fi available.
But the EE 5G WiFi is far from being the only mobile Wi-Fi device in stores, so is it the right choice for you? And is mobile broadband the best option, or would an alternative tech suit you better? We'll look at all of that below.
How does the EE 5G WiFi work?
The EE 5G WiFi is a battery-powered mobile Wi-Fi device with its own SIM card. So, once the device is set up (more on which below) and charged, you simply switch it on, and it will beam out a Wi-Fi network, powered by 5G (or whatever the best mobile connectivity available on EE where you are is).
That network can then be seen and connected to by any gadget that supports Wi-Fi. So if you're away from home with your laptop for example, you'll be able to connect that to the EE 5G WiFi's network.
Of course, you can secure the network with a password so that no one else can use it, and with that done it will be much more secure – and in most cases much faster – than public Wi-Fi. And unlike tethering, it won't drain your phone's battery.
While the EE 5G WiFi is designed primarily for travel, it can also work in your home or office if your Wi-Fi is down, or if for example you need a temporary Wi-Fi solution while waiting for permanent internet to get installed. It's fast enough for this (assuming you have 5G coverage), and it can get up to 64 devices online. It's also very quick and easy to get up and running.
Setup
As with other mobile broadband devices, the EE 5G WiFi is a breeze to set up. All you need to do is insert the supplied SIM card, charge it if needed, and switch it on.
Then it will start broadcasting a network that you can connect other devices to using the supplied details – though the EE 5G WiFi also comes with a quick start guide to adjust the network settings if desired.
Performance and speeds
EE hasn't revealed what the peak speeds offered by the EE 5G WiFi are. The network used to say that the average speeds offered were 150Mbps, but we can't see reference to that at the time of writing either.
Perhaps that's because your speeds will in part depend on your plan. We'll discuss plans in more detail further down, but essentially some plans give you unrestricted speeds, while others top out at 100Mbps, so that's worth being aware of.
Assuming you have unrestricted speeds, the limiting factor is likely to be EE's network rather than the EE 5G WiFi hardware. Not that the network is bad, but the ceiling on mobile broadband devices tends to be higher than mobile networks can consistently reach.
So EE's network then offers average 5G download speeds of 122.3Mbps according to April 2023 data from Opensignal, which is some of the latest data available at the time of writing. We've seen higher figures than that reported in the past, but EE's previously publicised average of 150Mbps probably isn't far off the mark.
Peak speeds on a 5G network are theoretically 1Gbps or higher though, and tests have recorded speeds of over 750Mbps on EE, so if you're right by a mast you might get significantly better performance.
In any case, the speeds that third-party tests report tend to be higher than those offered by O2 or Vodafone, with only Three regularly beating EE for average 5G download speeds.
The same Opensignal results as above also found that EE's average 5G upload speeds were 16.9Mbps, which again is second only to Three (and a very close second).
We don't have much data on EE's 5G latency, but in 2021 Ookla found the network to have a median 5G latency of 29ms (milliseconds).
None of this is specific to the EE 5G WiFi, but as noted it's EE's network that will be the biggest factor in terms of performance, so you can expect results along these lines.
Router features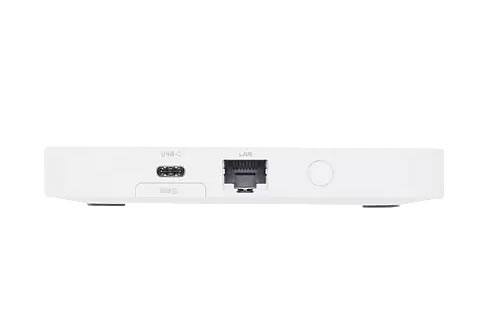 One big highlight of the EE 5G WiFi is that it can get up to 64 devices online. That's a typical figure for 5G home broadband, but a lot of mobile broadband routers top out at 32 or even less. Now, whether you'll ever be in a position where you have 64 things that you want to get online with this is another matter, but it's nice to have the option.
To help you make the most of that, the EE 5G WiFi also has a 30-metre Wi-Fi range, so you can use it to get even quite distant devices online, which is ideal if you're trying to bring internet to a large space.
Beyond that, the EE 5G WiFi also benefits from Wi-Fi 6, which EE claims will aid its efficiency in high-bandwidth situations.
There's also an Ethernet port, which you can use to provide an even faster wired connection to something. There only being one Ethernet port is a slight disappointment, but a large number of Ethernet ports is arguably less important for mobile Wi-Fi than for home broadband.
This being a mobile broadband router it also has a battery, specifically a 6,460mAh one. While that's not the biggest battery we've ever seen in a mobile broadband device, it is significantly bigger than most smartphone batteries, so it will last longer than using your phone to tether would, especially as providing a Wi-Fi network is all this does, while your phone will be doing lots of other things too.
Exactly how long it lasts will depend on how many devices you connect to it and how much data you're pumping over its network, but it will likely see you through most journeys or days out.
Plans
At the time of writing EE only offers the EE 5G WiFi on 24-month plans, so you're tied in for a long time, which is unfortunate. Of course, if you're happy with a two-year plan then that won't be a problem.
You can get it with between 5GB of data and unlimited data, though look out for speed limits too, as while some plans include EE's fastest speeds, others top out at 100Mbps, which is still fast, but not as fast as 5G or the 5G WiFi are capable of.
Prices range from £21 per month with £100 upfront to £58 per month with nothing upfront, and there are a number of other options in between.
That makes this a fairly pricey prospect, but in roughly the same ballpark as the Netgear Nighthawk M6, which is a 5G mobile broadband device that's available from O2. So it's competitive with that at least. The top plans here do cost a bit more, and Vodafone offers a rival device for quite a bit less, but then EE's network also appears to be faster going by third-party tests such as the Opensignal one mentioned above.
Alternatives
Netgear Nighthawk M6
The Netgear Nighthawk M6 is another 5G mobile broadband device, but this one is available on O2. The main difference here is simply the network, and on that front EE is likely to beat O2 for most people, both in terms of coverage and speeds. But the Nighthawk M6 is a strong device, with a 2.4-inch touchscreen to make operating and monitoring it easy.
That said, it tops out at 32 simultaneous connections, which is half what the EE 5G WiFi allows, and its battery is smaller too at 5,040mAh.
Vodafone 5G Mobile Hotspot
The Vodafone 5G Mobile Hotspot is of course Vodafone's rival device, and this has a 2.4-inch touchscreen but supports fewer connections, at 32. Still, Vodafone's pricing also tends to be lower at the time of writing.
EE 4G WiFi
If you don't need 5G then you could consider the EE 4G WiFi, which is a 4G alternative to the 5G WiFi. So data speeds won't be as high here, and this tops out at 32 simultaneous connections. But it still has a 30-metre Wi-Fi range, and it's available on cheaper plans.
EE Smart 5G Hub
If you just need to bring 5G to one location and there's access to power there, you'd probably be better off with a 5G home broadband device like the EE Smart 5G Hub. This doesn't have a battery so it needs plugging in, but it's similarly fast, and designed to be left on 24/7. It also supports 64 simultaneous connections and has two Ethernet ports.
Conclusion
The EE 5G WiFi stands out from many rival mobile broadband devices by supporting 64 simultaneous connections, and by being available on one of the UK's best 5G networks.
It doesn't have a screen, which some alternatives do, and it's not the cheapest option. But if you want one of the most capable 5G mobile broadband routers on one of the most capable 5G networks, then this is a fine choice.