The market is awash with smart speakers, led by the Amazon Echo and the Google Home. It can be difficult for a new smart speaker to stand out unless they have a fresh angle.
Huawei is no stranger to disrupting established markets. It has rapidly ascended the ladder to become one of the world's biggest smartphone manufacturers, partly through pioneering combinations of components. It was ahead of the game on both triple-lens cameras and reverse wireless charging, for example.
Now Huawei has taken a similar approach to the smart speaker market. The Huawei AI Cube combines the core function of an Amazon Echo with that of a 4G router.
Two questions immediately emerge: does it work? And do you actually need such an unorthodox combination of features?
Design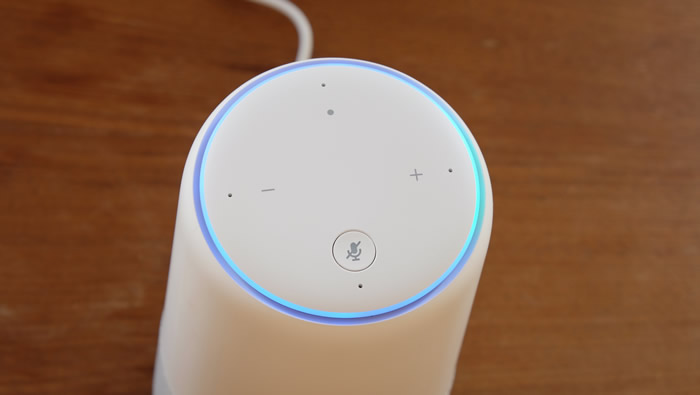 Let's get the obvious observation out of the way for starters: no, the Huawei AI Cube isn't in fact a cube at all. It's more of an upright cylinder that tapers in from the bottom to the top.
Despite its Amazon Alexa chops, the AI Cube is much closer to the Google Home in terms of looks. Besides the tapered shape, it also shares a similar combination of grey speaker fabric on the bottom half and a white plastic top. It's nothing to shout about, but the speaker's unassuming looks help it to blend in to most modern homes far better than your average 4G router.
There are touch-sensitive volume and Alexa activation controls on top, along with four far-field microphones and a physical mic-off button for privacy purposes. These are surrounded by a multi-hued LED ring, which lights up when the Alexa assistant is in use or when you adjust the volume.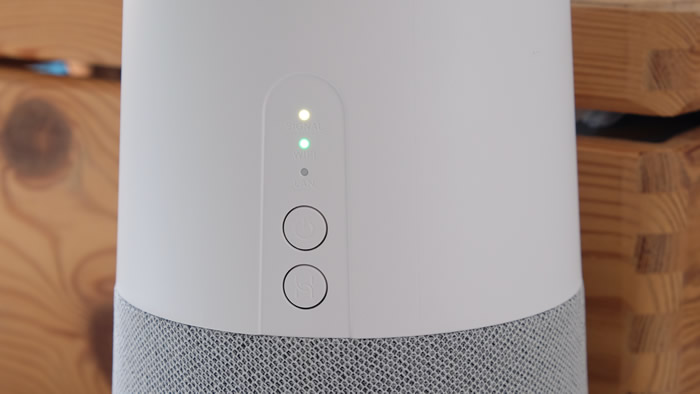 On the back of the AI Cube you'll find a trio of lights stacked vertically. The top one shows you the strength and type (4G or ethernet) of the signal being received, the middle one shows when it's ready to accept a Wi-Fi connection, and the bottom one is a LAN indicator to show when the speaker is physically hooked up to a computer or to a physical internet connection.
Below these lights you'll find the power and WPS connection buttons, which should be self-explanatory.
At the very bottom of the Huawei AI Cube's rear side you'll discover two ports - one for the power lead, and another for the ethernet connection we referenced above. The latter is a fairly unusual inclusion for a smart speaker, if not for a 4G router.
Either way, it doesn't completely make up for the lack of a Wi-Fi option, which would have offered feature parity with run-of-the-mill smart speakers.
Setup
Getting connected to the web through the Huawei AI Cube is very simple. Just insert the SIM into the slot on the bottom of the speaker, plug it into the mains, then connect your device to the speaker via the Wi-Fi details supplied on the underside.
Managing the hub and monitoring your data usage requires you to download the Huawei HiLink app and log-in using the same Wi-Fi password. It's from here that you'll also log in to your Amazon account for Alexa usage.
Figuring out how to establish a Bluetooth link isn't immediately apparent, though. It's strange that you can't hook up your smartphone in this way (for direct music streaming) from the HiLink app, but rather have to ask Alexa to do so. But at least the function is there, contrary to reports you might have read elsewhere.
Features
There are three core features to the Huawei AI Cube: its Alexa assistant function, its capabilities as a speaker, and that curveball inclusion of a 4G router.
When it comes to the Alexa function, Amazon's smart assistant works more or less as you'd expect. Once you've connected to Amazon through the HiLink app, you just need to say 'Alexa' within range of the AI Cube and the speaker will start listening.
From there you can ask for definitions, weather reports, facts, recipes, music tracks and much more depending on which Alexa skills you manually add through the Alexa app.
We found the Huawei AI Cube's four mics to be generally decent at picking up our voice, though it would occasionally be a little slow to 'wake up' and recognise our prompts. It also seemed to struggle to register while the speaker was being used to play music or radio at a moderate-to-loud volume.
The 4G router component works well, as you'd expect given Huawei's market-leading position in mobile connectivity. In fact the Huawei AI Cube seems to offer a slightly stronger 4G connection than your average smartphone can manage. In places where our Three-powered smartphone only displayed one 4G bar, the AI Cube would often show two or even three bars - though overall speeds remain dependent on general 4G network performance in the area.
Performance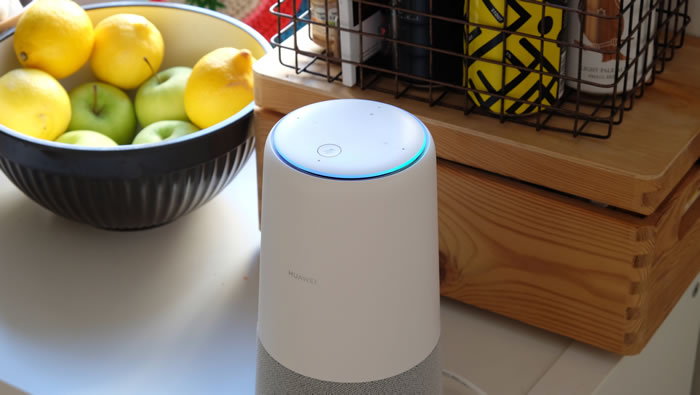 The true power and effectiveness of the Huawei AI Cube's 4G connectivity function will vary vastly depending on where you use it, and how good your network operator's performance is in your particular area.
On paper, the AI Cube is capable of connecting up to 64 devices simultaneously at 300Mbps download speeds and 50Mbps upload speeds. But few if any UK users will experience anything like that.
Even with just one or two network bars showing, however, you'll be able to get pretty decent Alexa performance from the AI Cube. In our kitchen the connection strength fell into the lower 'orange' range on the HiLink app's Best Position tool, yet Alexa still proved reasonably responsive, while streaming BBC 6 Radio came with only the occasional drop out.
As a speaker, the Huawei AI Cube offers reasonably expansive performance, though the output isn't strictly 360-degrees as claimed. The sound is clearest and fullest from the front.
Even so, the speaker outputs Alexa's responses clearly and loudly, with sound that's sufficiently meaty and fleshed out to do a decent job as a general background speaker in noisy environments like a kitchen.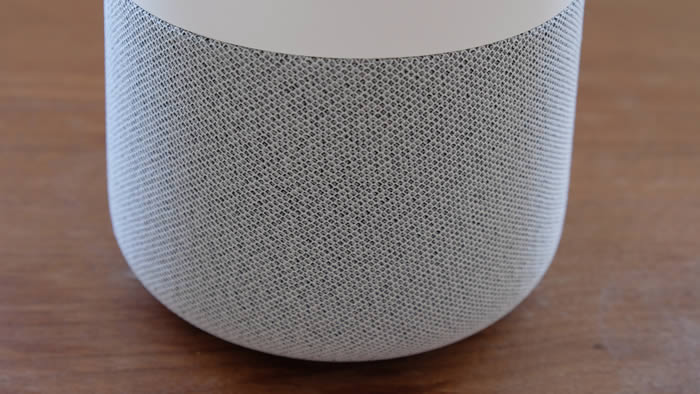 This is not a speaker for audiophiles, though. In terms of pure sound quality the AI Cube is firmly in standard Echo and Google Home territory rather than mixing it with the Apple HomePod and Sonos One. Given that it's priced closer to the latter two premium smart speakers, that might strike some as a concern.
Don't be in any doubt: it's the 4G router element that you're spending the money on here. If sound quality is a clear priority, we'd recommend that you look elsewhere.
Software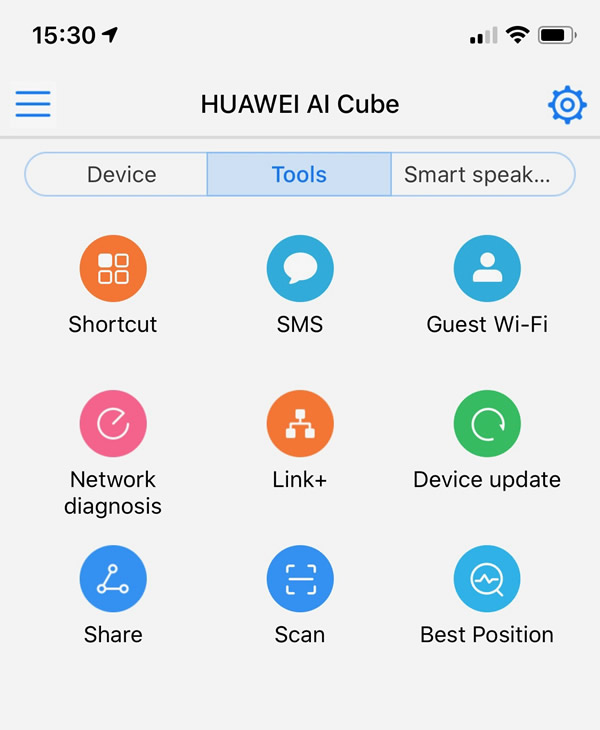 As we've mentioned already, you'll need Huawei's HiLink app to set up and run the Huawei AI Cube. It's a free download from the iOS App Store or Google Play Store.
The app is split between three main sections: Device, Tools and Smart speaker. Device is the default screen you'll face each time you boot up the app, and it shows you how much of your data plan you've used and which devices are connected.
Tools gives you a number of mini applications, such as the aforementioned Best Position signal-chasing feature. You'll also find an SMS app tied to the SIM card used within the AI Cube, and a Guest Wi-Fi feature that lets you set up a strictly limited sub-network for guests.
The Smart Speaker tab doesn't actually contain anything except for a link to the Amazon Alexa app. Indeed, the simple truth is that you need two apps to get the most from the Huawei AI Cube. Besides Huawei's own HiLink app, you'll ideally want to download Amazon's Alexa app to add new skills to the assistant software.
All in all, this makes the Huawei AI Cube a bit fiddlier to set-up and run than Amazon's own Echo speakers, and quite a bit fiddlier than a Google Home. But as we've already said, if all you're after is a pure smart speaker, you're rather missing the point of the Huawei AI Cube.
Conclusion
The Huawei AI Cube pulls off the feat of being unique in an increasingly crowded smart speaker market. While it's a fully functioning Alexa smart speaker and a viable Bluetooth speaker, the main function here is its 4G router capability.
It's a great addition to any home where Wi-Fi connectivity proves problematic and 4G performance is strong. It could also become a useful travel companion if your premises don't always tend to have reliable Wi-Fi.
But that 4G home broadband function really is core to the Huawei AI Cube's appeal. Treated as a pure smart speaker its ordinary sound output and relatively high price don't make a great deal of sense.
This is a niche proposition alright, but one that could be very useful to the right kind of person