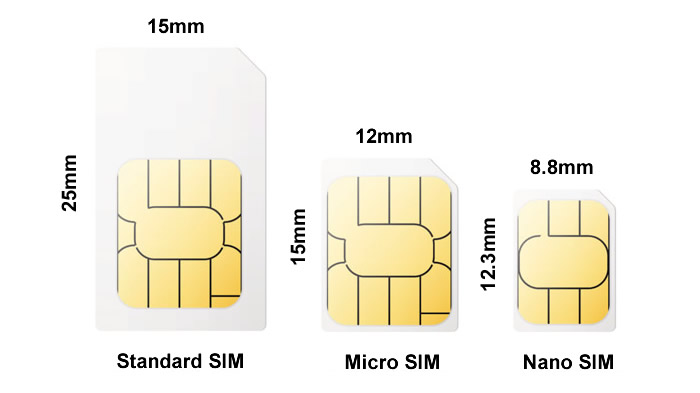 All phones need SIM cards, but they don't all need SIM cards of the same size. In fact, there are three different sizes in use, namely Standard, Micro and Nano. On top of that, there are also eSIMs, which are a slightly different technology.
We've created this guide to help you tell between them and know which one you'll need. Plus, you'll find some advice for what to do if you end up with a SIM card that's the wrong size for your phone.
What is a Nano SIM card?
Nano SIM cards are the smallest of the removable SIM card sizes, coming in at 8.8 x 12.3mm, they're also the newest, having made their debut in 2012. This has almost no border around the chip so the only way a SIM card could much smaller is by using a smaller chip.
Nano SIM cards are by far the most widely used, so if you're buying a new phone, it's almost certainly one of these that you'll need.
What is a Micro SIM card?
A Micro SIM card is one size up from a Nano SIM card. So it's a little larger, coming in at 12 x 15mm. The actual chip is the same size, so it's just the bit around it that's smaller.
Having been introduced back in 2003, this card isn't widely in use anymore, with most handsets having moved on to newer Nano SIM cards, discussed above.
If your phone is a good few years old, but too new for a Standard SIM card, then it might use a Micro SIM, but handsets made in the last seven or eight years generally don't. As an example, the Samsung Galaxy S5 launched in 2014 uses a Micro SIM, but the following year's Galaxy S6 uses a Nano one.
Some other devices such as mobile broadband routers may use Micro SIMs though. For example, the Three 5G Broadband uses a Micro SIM.
What is a Standard SIM card?
A Standard SIM card is, despite the name, not the most common or 'standard' SIM card you'll find. But it was when it launched – hence the name.
The name also reflects the fact that this is the largest type of SIM card available at 15 x 25mm. You could think of it as a full-size card while the other two sizes are cut down. The actual chip is the same size in all three though.
The Standard SIM card is the oldest of the three kinds (introduced way back in 1996) and so while it was once used in many handsets, including big-name ones like the iPhone 3GS, it's rarely used in phones now – some feature phones and very basic mobile phones still use these, as do some old handsets, but smartphones made in the last eight or nine years almost certainly won't.
Recommended SIM Only deals

6GB data

Unlimited mins

Unlimited texts

£7 a month

25GB data

Unlimited mins

Unlimited texts

£8 a month

Unlimited data

Unlimited mins

Unlimited texts

£21 a month

Compare SIM Only deals
What is an eSIM?
An eSIM is an embedded SIM, and this – rather than ever smaller sizes of cards – is likely to be the future of the tech.
As the name suggests, an eSIM would be built into your phone, so you wouldn't be able to remove it. This essentially makes it smaller than even a Nano SIM card, since it doesn't need a tray, or a slot built around it.
Beyond taking up less space there are other advantages to an eSIM. If you change network, the switch can be instant, with no need to get a new SIM card and put it in your phone. And an eSIM can house more than one network and number on it.
If you have a fairly recent high-end phone, then it might already have an eSIM. Most iPhones from the iPhone XS onwards have one for example, as do many Samsung and Google phones, among some others. But in the vast majority of cases you also get a slot for Nano SIM. So there's no need to use the eSIM – and you might not even know it's there.
In future though eSIMs could become more common and could start being the only option. In fact, recent iPhones have already made this switch in the US, so the UK may not be far behind – though first more networks will need to support them, as currently only a handful do.
For more information, check out our guide covering 'What is an eSIM and which networks/phones support eSIMs?'
FAQs
Why have SIM cards shrunk?
SIM cards have shrunk primarily because the bits that were removed were essentially wasted space and space comes at a premium in a smartphone. By having a smaller SIM card slot, more space can be freed up for a larger battery or other components, or the phone can be marginally shrunk down.
Are there any other differences between SIM cards other than their size?
Generally no, in the case of Standard, Micro and Nano SIMs it's typically just the size that they come in and therefore what phones they fit in. However, on rare occasions you will need a new SIM card to access 5G (though this isn't necessary on most networks). eSIMs are also a bit different, as – aside from anything else – they're not removable.
What is the evolution of SIM Cards?
We're unlikely to get significantly smaller SIM cards in future, since to get much smaller there would need to be a change to the chip itself, as Nano SIM cards already have hardly anything around the chip.
What we will probably start to see more of though is eSIMs. As explained above, these are embedded SIM cards, which is to say you won't have a physical card that you need to put in a phone, it will be built in instead. As well as potentially being smaller there are other advantages to these, such as being able to change network without changing SIM card.
A growing number of phones already have one of these, but it's primarily just Apple, Samsung, and Google phones, such as the iPhone XS range through to the iPhone 14 range, the Pixel 3 range through to the Pixel 7 range, the Samsung Galaxy S20 range through to the Samsung Galaxy S23 range, and Samsung's foldable phones. However, all of these also have a normal SIM card slot (at least in the UK), as not all networks support eSIMs yet.
What SIM card size do networks send?
Although a Nano SIM is by far the most widely used by modern handsets, most networks will actually send a Multi SIM, Combi SIM or Trio SIM, which are all different ways of saying multiple SIM card sizes in one.
In most cases that means getting all three SIM card sizes, with perforations for each size so you can easily get it to the size you need. In other words, you shouldn't need to ask for a specific size or even know what size card you need in advance of ordering one.
What can I do if I have the wrong size SIM card?
If you get a new phone that needs a different size SIM card or end up with the wrong size for any other reason, your best option is to contact your network and ask them to send a replacement. As noted above, you'll usually get three sizes in one, so probably won't even have to request a specific size.
If you can't wait for that then there are other options. If your SIM card is too small for your phone, then you could buy an adaptor. These are small pieces of plastic shaped like a Micro or Standard SIM with space for a Micro or Nano SIM inside, so you just stick your SIM card in the adaptor and then put that in your phone.
If your SIM card is too big, then you can get SIM card cutting tools which help you cut it down to the right size. However, you risk damaging it by doing this, so we wouldn't recommend it.