The Vodafone GigaCube is Vodafone's alternative to conventional fixed-line broadband. It provides internet to your home, but does so using either a 4G or 5G connection, rather than a cable.
There are two versions of the Vodafone GigaCube – a 4G one, which is essentially a rebadged Huawei B818-263, and a 5G one, which is the TCL 5G CPE. And these two devices differ in more than just their mobile data credentials, but we've included them both here.
Before we get started though, it's worth noting that at the time of writing Vodafone isn't selling the 5G GigaCube, but it used to and may do so again, so we've included both models in this review.
It's also worth being aware that confusingly Vodafone used to offer different devices under the GigaCube name, but in 2021 it refreshed them without changing the name.
In short, the old 4G GigaCube was a Huawei B528, and it's a significantly lesser device than the new model, with lower speeds and support for only 20 simultaneous device connections. The old 5G GigaCube meanwhile was the Huawei 5G CPE Pro, which theoretically can't get quite as fast as the new model, but in practice is a very similar device.
With that said, on with the review of the current GigaCube models.
How does the Vodafone GigaCube work?
Whether you get the Vodafone GigaCube 4G or the Vodafone GigaCube 5G, you're getting a device with the same purpose – namely to broadcast a Wi-Fi network in your home.
So these are broadband routers, much like you probably already have, except rather than the internet reaching your router via cables, it's beamed through the air from the nearest mobile mast.
But the Vodafone GigaCubes (and other 4G and 5G home broadband routers) are easier to set up than most fibre broadband routers, because you don't need an engineer or any tech skills, as you basically just plug them in and switch them on.
That also means you can get your internet up and running quickly, as you just need to wait for the router itself to arrive – not for an engineer appointment. And you don't need a landline, because the signal reaches the router wirelessly, so you can save costs there by getting rid of your landline if you'd like.
Another advantage of the Vodafone GigaCube 4G, the Vodafone GigaCube 5G, and other 4G and 5G home broadband routers, is that since they're plug and play, you can easily set them up in a new house when you move, or even take them with you when you travel, to bring high-speed internet to your hotel room or holiday cottage – assuming they can get a signal where you are.
Design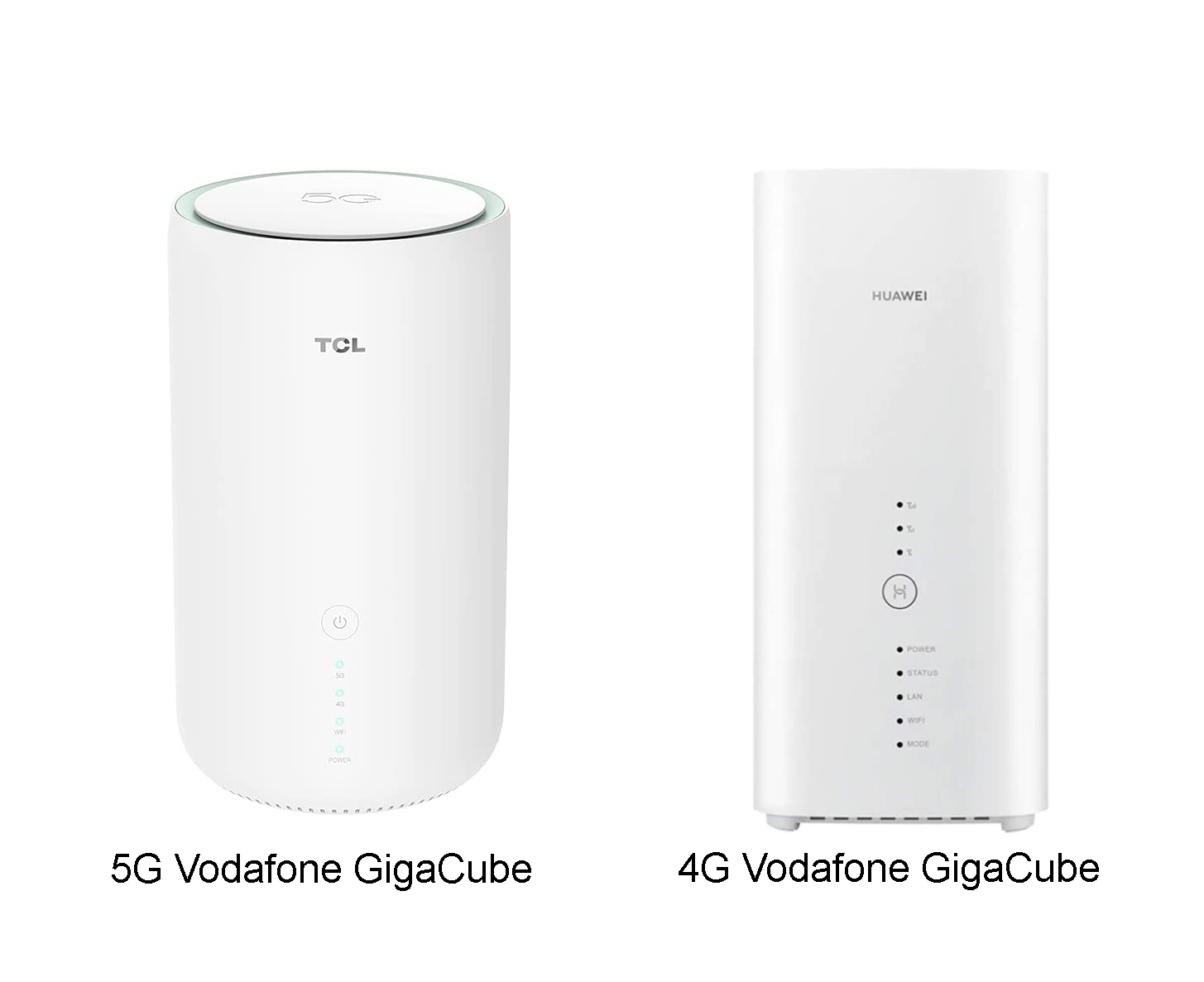 The design of the Vodafone GigaCube varies a little depending on which version you go for. They're both essentially white boxes, but the 4G GigaCube is more rectangular while the 5G one is more of a tube shape.
Like most broadband boxes though they're both ultimately designed to fit with and fade into most normal décor.
Design-wise there's little of note to choose between the two, or between them and other routers, other than the fact that these are taller and narrower than most fixed-line routers. We'd probably give the GigaCube 5G the edge in terms of style, as it arguably looks slightly more modern, but that's subjective.
Setup
An advantage of devices that rely on a mobile connection for your home internet is that they're typically plug and play, and the Vodafone GigaCube is no exception.
Both devices have a SIM card slot so if the SIM doesn't come pre-installed you simply pop it in, then plug the box in and you're ready to go.
There are settings to be tweaked if you want, but no need for an engineer visit or any other wait to get online.
If you need more in depth instructions, here's the step-by-step setup process for the GigaCube 4G. We've focused on this one as it's the only model available at the time of writing, but again, the GigaCube 5G is set up in a very similar way.
Step 1: insert the SIM card
Once you've unboxed the Vodafone GigaCube 4G, flip it upside down, open the SIM card slot on the bottom, and pop in the supplied SIM card, pressing gently until it clicks into place.
You'll likely have been sent a trio SIM with all three possible SIM card sizes – in which case it's the middle one (a micro SIM) that you want. Then close the SIM card slot cover.
Step 2: plug in and power on
Next, plug one end of the power lead into the back of the GigaCube, and the other into a wall socket. Then press the power button on the back.
Step 3: get connected
Wait for the lights to turn on and ensure none of them are red, as that indicates a problem or lack of signal. Once all the lights are green or blue, you can connect other devices to the router, using the supplied Wi-Fi network name and password.
Now you're up and running, but note that the network name and password can – and for security typically should – be changed using the router's web-based management page.
Performance and speeds
Performance will differ dramatically depending on which version of the Vodafone GigaCube you have, as while the 4G model offers download speeds of up to 1.6Gbps and upload speeds of up to 50Mbps, with the 5G version top download speeds shoot up to 2.8Gbps.
Though in both cases of course your actual speeds will depend on the network and coverage, and are likely to be a lot lower. Indeed, even on 5G, you're unlikely to get average download speeds of more than around 250Mbps at the time of writing. Vodafone itself claims that the maximum speeds on the 5G GigaCube are 1Gbps – which will presumably be a network rather than hardware limitation if true.
The network doesn't provide real-world stats for the speeds you can expect with the 4G GigaCube, but you're probably looking at average download speeds in the region of 20-30Mbps, depending on coverage.
Router features
While they differ for speed, in most other ways these two GigaCube routers are similar, with both allowing you to get up to 64 gadgets connected to the internet at once (which is far more than most people should need).
Both also support dual-band Wi-Fi and have two sockets for external antennas. They also both have Gigabit ethernet ports for a wired connection.
Plans
The Vodafone 4G GigaCube isn't one of the cheapest 4G home broadband options available, with the Three 4G Broadband for example being cheaper, but it is priced broadly in line with EE's options, such as the EE Smart 4G Hub.
So how much does it cost? Well, you can get the Vodafone 4G GigaCube on a 24-month contract with 200GB of data for £40 per month, or with 300GB of data for £50 per month, and no upfront cost in either case.
There are also 30-day plans with the same allowances and prices, except that you then have to pay £100 upfront on a 200GB plan, or £50 upfront on a 300GB plan.
While those allowances are substantial, it's a shame that Vodafone isn't offering unlimited data. It does so for phones, and yet home broadband is likely to use a lot more data than your smartphone.
Alternatives
Three 4G Broadband / Three 4G Plus Hub
If you want 4G home broadband then there aren't really any alternatives on Vodafone, but you can find other options from other networks, such as the Three 4G Broadband or the Three 4G Plus Hub.
The Three 4G Broadband theoretically supports download speeds of up to 600Mbps – as does the Three 4G Hub Plus, so both are below the Vodafone GigaCube 4G there, which tops out at 1.6Gbps. Device connections top out at 64 though, so they're a match on that front.
We wouldn't pay too much attention to peak speeds though, as average speeds will be far lower in all cases, and more dependant on the network and coverage than the hardware.
EE Smart 4G Hub
There's also the EE Smart 4G Hub, which is a similar prospect to the Three 4G Broadband. EE hasn't revealed how fast the EE Smart 4G Hub is, but as with all of these things the network and coverage will likely be the bigger factor there, and it matches rivals for the number of devices it can get online at once.
EE Smart 5G Hub
If you're considering the Vodafone 5G GigaCube, then you might instead want to look at the EE Smart 5G Hub. This has the edge over Vodafone's device on paper, as it offers peak speeds of 4.7Gbps to Vodafone's 2.8Gbps.
In practice though that's all very theoretical, and real-world speeds are likely to be comparable between the two – or where they're not, that will be more down to the network than the hardware. The EE Smart 5G Hub also supports 64 simultaneous connections, just like the Vodafone 5G GigaCube.
Three 5G Broadband
The Three 5G Broadband is in fact the same hardware as the EE Smart 5G Hub, so there's nothing to choose there.
That means it has higher peak speeds than the Vodafone 5G GigaCube at 4.7Gbps – though again we wouldn't read much into that, and the simultaneous connections are identical at 64.
Fibre broadband
With fibre broadband, speeds can be extremely variable depending on the package you have and what's available.
With full fibre, you could be looking at peak speeds of 900Mbps or more, along with average speeds that are easily half that. Those sorts of speeds will match or exceed what the Vodafone 5G GigaCube offers, and dwarf what the Vodafone 4G GigaCube can achieve.
However, many people are on fibre broadband plans with speeds of 100Mbps or less, and that's a lot slower than the 5G GigaCube offers, and potentially in line with what you'd get from the 4G model.
Conclusion
The 5G Vodafone GigaCube is a great home broadband option for houses with a 5G signal from Vodafone. It's fast enough to be a real alternative to fibre broadband, especially with its support for a high number of connected devices and the option of an unlimited data plan.
It is however very similar to devices offered by a number of other UK networks, as explained above in 'alternatives', so beyond potentially price and coverage there's little reason to pick it over them (or them over it). You should simply check your coverage on each network and the plans and prices available when you choose to buy.
The 4G Vodafone GigaCube is a little harder to recommend, as 4G home broadband in general isn't typically as fast as speedy fibre, but if you live somewhere with poor wired broadband and a good 4G signal then it could well be worth it, especially as this is one of the best 4G home broadband devices.