The Vodafone GigaCube is Vodafone's alternative to conventional fixed-line broadband. It provides internet to your home, but does so using either a 4G or 5G connection, rather than a cable.
There are two versions of the Vodafone GigaCube – a 4G one, which is essentially a rebadged Huawei B528, and a 5G one, which is the Huawei 5G CPE Pro. And these two devices differ in more than just their mobile data credentials, but we've included them both here.
Below then, we'll talk you through both versions of the Vodafone GigaCube and help you decide which if either you should opt for.
Design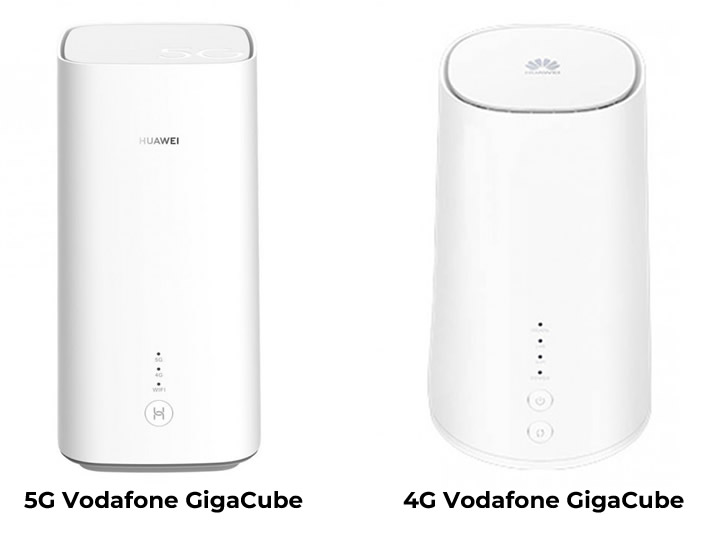 The design of the Vodafone GigaCube varies a little depending on which version you go for. They're both essentially white rectangles, but the sides curve in more on the 4G GigaCube (pictured above), and it arguably has a slightly more distinctive look.
Like most broadband boxes though they're both ultimately designed to fit with and fade into most normal décor.
Design-wise there's little of note to choose between the two, or between them and other routers, other than the fact that these are taller and narrower than most fixed-line routers.
Setup
An advantage of devices that rely on a mobile connection for your home internet is that they're typically plug and play, and the Vodafone GigaCube is no exception.
Both devices have a SIM card slot so if the SIM doesn't come pre-installed you simply pop it in, then plug the box in and you're ready to go.
There are settings to be tweaked if you want, but no need for an engineer visit or any other wait to get online.
Being plug and play also means you can easily take these devices with you and plug them in elsewhere. So if you move to a new house for example, or even go somewhere short-term, it's a simple matter to get online again, as long as there's a socket and coverage.
Performance
Performance will differ dramatically depending on which version of the Vodafone GigaCube you have, as while the 4G model offers download speeds of up to 300Mbps and upload speeds of up to 50Mbps, with the 5G version top download speeds shoot up to 2330Mbps, with upload speeds reaching up to 150Mbps, and even on a 4G connection it's potentially faster, with peak downloads of 1600Mbps.
Though in both cases of course your actual speeds will depend on the network and coverage, and are likely to be a lot lower. Indeed, even on 5G, you're unlikely to get average download speeds of more than around 250Mbps at the time of writing.
There are also differences in the number of devices each model can get online. With the 4G Vodafone GigaCube you can connect up to 20 devices at once, which should be enough for most homes, but if you have a lot of gadgets or smart devices then you may struggle. With the 5G Vodafone GigaCube though you can get up to 64 devices online at once, which gives you much more headroom.
Both devices support dual-band Wi-Fi and have two TS9 sockets for external antennas, they also both have Gigabit ethernet ports for a wired connection, but you only get one such port on the 4G GigaCube, while the 5G GigaCube has two.
Alternatives
If you want 4G or 5G home broadband then there aren't really any alternatives on Vodafone, but you can find other options from other networks, such as the 4G Huawei AI Cube and Huawei HomeFi Plus available on Three, and the 4GEE Home Router on EE, and for 5G EE's 5GEE Home Router and Three's 5G Home broadband.
However, look closer and you'll see that Three's 5G Home device and EE's 5GEE Home Router are the same thing as the 5G GigaCube, so there's nothing to choose there other than the network and coverage.
As for the 4G options, there are some differences there. The 4GEE Home Router for example is a Cat 7 device, meaning it supports upload speeds of up to 100Mbps – twice what the 4G GigaCube can manage, though its download speeds still top out at 300Mbps. It also has two (rather than one) Gigabit ethernet ports, and can connect 32 (rather than 20) devices, so it's a bit of an upgrade.
The Huawei HomeFi Plus is even more of one, offering the same theoretical speeds as EE's device, but with support for up to 64 simultaneous connections and with four Gigabit ethernet ports.
The Huawei AI Cube meanwhile is closer to the 4G Vodafone GigaCube, with the same download and upload speeds and just one ethernet port, but with support for up to 64 connected devices at once, and with an Alexa-powered smart speaker built in.
Though in all cases the number one concern should be what each network's coverage is like in your home.
Plans
The Vodafone 4G GigaCube and 5G GigaCube are available on a similar selection of plans, but with different prices.
With the 4G one, you can get it on an 18-month contract with 100GB of data for £30 per month, 200GB for £40 per month, or 300GB for £50 per month, and in all cases there's no upfront cost.
Alternatively you can get it on a 30-day contract with the same selection of allowances and monthly prices, but in each case there's a £100 upfront cost.
The Vodafone 5G GigaCube on the other hand can be had on either an 18-month or 30-day contract with 100GB of data for £30 per month, 200GB of data for £40 per month, or unlimited data for £50 per month.
That's on top of a £325 upfront cost on a 30-day contract or a £50 upfront cost on an 18-month one – except for the 100GB 18-month plan, which costs £100 upfront.
So the monthly costs are essentially the same for both devices, and on an 18-month plan you don't end up paying too much more upfront for the 5G GigaCube. Plus, the 5G one is the only one to offer an unlimited data allowance, which is what we'd recommend for most homes.
Conclusion
The 5G Vodafone GigaCube is a great home broadband option for houses with a 5G signal from Vodafone. It's fast enough to be a real alternative to fibre broadband, especially with its support for a high number of connected devices and the option of an unlimited data plan.
It is however the same device as is offered by a number of other UK networks, as explained above in 'alternatives', so beyond potentially price and coverage there's no reason to pick it over them (or them over it). You should simply check your coverage on each network and the plans and prices available when you choose to buy.
The 4G Vodafone GigaCube is a little harder to recommend, as 4G home broadband in general isn't typically as fast as speedy fibre, but if you live somewhere with poor wired broadband and a good 4G signal then it could well be worth it.
That said, even in the world of 4G home broadband devices, the Vodafone GigaCube isn't one of the best, so if you have coverage on other networks, and the price is right, you might want to consider one of the alternatives above.
As such, our score above is for the 5G GigaCube - the 4G GigaCube is more of a 3.5.