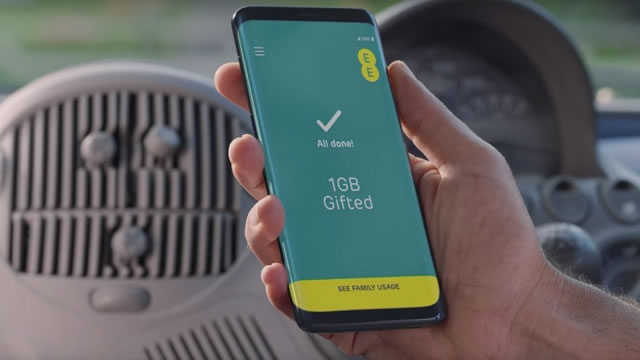 If you have multiple EE lines on the same account (through a family account) and you ever find you - or someone else on the account - has lots of unused data left at the end of a month or runs low before the month is up, then the EE data gifting service could be a big help, as it's a handy way to divide and re-divide data between lines.
Below we'll explain exactly what EE data gifting is, how it works, who's eligible, and everything else you need to know.
What is EE data gifting?
If you have a family account then everyone on the account will have their own data allowance, but that allowance isn't fixed, as with data gifting you're free to move data from one person to another.
So if someone on the account is running low while someone else has excess data, you can balance them out.
It helps ensure that no data goes to waste and that no one is left hungry for data before the month is up.
What do I need to data gift?
You simply need to be on a family account with at least two users or devices attached to it.
Anyone can get a family account, you just have to add another plan to your existing EE pay monthly mobile, tablet or 4GEE WiFi account. Then you're free to gift data between users – though note that only the person who runs the account can spread the data around, but they're free to send it to any user on the account and take it from any user.
Note that data gifting is only available for personal accounts, not business ones.
How do I gift my data?
That's simple too, just open the My EE app (downloading it first if you don't already have it), then head to 'Manage Family'. From there you'll be able to see how much data everyone on the account has used and has left.
With that information you can then use the Manage Family screen to select who needs data, who the data is being gifted from, and how much data is being gifted. Then hit 'Gift Data' to confirm that you want to send the data, and you're all done.
A text will automatically be sent to both the giver and receiver of the data, letting them know what's happened.
How much data can I gift?
Data is shared in 500MB increments – so at least 500MB needs to be available for data gifting to work. The only upper limit generally is the remaining total data on the account – and if you need more you can always purchase a data add-on.
If you have unlimited data then you can gift up to 100GB (or 120GB if you're on a 5G smart handset plan). However, this is the first 100/120GB, so if you would have 100GB of giftable data but have already used 5GB this month, then you can gift up to 95GB.
You can also gift data boosts – that being the bonus data you're awarded for adding extra plans to an EE account.
How long does gifted data last?
Gifted data lasts until your allowances refresh, which happens on your billing date. So in other words it will last for at most a month – but if you gift someone data a week before your allowances reset then it will only last a week.
Of course, once your allowances reset you can gift data all over again.
What else do I need to know about data gifting?
Gifted data is available to use straight away, and it works in the same way as your normal monthly data allowance – so if you'd usually be able to use your data while roaming abroad for example, then you'll also be able to use gifted data abroad.
You can also gift data while travelling abroad unless your allowances refresh while you're away. In which case you'll have to wait until you return to the UK.
Data can only be gifted to lines on the same account, and only by the person who runs the account (which is usually the person who pays the bill, though you can change who runs the account through your My EE account page).
If someone on your account is on a shared plan then you can't gift data to them, but if you gift data to yourself they'll also be able to use it.