Home broadband is one of the best uses for 5G, offering a number of potential advantages over fibre broadband, from lower costs and simpler setup to sometimes even higher speeds. As such, a number of mobile networks are already offering this service, with Three being among them.
And if you get 5G home broadband from Three, then you'll be sent the Three 5G Hub – which at the time of writing is a rebranded Zyxel NR5103E – to use as a router.
So just how is the Three 5G Broadband? The short answer – as you can tell from the score on this review – is very good. For the long answer, read on.
How does the Three 5G Hub work?

The Three 5G Hub provides 5G home broadband to your home – so it's a router that beams out a Wi-Fi network, like with fibre broadband, but unlike fibre you don't need cables running into your home. Instead, the Hub picks up a mobile signal from a nearby mast.
Even those who really struggle with tech likely won't have too much trouble getting the Three 5G Hub up and running, as there's little that needs doing beyond plugging it in and turning it on, and there's a quick start guide to run you through the basics.
There's also a handy app you can use both to aid with setup, and to monitor and manage the Three 5G Hub once it's up and running.
That means you don't need to wait (or pay) for an engineer to come and get it connected. And as it relies on a mobile network you also don't need a landline for it – so if you're not using your landline for calls, you could cancel it and save some money.
Being quick and easy to set up means you can have your internet online very soon after placing your order, as all you need to wait for is the Three 5G Hub to arrive in the mail. And the simplicity also means it's just as easy to get up and running again in a new house or anywhere else with a power supply and 5G coverage. Of course, the viability of the Three 5G Hub does depend on you having mobile – and preferably 5G – coverage.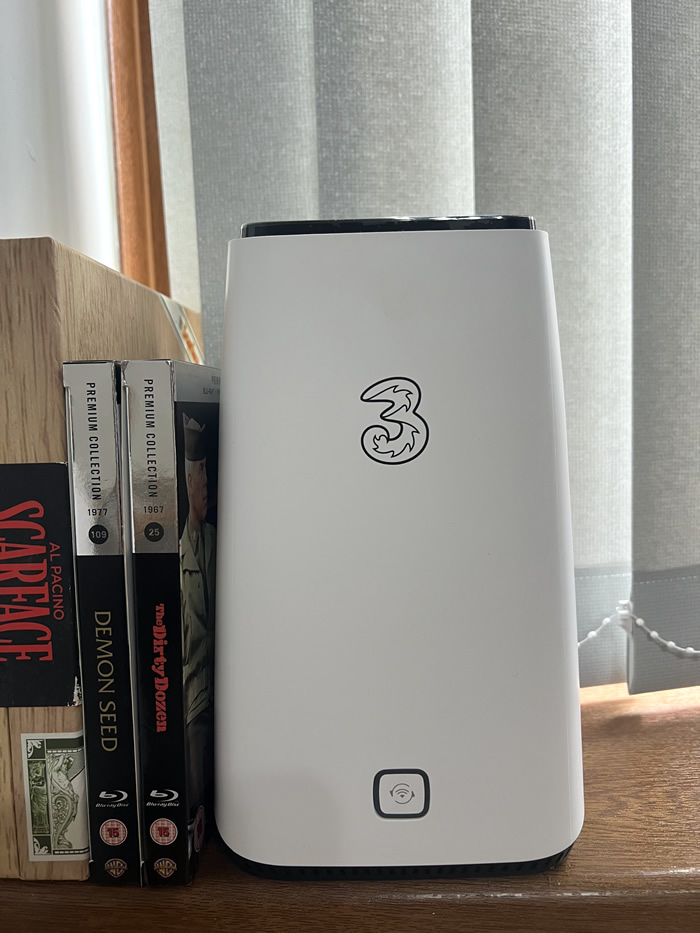 Setup
The Three 5G Hub is – like most 5G home broadband devices – very easy to set up, but we'll run you through the full process below.
Step 1: prepare the SIM card
You'll receive a SIM card with the Three 5G Hub and you need to insert this to get any internet connectivity. So, first remove the SIM card from its packaging. Three will have sent you a trio SIM, which contains every SIM card size, but it's the middle size that you want (called a micro-SIM).
Step 2: insert the SIM card
With the SIM card ready, look for a small flap on the bottom of the Three 5G Hub. If you lift this, you'll see the SIM card slot, so put the SIM card in that, making sure that you push it in until you hear a quiet click sound. Then cover the slot again with the flap.
Step 3: power on
Next, plug one end of the power cable into the back of the Three 5G Hub and plug the other into a socket. We suggest choosing a socket that allows you to place the Three 5G Hub on a windowsill, so it has a clearer view of the nearest mast. Then press the power button on the back to power it on.
Step 4: let there be light(s)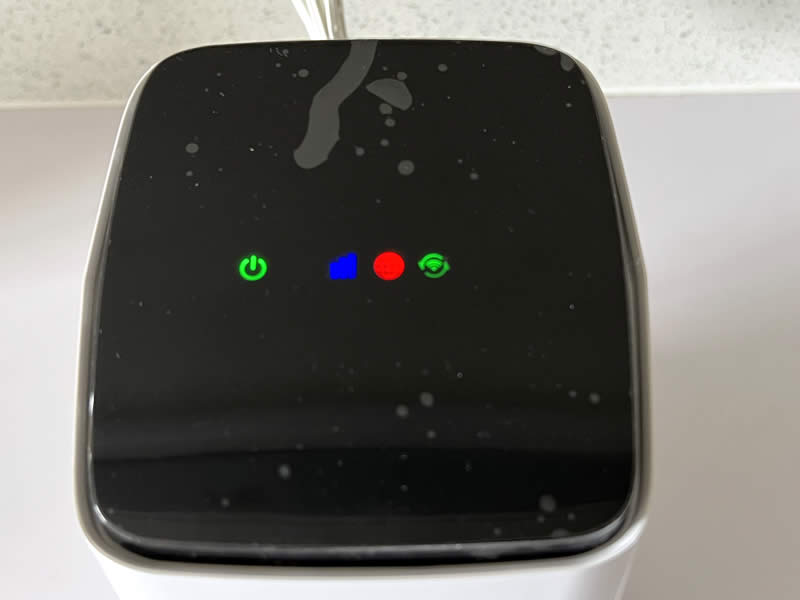 Once you've switched the Three 5G Hub on, you'll see indicator lights appear on the top. These include a power symbol, a signal indicator (which looks like three bars), a connectivity type symbol (shown as a globe), and a WPS indicator, allowing you to connect devices to it without manually entering a password.
Pay attention to the colours of these symbols – ideally you want the signal indicator and the connectivity symbol to both be blue. That means you have a good signal and are connected to 5G. If the signal indicator is green then you have a middling signal, and if it's red then your signal is poor. For the connectivity symbol, green means you're connected to 4G rather than 5G.
If these are green or red and remain that way after a few minutes, you might want to consider moving the router to another spot, to see if that improves things.
Step 5: get connected
With that done, the Three 5G Hub is ready to go, so just use the network name and password (found on the sticker on the back) to connect other devices in your home to the Wi-Fi network it's now beaming out.
Performance and speeds
Three 5G Broadband Hub Speeds

| | Average | Maximum | Minimum |
| --- | --- | --- | --- |
| Download (Mbps) | 419.6 | 633.5 | 122.7 |
| Upload (Mbps) | 18.3 | 36.1 | 11.8 |
| Latency (ms) | 29 | 34 | 26 |
The Three 5G Hub supports download speeds of up to 4.7Gbps and upload speeds of up to 2.5Gbps. Speeds which notably are far higher than you're likely to get on any current 5G network. Indeed, Three claims that its network currently tops out at 1Gbps for downloads with this device – but at least that means it's future-proofed.
It's also more future-proofed than the previous generation of the Three 5G Hub, which topped out at lower speed.
In practice, average download speeds are more likely to be in the region of 150Mbps according to Three, but will vary a lot depending on the coverage where you are, and how the construction of your home affects signal.
In our own tests, we averaged significantly higher than that, with an average download speed of 419.6Mbps, as you can see in the chart above. Upload speeds averaged 18.3Mbps, and latency averaged 29ms.
Those download and latency figures are impressive, and our best results were even more so, with speeds topping out at 633.5Mbps, and latency dropping as low as 26ms (more than good enough for online gaming). The only figures that are less impressive are the upload speeds, which for us never exceeded 36.1Mbps in our tests. That's fine, but nothing special.
For comparison though, average download speeds on 4G home broadband devices tend to come in at around 25Mbps, while upload speeds tend to be under 10Mbps, so this is a huge improvement on that.
These speeds are also much better than you'll get with most fibre broadband, as typical fibre plans offer average download speeds of under 100Mbps. That said, some places are able to get speeds of 1Gbps or more – though that's not widely available and tends to cost more than 5G broadband.
Router Features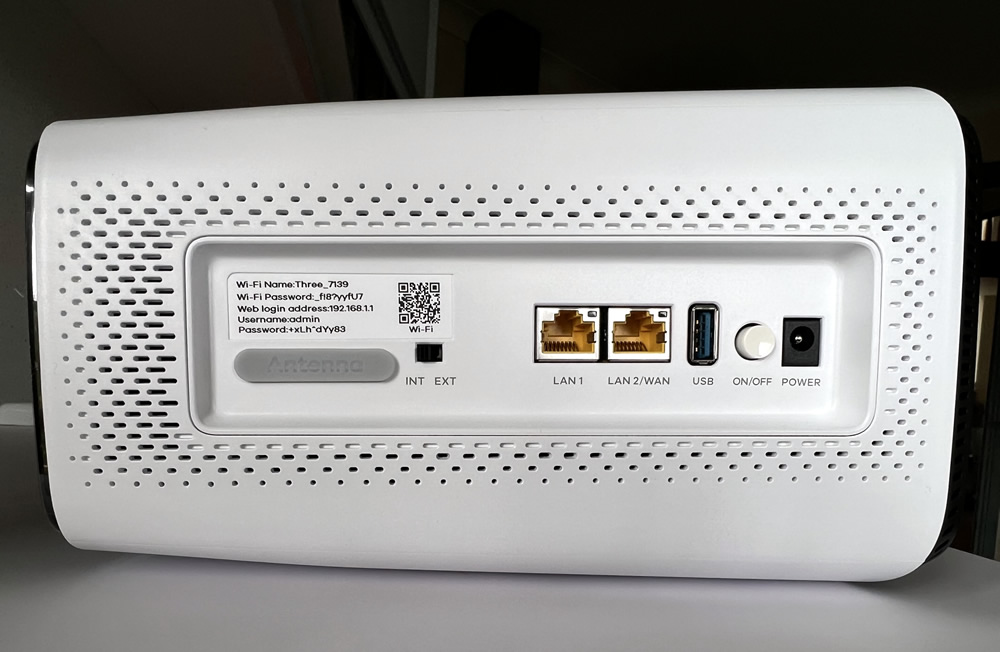 There are a few notable features of the Three 5G Hub. For one thing, it can connect up to 64 devices to the internet at once. So you shouldn't have any trouble getting all your phones, tablets, computers, consoles and the like online, and even if you have a very smart home with connected lights, televisions, thermostats and the like, you're unlikely to hit the 64-device limit. That limit is also in line with the top rival devices (detailed further down).
The Three 5G Hub also supports both 2.4GHz and 5GHz Wi-Fi, and has two Ethernet ports, so whatever you want to get online and however you want to do it, the Three 5G Hub should have you covered.
Plus, it supports Wi-Fi 6, and if you are struggling with signal, there's also the option to add external antennas to it.
There's also an app you can use to make monitoring and configuring the router a breeze.
Plans
One of the best things about the Three 5G Broadband is how affordable it is, with prices starting at just £20 per month at the time of writing. That's with unlimited data on a 24-month plan, and there's no upfront cost.
You can alternatively get the Hub on a 30-day rolling plan for £24 per month. That's again with unlimited data and no upfront cost.
Plus, Three offers a 30-day money back guarantee, so it's a risk-free purchase even if you're not sure it's the right product for you.
We'll look more in depth at some alternatives below, but purely from a cost perspective the Three 5G Hub has most other options beat. Other 5G home broadband options can cost more than twice as much per month, and full fibre broadband (which is the only way you'll get comparable speeds with a fibre connection) also typically costs a lot more.
Alternatives
Vodafone GigaCube 5G
One of the main alternatives to the Three 5G Hub is the Vodafone GigaCube 5G.
This is a largely similar device to the Three 5G Hub, but it has a lower maximum download speed of 2.8Gbps – though likely similar real-word speeds. It does still support 64 simultaneous connections though.
EE Smart 5G Hub
The EE Smart 5G Hub is also one of the Three 5G Hub's main rivals and it's even more similar than Vodafone's option. In fact, the EE Smart 5G Hub is the same underlying device as the Three 5G Hub – namely the Zyxel NR5103E. So the only difference between these is the network and available plans.
The biggest consideration with both of these alternatives then will be whether they offer 5G coverage in your home (which you'll have to check for yourself) and price.
On the price front, Three often undercuts rivals, and you can see the latest deals on the Three 5G Hub at the top of this article.
Three 4G Hub / Three 4G Plus Hub
If you're set on Three but don't have 5G coverage in your home, then another option is the Three 4G Hub or the Three 4G Plus Hub. These are also home broadband routers, but they only offer 4G rather than 5G.
That means speeds are much lower, topping out in theory at 600Mbps but averaging under 100Mbps, and potentially much under depending on coverage in your area.
They're similar devices to each other, but the Plus model should deliver more consistently high speeds. Both support 64 simultaneous connections though, and both have Ethernet ports – two in the case of the Three 4G Plus Hub, and four with the standard Three 4G Hub.
Fibre broadband
Of course, perhaps the most obvious alternative to the Three 5G Hub is a fibre broadband connection, as that's the standard form of home internet.
There are lots of options here, with most companies offering unlimited plans. Speeds though vary a lot, and a lot of plans average well under 100Mbps. For example, Plusnet's Fibre Extra plan tops out at 66Mbps, and similarly BT Broadband offers fibre speeds ranging between 35Mbps to 73Mbps in most cases.
Both companies also offer full fibre plans with speeds of up to 900Mbps, but these aren't widely available, and full fibre plans are often expensive. You also need an engineer to install fibre broadband, and some plans require a landline too.
Conclusion
The Three 5G Broadband is an excellent alternative to fibre broadband, with high speeds, tech to help you maximise its performance, and relatively affordable prices. It's also simple to setup, you can take it anywhere with a power-outlet and you don't need to pay for a landline.
As key rivals offer comparable devices, the actual hardware doesn't stand out much, but Three's plans do. Ultimately though, coverage will be the single biggest factor for many people right now, as 5G coverage is patchy on every network, so you might simply have to opt for the network that has a signal where you live. However, Three offer a 30-day money back guarentee, so if you arn't happy you can return it stress free.

FREE
Three 5G Broadband

£20.00

a month
24 month contract


See Deal

See Deal