Home broadband is one of the best uses for 5G, offering a number of potential advantages over fibre broadband, from lower costs and simpler setup to sometimes even higher speeds. As such, a number of mobile networks are already offering this service, with Three being one of the first to launch it.
And if you get 5G home broadband from Three, then at the time of writing you'll be sent the Three 5G Hub to use as a router.
So just how is the Three 5G Hub? The short answer – as you can tell from the score on this review – is very good. For the long answer, read on.
Design
The Three 5G Hub is actually the Huawei 5G CPE Pro router, which is why you'll see Huawei's name on it. This isn't surprising, as mobile networks rarely actually make their own hardware, but it does mean you can get the same device elsewhere, more on which in the 'Alternatives' section below.
In any case, the Three 5G Hub is a tall white rectangle and looks rather different to most 4G home broadband devices such as the BT 4G Home Router and the EE 4GEE Home Router 2.
They're wider but less tall, sporting a design that's more in line with a typical fibre broadband router. With the Three 5G Hub it's clear you've got something different. We think that's a good thing, and as routers go it looks quite good – a white monolith with a light on the base.
It's nothing amazing – ultimately it's quite plain, and many of the key rival devices look identical (because they are identical), but we quite like it.
Setup
Even those who really struggle with tech likely won't have too much trouble getting the Three 5G Hub up and running, as there's little that needs doing beyond plugging it in and turning it on, and there's a quick start guide to run you through the basics.
That means you don't need to wait (or pay) for an engineer to come and get it connected. And as it relies on a mobile network you also don't need a landline for it – so if you're not using your landline for calls, you could cancel it and save some money.
Being quick and easy to set up means you can have your internet online very soon after placing your order, as all you need to wait for is the Three 5G Hub to arrive in the mail. And the simplicity also means it's just as easy to get up and running again in a new house. Of course, the viability of the Three 5G Hub does depend on you having mobile (and preferably 5G) coverage.
Performance and speeds
The Three 5G Hub supports download speeds of up to 2.33Gbps and upload speeds of up to 1.25Gbps. Speeds which notably are far higher than you're likely to get on any current 5G network, but at least that means it's future-proofed.
In practice, average download speeds are more likely to be in the region of 200-400Mbps, but will vary a lot depending on the coverage where you are, and how the construction of your home affects signal.
Even those averages though are pretty high. For comparison, with a recent 4G home broadband device such as the 4GEE Home Router 2, download speeds top out at 300Mbps, with average speeds being a lot lower.
Fibre broadband meanwhile is more in line with what you can expect here, but speeds there vary a lot, from much lower double digit download speeds at the bottom end, to speeds of over 1Gbps at the top end, so in many cases the Three 5G Hub will still be faster.
Features and software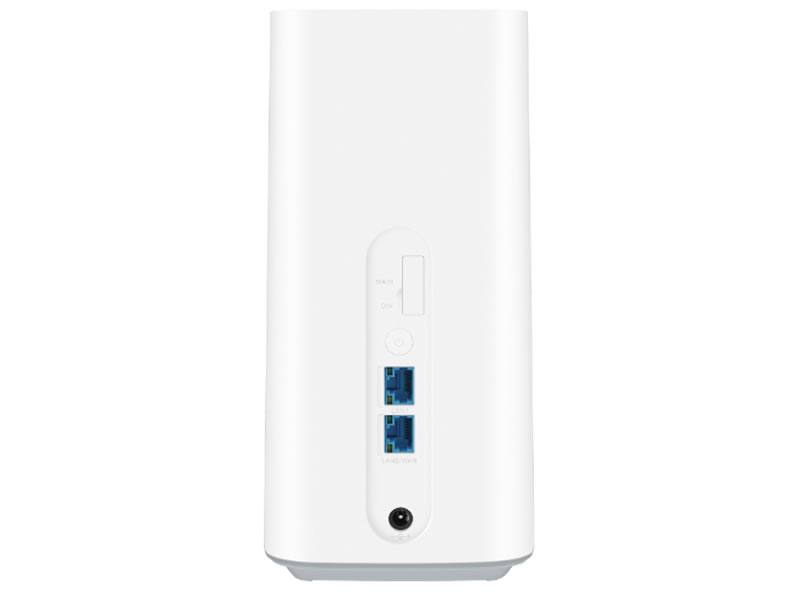 There are a few notable features of the Three 5G Hub. For one thing, it can connect up to 64 devices to the internet at once. So you shouldn't have any trouble getting all your phones, tablets, computers, consoles and the like online, and even if you have a fairly smart home with connected lights, televisions, thermostats and the like, you're unlikely to hit the 64-device limit.
The Three 5G Hub also supports both 2.4GHz and 5GHz Wi-Fi, and has two ethernet ports, so whatever you want to get online and however you want to do it, the Three 5G Hub should have you covered.
Plus, it also has 'dual X full 6-GHz antennas', designed to deliver 360-degree coverage, so you shouldn't need to worry too much about the placement of the Three 5G Hub, but if you are still struggling with signal, there's also the option to add external antennas to it.
Alternatives
As mentioned above, the Three 5G Hub is actually a Huawei 5G CPE Pro router, and that's something that rivals also sell.
Specifically, both the EE 5GEE Home Router and the 5G version of the Vodafone GigaCube are the Huawei 5G CPE Pro, so if you get 5G home broadband on either of those networks you're likely to end up with the same hardware as on Three.
So selecting between them is really a question of coverage and price. Three stacks up well on both fronts at the time of writing – while all the UK's networks currently have quite limited 5G coverage, Three's is expanding rapidly, though of course it might not have 5G where you live, in which case it won't be much use for 5G broadband.
On the price front, Three often undercuts rivals, but below you'll find details of the plans that are available at the time of writing.
Plans
Unlimited data

24 month contract

£24 a month
You can get the Three 5G Hub with unlimited data for £24 per month on a 24-month contract, or £29 per month on a 12-month one.
Those prices are competitive, and we'd always recommend unlimited data for a home broadband plan, as having lots of devices connected can eat it up fast.
Conclusion
The Three 5G Hub is an excellent 5G home broadband router, with high speeds, tech to help you maximise its performance, loads of simultaneous connections, and relatively affordable prices.
As key rivals sell the same device under different names the actual hardware doesn't stand out much, but Three's plans do. Ultimately though, coverage will be the single biggest factor for many people right now, as 5G coverage is patchy on every network, so you might simply have to opt for the one that has a signal where you live.