EE isn't content to stick with one 4G home broadband router, as it's now on the third iteration of the 4GEE Home Router, with the 4GEE Home Router 3.
This white box offers a whole new look compared to the 4GEE Home Router 2, as we'll get to below, but many of the core specs and features are much the same.
So is the Home Router 3 an upgrade worth having? Our article aims to answer that question.
Design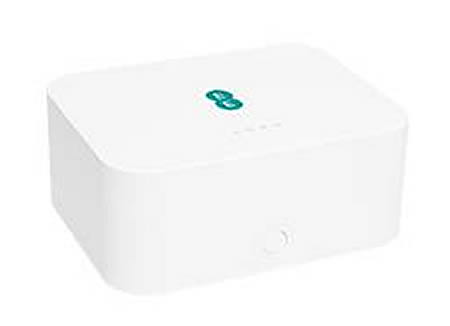 The 4GEE Home Router 3 is a plain white box with an EE logo and indicator lights at the top, ports at the back and vents at the bottom.
It comes in at 128 x 100 x 55mm and 279g, so it's wider than it is tall. For reference, the 4GEE Home Router 2 is both wider and taller than this, but it's also a lot slimmer, at 240 x 155 x 29.5mm. That gives it a less boxy look than the new router, but not necessarily a better look – both are designed to be plain and inoffensive.
Setup
The 4GEE Home Router 3 comes with a quick start guide, and 'quick' really is the key word, as you basically just pop the supplied SIM card in and plug the router in. As with any router there are settings to tweak, such as changing the network name or security settings, but to simply get up and running it's little more than plug-and-play.
This is one of the great things about 4G and 5G home broadband devices – there's no need for an engineer to set things up, and you don't even need a landline, which both simplifies things and potentially reduces the cost, as you could always get rid of your landline entirely with this.
These perks are true of all 4G home broadband routers though, so none of this is a specific selling point of the 4GEE Home Router 3, but it's good to know nonetheless.
Performance
Judging the speed of a 4G home broadband router is never easy, because it will be so dependent on the coverage in your home, and even on how building materials and other obstacles affect the signal.
That's why any figures given by networks or quoted in reviews should be taken with a pinch of salt, and perhaps that's why EE itself is being so cagey here, saying simply that you can get up to EE's "fastest 4G speeds."
Interestingly though, you can only get that on plans with 300GB, 500GB, or unlimited data. Choose a 100GB or 200GB plan and you're limited to speeds of up to 30Mbps.
For reference, that's slightly slower than BT Broadband's basic Fibre Essential plan (with speeds of around 35Mbps). Plusnet's fibre service is also slightly faster even on low-end plans, while high-end fibre plans offer far higher speeds, but a basic (non-fibre) plan from Plusnet averages 10Mbps.
Of course, you're only limited to 30Mbps on EE's cheaper plans anyway. Spend more and you can get the best 4G speeds possible on the network (depending again on coverage and other factors).
Based on what EE's said about its 4G network in the past, we'd assume that means peak speeds of around 90Mbps, but in reality you're likely to get less than that.
Beyond speed, the EE 4GEE Home Router 3 also has two Ethernet ports allowing for wired connections, offers a 30-metre Wi-Fi radius, and can get up to 64 gadgets online at once. Those are all solid specs, but they're in line with the competition, as you'll see below.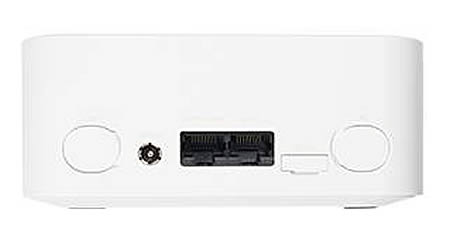 Alternatives
If you're set on using EE, then your main alternative to the EE 4GEE Home Router 3 is the 5GEE Router 2021, however this is only really useful if you get a 5G signal in your home. If you do though then it's a far better option, as you can get much higher speeds that are likely to average around 150Mbps.
Other specs here are similar though, including a 30-metre Wi-Fi range, two ethernet ports and 64 simultaneous connections.
For 4G, at the time of writing EE is also selling the BT 4G Home Hub, however while speeds are likely to be broadly similar to the Home Router 3, this only supports up to 32 simultaneous connections, so it's not as good.
Your options widen if you're open to other networks, with the Three 4G Hub offering similar specs to the 4GEE Home Router 3, but with four Ethernet ports, and the Vodafone GigaCube 4G also being similarly capable. Both networks also offer 5G options in the form of the Vodafone GigaCube 5G and the Three 5G Hub.
While specs vary a bit, in most cases coverage and plans will make a bigger difference, so choose a network with good coverage in your home, and plans and pricing that appeal – and go for 5G if it's an option.
There's also fibre broadband of course, which we compared the EE 4GEE Home Router 3 a bit to above. In short, fibre broadband is typically faster, and sometimes a lot faster, so if that's available to you then it's worth considering too, just be aware that the setup is more of a hassle, and that costs are sometimes higher.
Conclusion
The 4GEE Home Router 3 is a capable and competitive 4G home broadband router that rivals devices from other networks, and betters the likes of the BT 4G Home Hub.
However, while EE has been cagey on many of the specs, it doesn't appear to be a significant upgrade on the 4GEE Home Router 2, and it's in any case limited to a slightly dated technology (4G).
If you have 5G coverage in your home we'd always recommend spending a little more to get the extra speed offered by a 5G router (unless your internet needs are very minor), but if you don't, then the 4GEE Home Router 3 is the best option on EE, and one of the best you'll find on any network. It's just not very future-proofed.