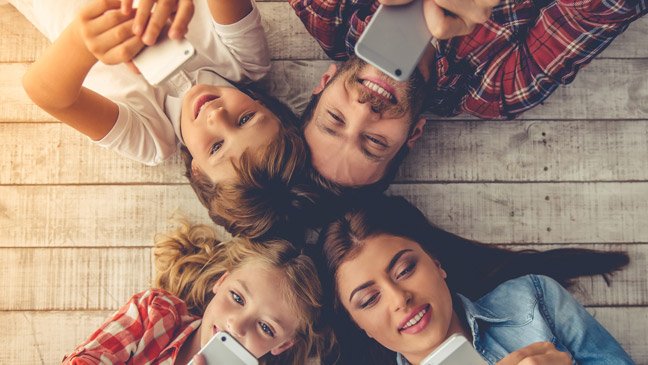 If you're happy to share a phone contract with family or friends there can be big savings to be had, as many networks offer discounts for having multiple plans or let you share your data allowance between a group, so you're less likely to end up paying for data you don't use.
Not all networks offer either of these perks though and the exact terms vary from network to network, so we've put together this guide, highlighting the best options available. The deals are in no particular order, as how good each of them is will largely depend on your own needs, such as how many people you plan to add to the contract.
That said, we have picked which one we think the very best is for most people, and you'll find that highlighted underneath the various plan options.
Below all that you'll find some information on what else to consider when choosing a family SIM deal, so read on, get sharing, and get saving.
Networks offering family SIM deals
EE Multi-Line Discount
EE offers a Multi-Line Discount, which gives a 30% discount off every additional SIM-only or data-only plan, and 10% off additional smartphone and tablet plans.
As well as saving you money, this service also allows you to move data around between users with data gifting. So for example, if one person is running low you can send them data from someone else on the account who has a lot left.
Data caps and other toggles – such as whether people on the account can use data abroad – are also available to ensure there are no surprise bills, which is especially handy if you plan to put your kids on the account.
BT Mobile Family SIM
With BT Mobile's Family SIM, you can add up to 4 additional SIM cards to your account and each of them will only be tied into a 30-day contract (though the first SIM has to start with a 12-month one). That makes BT's family plan more flexible than some.
Of course, you can also save money, with each additional person getting a 20% discount on the standard price.
Each member of the Family SIM plan has their own allowances, but they're all on the same allowance (so if the lead SIM has a 15GB data limit then the others will too). Family SIM also makes managing all the plans simpler, since they're all on one bill, and the main account can control the spend.
However, BT Mobile isn't currently selling plans to new customers, so you or someone you want on the Family SIM needs to already have a BT Mobile account to access this.
O2 Multisave
With an O2 Multisave plan you can add up to 20 connections to your plan, which is more than most networks allow.
And you might want to add lots of connections, because doing so can save money, as every additional connection gets a 20% discount off their airtime plan.
Note that this only applies to the 'airtime' part of your costs, which means your allowances. It doesn't apply to the part of your monthly cost that's paying off your phone.
A range of different types of plan can be added to a Multisave plan too, including tablets, SIM Only, and of course Pay Monthly handset plans. The other connections can also all have different allowances.
There are also various exclusions, for example you won't get the discount on any promotional plans (ones which are already being sold at less than their normal price).
Vodafone Additional Plans
Vodafone keeps things simple with its Additional Plans. Just take out one full price Pay Monthly, SIM Only, tablet, or mobile broadband plan that's over 30 days long and you'll be able to add up to 9 additional lines to your account, each of which gets a 15% discount.
Note however that on Pay Monthly handset plans, the discount only applies to the airtime part of the plan (your allowances) not the phone itself.
There are also some online only discounts of varying amounts on select devices and plans when adding an additional one to your account, saving you up to £430 over the life of the contract at the time of writing.
As with many other family plans, the discount won't be available for some plans, including some which are already subject to an offer, discount, or promotion.
Smarty Mobile Group Plan
Smarty Mobile takes a similar approach to Vodafone, with each additional plan getting a 10% discount. That might therefore sound worse than Vodafone's 15% discount, but bear in mind that Smarty already offers cheap plans.
Plus, every member of the group (which can have up to 8 people in it) can be on their own individual plan with differing allowances, and there are no contracts on Smarty, so members can leave or change their plan whenever they want.
As with many group plans, on Smarty the group owner can also manage every member's plan in one place, including making payments and purchasing add-ons, so account management is simplified.
Tesco Mobile Family Perks
Tesco Mobile lets you add up to 4 additional subscriptions to your account, and, as long as there are at least two of you, you'll be eligible for 'Family Perks'. These are monthly perks which include up to 1GB of extra data, up to £2 off your bill, up to 200 Tesco Clubcard points, and up to £2.25 off Tesco Mobile Protect. The exact amount of data/points/discount you'll get with each perk depends on your monthly tariff price.
There are also perks that grant you extra minutes, but at the time of writing all of Tesco Mobile's eligible plans appear to include unlimited minutes anyway.
Each person on your plan can choose one of these perks each month, and you can change which one you get every month, with the only exception being the Tesco Mobile Protect discount, which you need to have chosen from the start.
Tesco Mobile Family Perks are available on Pay Monthly phone and SIM Only plans, as well as tablet plans and tablet SIMs, but in the case of those last two your perk will always be extra data, so you don't get the choice.
Tesco Mobile Family Pack
Yes, we've already covered Tesco Mobile above, but this network actually has two distinct family plans, because as well as Family Perks, there's also Family Pack.
Family Pack then is a special SIM Only plan which costs £30 per month and gives you unlimited data, minutes and texts. It's a 30-day plan, so you're not tied into a contract.
That price isn't terrible for those allowances, but it's not special either. However, you can add up to four additional family members to the plan, and they'll pay just £10 each.
So with two people the total monthly cost is £40 (£30 + £10), making it £20 each if you split the cost equally. With five family members on the plan you're paying £70, which equates to just £14 per person each month. That's the maximum possible discount.
Note however that Family Perks aren't available with Family Pack and vice versa. So you have to choose which Tesco Mobile Family plan you'd prefer.
Sky Mobile
One of the standout features of Sky Mobile in general is that it lets you roll over your unused data from one month to the next for up to 3 years. However, if you add your family's phones to your account then you all get to share any data that's rolled over, and up to 7 SIM cards can be added to one account.
Note that you don't share your normal allowances, but any data that any of you don't use goes into a communal 'Sky Piggybank' which you can dip into as needed.
Sky Mobile Piggybank also allows you to cash in unused data for savings on new phones, tablets, and accessories, with specific rewards changing monthly.
Three
Three doesn't have a family SIM plan as such, but it does reward you for adding extra SIMs or devices to your account.
These include deals that lower the monthly cost of additional plans, usually by a few pounds, and sometimes also lower the upfront cost.
Additionally, you can sometimes get a plan at half price for six months, which can amount to a significant saving.
Virgin Mobile Family Plan
Virgin Mobile's family plans are exclusive to customers who also have TV or broadband with the company, making them a bit more limited, but they're decent if you qualify.
You can add up to five SIM Only, Freestyle, Classic, Oomph bundles or mobile broadband plans to one account, and each plan after the first gets a £2 monthly discount, making for a total saving of up to £96 per year (that's if you have five SIMs on your account). Family plans also include unlimited calls between members, and the ability to manage all bills and payments in one place.
Which is the best family SIM deal?
Of all the current family plan options, our pick for the best one is Smarty's, as while its 10% discount for additional members isn't immediately eye-catching, Smarty already offers cheaper plans than most networks as standard.
Better yet, these are just 30-day plans, where a lot of the other options tie you into a contract.
Of course, this won't be the best option for everyone, so for more guidance on which plan to choose, take a look at the considerations below.
Considerations when choosing a family plan
Data vs discounts
As noted above, family plans tend to be split between those which offer discounts and those which let you share your data, so it's worth considering which you'd find more useful.
In general, we tend to think that discounts are better (though notably the first person on the account doesn't usually get a direct discount). Data sharing can be handy if your data use varies from month to month, but if you and the other people on your plan tend to use a fairly standard amount you might find you don't really take advantage of it.
Contract length and type
Note also that some family plans are only available on certain contract types or durations. For example, while some networks limit you to long contracts on family plans, in some cases there's more flexibility, with short term plans an option. This is the case with Smarty, which doesn't tie you into a contract.
Adding people to a plan
In most cases you can add people to your plan (or remove them from it) at any point, but this is always worth checking if you think you might want to add or remove people later.
Other network features
Family plans and the perks that go with them are just one thing to consider when choosing a network. You should also look at their prices (big family plan discounts are less impressive if the standard prices are high) as well as their coverage, speeds, allowances, their tethering and roaming terms, and any other extras they offer, such as Wi-Fi Calling or data rollover.