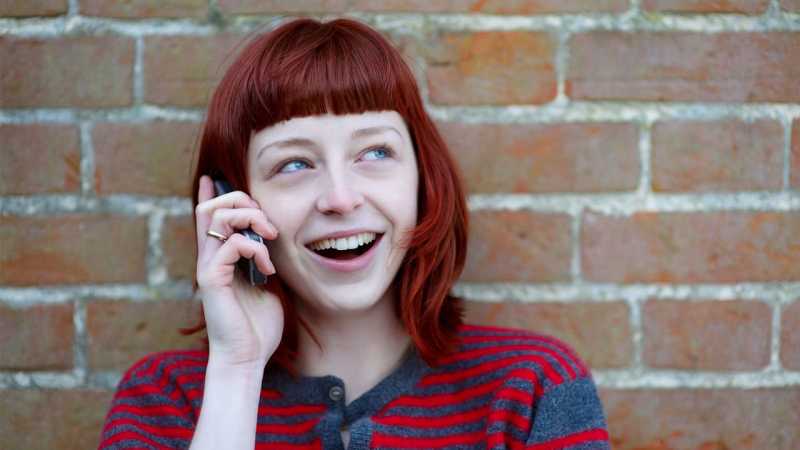 Along with VoLTE (Voice over LTE), Wi-Fi Calling is set to upgrade the humble phone call. As the name suggests, it lets you make and receive calls over Wi-Fi, as well as sending and receiving texts. That could be handy if you're somewhere with little or no mobile signal, including the London Underground.
EE, Vodafone, O2 and Three each offer Wi-Fi Calling in some form, as do some MVNOs (Mobile Virtual Network Operators), but some offer more options or make it available to more phones than others.
Read on for a rundown on each network's approach and note that in all cases Wi-Fi Calling may not work if you haven't bought your phone directly from the network in question.
BT Mobile lets all customers, whether on a SIM Only, Family SIM or Pay Monthly Phone plan, use Wi-Fi Calling, and it works without an app, so it's completely seamless.
However, it's not currently available on all phones. At the time of writing to guarantee it will work you'll need an iPhone 5S or above on iOS 11.3 or later, or a Samsung Galaxy S9, Samsung Galaxy S9 Plus or Samsung Galaxy A8 (2018) with the latest available software. If using an Android phone you'll also need to have bought it from BT.
However, some other Android handsets may work whether or not you bought them from BT Mobile.
Whatever handset you're using, you'll then need to enable the Wi-Fi Calling toggle in the settings screen for it to work.
Note that BT Mobile claims that it will gradually support more Android phones, but if you have a different one or didn't buy it from BT Mobile there's still a chance that it will work, the network just can't guarantee it.
For more information on BT Mobile Wi-Fi Calling and a list of phones that might work, head here.
EE offers true Wi-Fi Calling, which is to say there aren't any separate apps or accounts involved, instead calls and texts will come through via your standard dialler and SMS apps, they'll just use Wi-Fi to do so if you're connected to a Wi-Fi network.
That makes it a seamless experience, which is a big bonus and calls and texts will come out of your normal monthly allowance.
The only downside to EE's Wi-Fi Calling is that it's not available on all devices, but it is available on a large and ever-growing selection of handsets, including the Samsung Galaxy S9, Huawei P10, iPhone X, iPhone 8, Samsung Galaxy S8, Sony Xperia XZ1 and many more. It also works on phones not bought from EE direct, but the network can't guarantee it will work with all phones so check the list linked below.
Find out more about EE Wi-Fi calling here
FreedomPop also offers Wi-Fi Calling. It's not exactly app-free, but it uses the same app as standard messaging through FreedomPop does, so it's a fairly seamless experience and it seems to work with all phones that work with the FreedomPop app (which is most of them).
Find more about FreedomPop Wi-Fi calling here
iD Mobile was one of the first MVNOs to offer Wi-Fi Calling and you're getting true, app-free Wi-Fi Calling with it.
However, it's only currently available for the iPhone 5S, iPhone SE, iPhone 6, iPhone 6 Plus, iPhone 6S, iPhone 6S Plus, iPhone 7, iPhone 7 Plus, iPhone 8, iPhone 8 Plus, iPhone X, iPhone XS, iPhone XS Max, iPhone XR and a selection of Android handsets, such as the Samsung Galaxy S10, Samsung Galaxy S10 Plus, Huawei Mate 20 Pro and Huawei P30, though iD claims to be working to bring it to more phones.
Find out more about iD Mobile Wi-Fi calling here
O2 was the last major network to launch a Wi-Fi Calling service, and it's currently not available on all handsets, but does work on the likes of the iPhone XS iPhone XS Max, iPhone XR, iPhone X, Samsung Galaxy S10, Galaxy S10 Plus, Galaxy S10e, Google Pixel 3, Pixel 3 XL, Sony Xperia XZ3, OnePlus 6T and various other phones.
If you have a supported handset you should get a software update to enable Wi-Fi Calling, after which it will work automatically whenever you're on a Wi-Fi network - though in some cases you may need to enable it in your device's settings first.
O2 used to also offer an app-driven Wi-Fi Calling service called TU Go, which was an alternative for anyone without a compatible handset, however this has now been discontinued.
Find out more about O2 Wi-Fi calling here
Three also offers true, app-free Wi-Fi Calling.
On Android it works automatically while those on iOS devices below iOS 11.2 will need to activate Wi-Fi Calling in their phone's settings screen. Currently it's available for all iPhones running iOS 10.2 or later, plus the Samsung Galaxy S8, S8 Plus, Note 8, S7, S7 Edge, S6, S6 Edge, A3 2016, A5 2017, J3 2017, LG G6 and LG G5. You will need to have purchased your phone from Three as it needs firmware pre-loaded to support WiFi calling.
If your phone isn't supported or not bought directly from Three you're not out of luck, as Three also takes an app-driven approach to Wi-Fi Calling with its inTouch app. While this does require a separate app you don't need an account or password, just a smartphone on Three.
Minutes and texts will come out of your standard credit, so there are no extra charges either and it works on most Android phones running Android 4.0 or above and most iPhones running iOS 6 or higher.
Find out more about Three Wi-Fi calling here
Vodafone's Wi-Fi Calling service is similar to most others, in that it works seamlessly without the need for a separate app. You simply need to have a compatible handset on a Vodafone Red Extra, Red Entertainment, Red or Red Value tariff and then to enable Wi-Fi Calling in the phone's settings. Once that's done, you'll be able to call and text as normal, but over Wi-Fi when available.
Vodafone Wi-Fi Calling is available on the iPhone XS, iPhone XS Max, iPhone XR, iPhone X, iPhone 8, Samsung Galaxy S9, Samsung Galaxy Note 8, Huawei P20 and Sony Xperia XZ Premium among many other devices.
Find out more about Vodafone Wi-Fi calling here
Vodafone also has another trick up its sleeve called Call+, which is an additional service that works in combination with Wi-Fi Calling (or standard calls if you have a mobile data connection). It allows you to mark your call as important, type a subject or reason for the call, add your current location and even add a photo.
So the person you're calling has far more information available before you even start talking. You can also switch to a video call mid conversation and once the call is done you can access any messages, photos or videos that were shared during the call directly from the call logs. If the person you're calling doesn't answer you can also leave a note or voice message for them.
This service requires the Vodafone Call+ app, which is available on both Android and iOS. But once you've got the app it too is fairly seamless.
Sky Mobile is one of the more recent networks to offer Wi-Fi Calling and currently it doesn't work on many handsets. At the time of writing you need a Samsung Galaxy S10, Samsung Galaxy S10 Plus, Samsung Galaxy S10e, Samsung Galaxy S9, Samsung Galaxy S9 Plus, Samsung Galaxy S8, Samsung Galaxy S8 Plus, Samsung Galaxy A7, Samsung Galaxy J4+, Sony Xperia XZ1, Sony Xperia XZ2, Sony Xperia XZ3 or Sony Xperia XA2.
To guarantee it works you'll also need to have got your handset from Sky Mobile. You can find out more about Sky Mobile Wi-Fi Calling here.