The Netgear Nighthawk M6 (available from O2) is a mobile broadband router, and it stands out among these devices in that is supports 5G, while many still top out at 4G speeds.
Like all mobile broadband devices, the Netgear Nighthawk M6 is designed primarily for getting your gadgets online when you're away from home, such as when in a train or car, or in a coffee shop or hotel.
It's a superior option to public Wi-Fi or tethering – for reasons that we'll get into below – but is the Netgear Nighthawk M6 the right mobile broadband choice for you? Read on for more information.
How does the Netgear Nighthawk M6 work?
The Netgear Nighthawk M6 can connect to mobile networks just like your phone can, and – just like when tethering with your phone – it can then use that signal to broadcast a Wi-Fi network for other devices to connect to.
But it's a better option than tethering because it has its own battery, so you don't have to drain your phone's battery to get your gadgets online. It also has its own data plan, so you won't be using up your phone's data allowance, and it can get up to 32 devices online, which is more than you'll often be able to do when tethering.
It's also a better option than public Wi-Fi, as that isn't usually secure, and public Wi-Fi network can often be slow – and are almost always slower than 5G. Plus, you often have to create an account or log in to use public Wi-Fi, and sometimes it costs money.
All of these benefits of the Netgear Nighthawk M6 apply to other mobile broadband devices too though, and most other mobile broadband devices also work in the same way – except for mobile broadband dongles, which don't have a battery and instead plug directly into a laptop.
Setup
Whether you get a Netgear Nighthawk M6 from O2 or buy it elsewhere, the setup process is similar – and very simple. Here's how to get it up and running.
Step 1: install the SIM card
The Netgear Nighthawk M6 uses a nano SIM card (which is the smallest possible size). Start by putting this into the slot inside the Netgear Nighthawk M6. Your M6 will likely arrive without the back cover on, but if the cover is on then remove that to find the slot.
Step 2: insert the battery and back cover
Next, put the battery on top of the SIM card slot, then put the back cover over it, firmly pressing this into place.
Step 3: switch it on
Press the power button on the side of the Netgear Nighthawk M6 to switch it on, and wait for the lock screen to appear.
Step 4: get connected
The Netgear Nighthawk M6 should automatically connect to a mobile network and start broadcasting a Wi-Fi network, so to get your gadgets online, just select this network and enter the password (which can be seen on the Nighthawk's home screen or on a label under the battery). If the screen is blank, quickly press and release the power button to light it up.
Performance and speeds
The Netgear Nighthawk M6 supports Wi-Fi 6 download speeds of up to 3.6Gbps (though curiously O2 lists its version at 3.1Gbps) and 5G speeds of up to 2.5Gbps. Regardless, you won't likely be getting speeds that high, but it does support 5G, meaning that you'll have access to the highest speeds possible on O2 (or any other network if you buy the Netgear Nighthawk M6 elsewhere and put a data-only SIM in it).
Exact speeds will depend on your location and network, but an average in the range of 100-200Mbps is likely (on 5G), with speeds being lower when you're in areas that only have a 4G signal.
Peak speeds will realistically be more in the region of 1Gbps than the 2.5Gbps+ that the hardware is capable of, but that's still exceptionally fast.
All that said, if you do get this on O2, be aware that most independent tests suggest O2's 5G network is one of the slower ones, with an April 2023 Opensignal report seeing it come last of the big four, with average 5G download speeds of just 75Mbps. The same report also found O2's average 5G upload speeds to be the lowest, at 9.8Mbps.
So you might want to consider buying the Netgear Nighthawk M6 elsewhere and getting a data SIM plan from another network if the hardware appeals but you want the top speeds possible. But it will still be very fast on O2, and you get the convenience of being able to buy the Netgear Nighthawk M6 on contract, letting you spread the cost.
Router features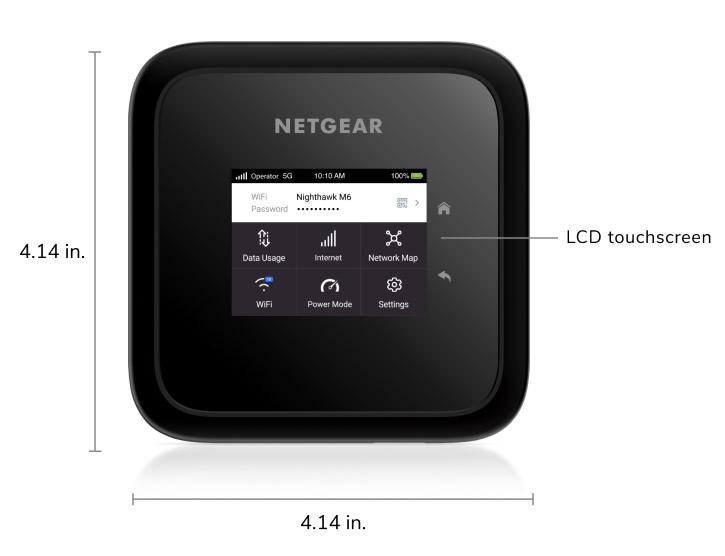 The Netgear Nighthawk M6 has a number of features worth knowing about, including a 2.4-inch touchscreen. Not all mobile broadband devices have a screen at all, so this is notable.
With this screen, you can set up and change the Wi-Fi settings, as well as monitoring usage, so it's a convenient feature.
The Netgear Nighthawk M6 also has the ability to get up to 32 devices online at once. That's a competitive number, though not as many as some devices offer (check out the alternatives section below for more on that).
You also get an Ethernet port with the Netgear Nighthawk M6, so you can plug a device into it for a more stable wired connection, and it supports Wi-Fi 6, has antenna ports so you can add an external antenna if needed, and offers coverage over an area of up to 1,000 square feet, so you don't need it to be near the devices that you want to get online.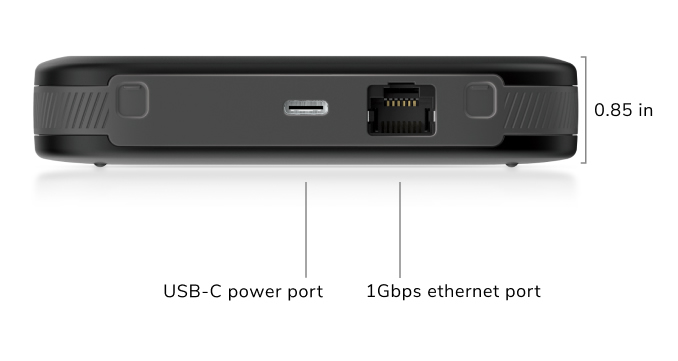 All of this is powered by a 5,040mAh battery, which offers a standby time of 168 hours and a battery life of 13 hours when in active use. That's enough for all-day use, making this the perfect solution for any day when you need a lot of internet access while away from home or the office.
Plans
The Netgear Nighthawk M6 is available from O2, which sells it on 36-month plans, with between 5GB of data and unlimited data.
The cheapest of these plans costs £22 per month while the most expensive costs £42 per month, and neither of those plans has an upfront cost.
However, O2 also offers custom plans, meaning you can choose between 3 and 36-month durations, with a data limit of your choice, and an upfront cost of your choice.
So O2 is very flexible here, meaning you should be able to find a plan to suit – and if not, the Netgear Nighthawk M6 is available to buy outright from other stores, though it retails for around £700, so it's pricey. That high price though explains why O2's plans are fairly expensive too.
Alternatives
Vodafone 5G Mobile Hotspot
The Vodafone 5G Mobile Hotspot is a 5G mobile broadband device sold by Vodafone, and it's similar to the Netgear Nighthawk M6 in that it also has a 2.4-inch touchscreen and support for 32 simultaneous connections. So if you want this sort of device on a network other than O2, it's worth a look.
EE 5G WiFi
The EE 5G WiFi is EE's 5G mobile broadband option. There's no screen here, but it tops out at 64 simultaneous connections, which is double what the Netgear Nighthawk M6 can achieve. So if you need to get a lot of things online, this is a better choice. However, EE's pricing is also high.
Netgear Nighthawk M1
As well as the Nighthawk M6, O2 also sells the Netgear Nighthawk M1, which similarly has a screen and a 5,040mAh battery, but which tops out at 4G speeds, and offers just 20 simultaneous connections. 20 should still be plenty for most users, but it's worth being aware of. This is a lesser device overall then, but it's also cheaper.
Three 5G Broadband
If you want home broadband rather than mobile broadband then Three 5G Broadband is a good option. With this, you'll get sent a router that needs plugging in – so there's no battery. But it can connect up to 64 devices to the internet, and is designed to be left on all the time.
Conclusion
The Netgear Nighthawk M6 is an accomplished 5G mobile broadband device. While it can't get as many gadgets online as the EE 5G WiFi, its limit of 32 should be more than most people need, and its touchscreen gives it an advantage over many rival devices.
It's also capable of reaching very high speeds, has decent battery life, and can provide coverage over a wide area.
It's moderately expensive and O2's 5G network may not be the best right now, but those are the only other real issues the Netgear Nighthawk M6 faces. And anyway, you can always buy it elsewhere and put another network's SIM card in it.

FREE
Netgear Nighthawk M6

£26.00

a month
36 month contract


See Deal