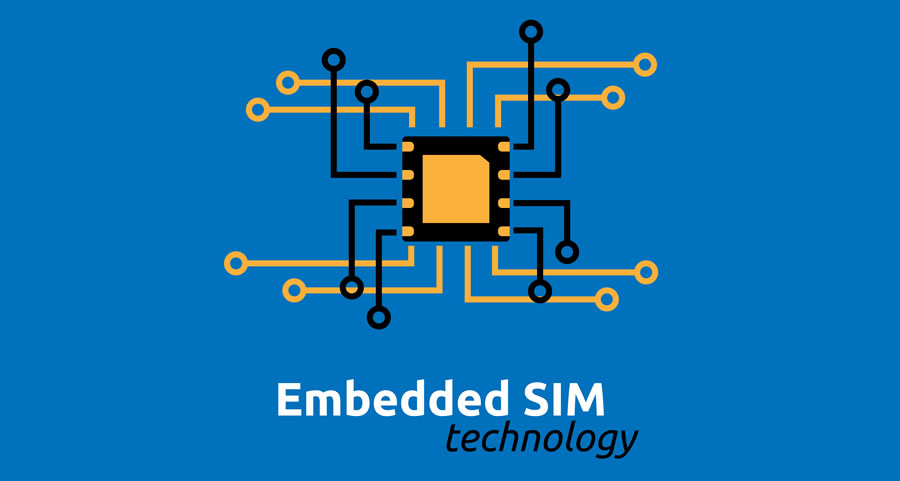 Phones have been using SIM cards for years and while they've got smaller over time and added support for newer mobile technologies, the concept of the SIM card hasn't really changed.
But it's starting to, as a thing called an e-SIM or eSIM is starting to appear in a small but growing number of smartphones, including some from Apple, Samsung, and Google, and it could become the new standard in the near future.
Here's everything you need to know about this exciting evolution of the SIM card.
What is an eSIM?
An e-SIM is an embedded SIM card, meaning that unlike standard SIM cards you can't take it in or out of the device. That might sound like a bad thing, but it's designed so that you don't have to, as rather than being locked to a specific network the SIM card can change network when you do.
What are the benefits of eSIMs?
At a minimum it can take some of the hassle out of changing networks, plans and devices. No longer will you have to wait for a new SIM card, request a PAC code, and wait for your device to change over to the new network. Instead you just request the move and your SIM card will automatically be set up on your new network or plan.
While if you buy a new device you just register it to your account and it will automatically be set up with your previous number and details, and you won't have to worry about the various different SIM card sizes we have today.
It could even theoretically mean the freedom to change network as and when you choose, though in practice the mobile networks are currently still locking us into contracts most of the time.
Multiple networks and numbers can be stored on a single eSIM too, so you can have more than one number. This could be handy if for example you want both a work and personal number on one phone, or if you're travelling abroad and want a local number to avoid roaming fees.
Plus, if phone-makers can remove the SIM card slot they can save a little bit of space, as not only is there no need for a SIM tray and an ejection mechanism (to remove it from the phone) with an eSIM, but an eSIM itself is smaller than a nano SIM. That means there's more room for other components or for example a slightly bigger battery. The saved space will be tiny, but then so are some smartphone components.
Alternatively, that saved space could be used to make a device smaller. In either case this could be even more beneficial to smaller devices like smartwatches, which we're also starting to see eSIMs in.
Another advantage of them is that by not having a physical SIM card, phones will likely become less popular targets of theft, since thieves won't be able to remove the SIM card and replace it with a new one.
Are there any downsides of eSIMs?
Any e-SIM depends on networks supporting it. It's unlikely that they'll become the standard before most or all networks agree to support them, but if any networks do hold out then you may be unable to use those networks if you have a device with an e-SIM.
At the time of writing, almost all phones with eSIM cards also have a standard SIM card slot for this exact reason, but this removes the tech's space-saving benefits.
What phones support eSIMs?
You can already get devices with eSIM cards, and there are a growing number of them. The most high-profile examples include every iPhone from the iPhone XS range onwards, plus many high-end Samsung phones such as the Samsung Galaxy S21 range.
However, all of these also have a standard SIM card slot as well, since some networks don't yet support eSIMs.
Phones that support eSIMs

| Manufacturer | Model |
| --- | --- |
| Apple | iPhone 13, iPhone 13 Pro, iPhone 13 Pro Max, iPhone 13 mini, iPhone 12, iPhone 12 Pro, iPhone 12 Pro Max, iPhone 12 mini, iPhone 11, iPhone 11 Pro, iPhone 11 Pro Max, iPhone XS, iPhone XS Max, iPhone XR |
| Google | Pixel 6, Pixel 6 Pro, Pixel 5, Pixel 4a, Pixel 4, Pixel 4 XL, Pixel 3a, Pixel 3a XL, Pixel 3 |
| Huawei | P40 Pro, P40 |
| Microsoft | Surface Duo, Surface Duo 2 |
| Motorola | Razr, Razr 5G |
| Oppo | Find X3 Pro |
| Samsung | Galaxy S21, Galaxy S21 Plus, Galaxy S21 Ultra, Galaxy S20, Galaxy S20 5G, Galaxy S20 Plus 5G, Galaxy S20 Ultra 5G, Galaxy Fold, Galaxy Z Fold 2, Galaxy Z Fold 3, Galaxy Z Flip, Galaxy Z Flip 5G, Galaxy Z Flip 3, Galaxy Note 20, Galaxy Note 20 Ultra |
Apple hasn't just put eSIM cards into phones either, as the company has also put one in the Apple Watch 7, Apple Watch 6, Apple Watch SE, Apple Watch 5, Apple Watch 4, Apple Watch 3 and various iPad models, though it used to call it an Apple SIM in earlier devices.
Google is also pushing eSIMs. It has put an eSIM in the Google Pixel 6, Pixel 6 Pro, Pixel 5, Pixel 4, Pixel 4 XL, Pixel 4a, Pixel 3, Pixel 3a and Pixel 3a XL, though as with Apple's implementation there's also a normal SIM slot in these phones.
Samsung has dabbled with eSIMs too, putting one in the Samsung Galaxy S21 range, Samsung Galaxy Note 20, Samsung Galaxy Note 20 Ultra, Samsung Galaxy S20, Samsung Galaxy S20 Plus, Samsung Galaxy S20 Ultra, Samsung Galaxy S20 FE, and its foldable phones. Plus, it has stuck an eSIM in the Samsung Galaxy Watch 4, Galaxy Watch 4 Classic, Galaxy Watch 3, Samsung Galaxy Watch Active 2, Samsung Gear S2 and Samsung Galaxy Watch.
Other phones with an eSIM include the Motorola Razr and Razr 5G, the Oppo Find X3 Pro, the Microsoft Surface Duo and Surface Duo 2, and the Huawei P40 and Huawei P40 Pro.
The only phone that only has an eSIM at the time of writing though (as opposed to also having a removable SIM) is the Motorola Razr (2019).
It's worth noting too that many of these devices also come in versions that only have a removable SIM card, and not all networks or countries will offer the eSIM versions, so check which version you're buying if you specifically want an eSIM.
Which networks offer eSIMs?
At the moment the usefulness of eSIMs is limited as not all networks are on board. However, progress is being made on that front, as in the UK all four main networks (namely Three, EE, Vodafone and O2) support eSIMs at the time of writing.
UK Networks offering eSIMs

Network

eSIM available

Find out more

Pay Monthly plans

Pay Monthly plans

Pay Monthly plans

Pay Monthly plans

Compare SIM only deals
That said, they don't all support them on all eSIM-packing devices, and no other UK networks support them yet aside from Truphone, Ubigi, and eSIM.net, which are specialist providers.
So the ability to easily change network or store multiple networks is a little lacking right now, and even your choice of a single network is more limited than with a standard SIM card. But that's sure to change over time. We're seeing more and more devices with eSIMs, so it's likely only a matter of time before the networks catch up.
Handily, the GSMA has now agreed upon a standard for eSIMs, which is another thing that should help push them out into the mainstream, since the tech will be much the same whatever phone you go with.