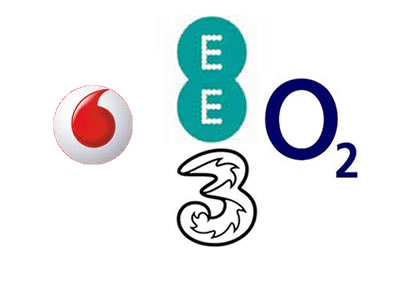 With just about every network now offering 4G to some degree competition has heated up and prices have been pushed down. In other words there's never been a better time to jump on board the 4G bandwagon. But with so many different choices of networks and plans finding the best deal can be a nightmare.
Fear not though, as we've endured the nightmare so you don't have to and we've come out the other side with knowledge of the best 4G deals, whether you want to pay monthly, SIM only or to pay as you go.
Pay Monthly
There are several things to consider when looking for a 4G tariff. You want it to be value for money, you want a good amount of data and you want strong coverage.
Best Value
The best value for money you can get on a Pay Monthly tariff is from Tesco Mobile, which offers 1GB of 4G data, 5000 texts and 500 minutes, with a phone thrown in from just £15 per month on a 24 month plan. As Tesco Mobile uses O2 it also has reasonable coverage and it's expanding its reach all the time.
Best for Data
If you plan to use a large amount of data then you might want to consider Three, as it's currently the only network offering unlimited data, which on a 24 month Pay Monthly plan will set you back from just £23, along with 500 minutes, 5000 texts and a phone. However, while Three is certainly one to watch it's tough to recommend the network right now, as its 4G service is only available to a small number of customers and even those customers will only get access to 4G in London, Birmingham, Manchester and Reading right now.
So for the time being EE is the best network for users who have large data requirements. It doesn't offer unlimited data, but you can get a hefty 20GB a month. The price is pretty steep unfortunately, as for that amount of data it starts at £37.99 per month on a 24 month contract, but for the money you also get a phone, unlimited texts and unlimited minutes. Plus you get access to double speed 4GEE where available and unlimited music streaming on Deezer.
Best Coverage
EE currently has far and away the best 4G coverage. 160 towns and cities have access to superfast 4G data on the network, while 20 can take advantage of double speed 4G and EE aims to bring 4G to 98% of the UK population by the end of the year. Its Pay Monthly plans range between £18.99 for 500MB of data, 1000 minutes, unlimited texts and a phone to £37.99 for 20GB of data, unlimited texts and minutes and a phone, with plenty of plans in between.
Best Overall
With a range of plans to suit all needs, low pricing at the bottom end and vast 4G coverage EE is the best overall network for 4G Pay Monthly deals. Its best overall plan depends on your requirements, but we'd been inclined to pick out its 4GB plan, which also includes unlimited minutes and data, a phone, such as the LG G2 for example, access to double speed 4G and a premium Deezer subscription, all for just £26.99 per month.
SIM Only
Best Value
Three in theory is tremendous value if all you want is a SIM card. You can get 1GB of data, 600 minutes and 5000 texts for just £9.90 a month on a 12 month contract or you can bump that up to unlimited data for £15.90 per month. Three also offer good value on 1 month SIM cards, with £12.90 netting you unlimited data, 200 minutes and 5000 texts. But, as we explained earlier, to say Three's 4G availability is limited would be an understatement.
With that in mind, the best value for now is Tesco Mobile again, which offers SIM cards from just £7.50 per month on a 12 month contract with 250 minutes, 5000 texts and 500MB of data. Though if you plan to make many calls its £10 per month SIM might work better as it gives you 1000 minutes, 5000 texts and 1GB of data, making it great value all round.
Best for Data
Other than Three, EE offers the most data on SIM only too, but it's hard to recommend as it charges a stomach turning £61 per month for 20GB of data, along with unlimited minutes and texts. If you can live with less data (though still a lot), we'd recommend either O2 or Vodafone. Vodafone does 9GB for £36 per month, along with unlimited minutes and texts and access to either Spotify Premium or Sky Sports Mobile, while O2 charges £31 per month for 8GB of data, unlimited minutes and unlimited texts. Compare that to EE which charges £41 per month for 8GB and it's clear which is the better buy.
Best Coverage
EE obviously wins out here again and its prices range between £16 for 500MB of data and unlimited minutes and texts on a 12 month plan, to £63 per month for 20GB of data and unlimited minutes and texts on a 30 day plan.
Best Overall
Tesco comes out on top as the best overall 4G network if you're going SIM only. It provides tremendous value for money and has solid coverage. Its data is capped at 3GB per month, which won't be enough for everyone, but at just £15 for 3GB of 4G data, 2000 texts and 500 minutes on a 12 month plan it's easy to recommend.
Pay As You Go
Best Value
Three once again offers great value, at least on paper. Its rates are impressive and simple, charging you just 1p per MB of data, 2p per text and 3p per minute. Plus the network has an add-on which lasts 30 days, costs £15 and gives you unlimited data, 300 minutes and 3000 texts. Again though, until Three expands its 4G coverage and availability it can't really be recommended no matter how good its pricing is.
With that in mind O2 has to get the nod. It charges 5p per minute and 15p per text message, but for £15 a month you can get 75 minutes, 500 texts and 500MB of 4G data and after 3 months it all doubles, giving you 150 minutes, 1000 texts and 1GB of 4G data.
Best for Data
While Three is worth a mention again for offering unlimited data, EE is a whole lot more practical and has some big data bundles. £10 will get you 1GB of data, £20 will get you 4GB and £30 will net you a whopping 10GB. Outside of data bundles EE charges 30p per minute for calls and 12p per text.
Best Coverage
EE wins the coverage battle as always, with over 60% of the UK currently able to get 4GEE.
Best Overall
While it's tempting to single out EE for its big data bundles and widespread coverage, the network isn't particularly great value when going Pay As You Go, particularly when factoring in the price of calls and texts as well as data. With that in mind O2 is the best overall for Pay As You Go on 4G, combining reasonable prices (5p per minute, 15p per text and £15 bundles with minutes, texts and data) with a solid amount of coverage.