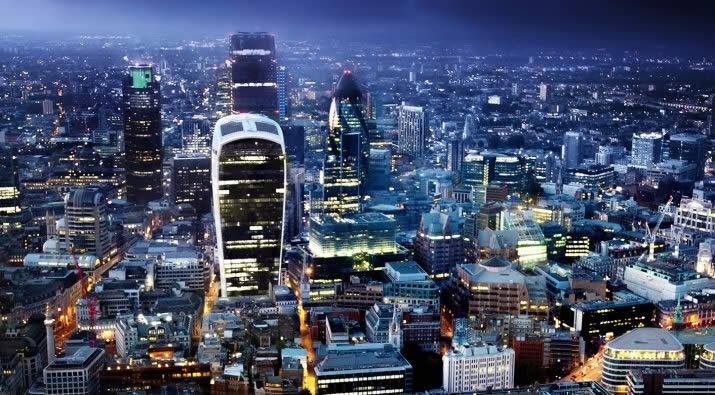 The City of London is set to receive a free public Wi-Fi network powered by 4G technology
The City of London has commissioned the creation of a free public Wi-Fi network covering the entire Square Mile using 4G technology.
Cornerstone Telecommunications Infrastructure Ltd (CTIL) will work with O2 on a 15-year multi million pound project to roll-out and manage the City of London's new wireless network.
In order to supply this network to the City of London, numerous 4G mobile 'small cells' will be installed on lampposts, street signs, buildings and CCTV columns across the Square Mile. This will provide enhanced mobile coverage at street level in an area of the city where mobile coverage can suffer due to the presence of tall buildings.
Another advantage of CTIL and O2's new network is that it will prepare the City for speedy 5G adoption it rolls out from 2020.
The new network is predicted to be more technically advanced than that of other leading financial hubs like New York, and will enable the use of high bandwidth services like video-calling and video on demand. Its use will be free to members of the public following a one-time only registration.
It's expected that the City of London's new 4G network will be fully operational by Autumn 2017, and it will replace the current service provided by The Cloud.
Derek McManus, Chief Operating Officer, O2 said: "Continued investment in infrastructure is essential to maintain the UK's reputation as a digital leader. Connectivity plays a central role in supporting the future growth of our economy, enabling us to communicate and trade more easily, attracting overseas business and creating new jobs. In fact, our own research tells us that an effective rollout of 5G connectivity will add over £7 billion a year to the economy by 2026. That's why we're proud to be partnering with the City of London Corporation and CTIL to provide a network that will help London retain its position as a leading global financial centre."
Malcolm Collins, Managing Director, CTIL, said: "This is an exciting opportunity for us to work together to lead the roll out of next generation wireless technology. Small cells will be key as operators look to support the growing needs of customers. We will offer an innovative wholesale solution that will enable them to do so efficiently and effectively."