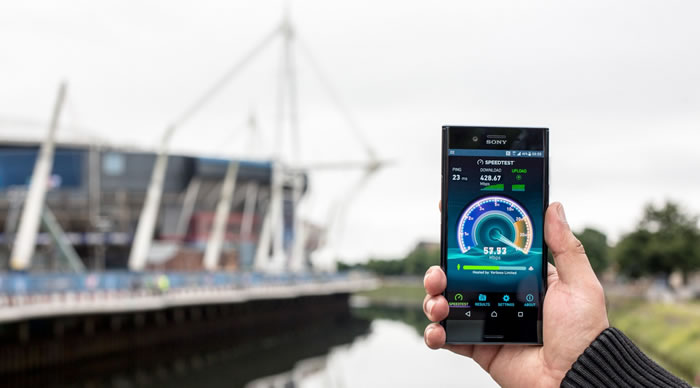 EE has flipped the switch on its new 4G+ network, and has been able to demonstrate live download speeds of 429Mbps using Sony's new Xperia XZ Premium smartphone.
The test took place in Cardiff city centre when EE activated its next generation 4G+ network. The Tech City area of London has also gained access to the network, while Birmingham, Manchester and Edinburgh city centres will follow later in 2017.
Sony's latest flagship phone, the Xperia XZ Premium, launched on June 2 as one of the UK's first ever Cat. 16 LTE-ready smartphones. It joins the likes of the Samsung Galaxy S8 and the HTC U11 in being equipped to take full advantage of EE's next-generation 4G+ mobile network.
For its part, EE claims to be the only UK network that's currently upgrading its network to take advantage of the Cat. 16 standard.
Those EE customers with an appropriate handset can expect to attain peak speeds of above 400Mbps in the above areas, but all customers should be able to experience speeds of above 50Mbps.
Marc Allera, EE CEO, said: "Sony has raised the bar in smartphone speeds, and we're investing and innovating to match that and give our customers the fastest network speeds in the UK. What we've demonstrated live in Cardiff is more than ten times the average mobile download speed. We're rolling out this new capability in Cardiff and London's Tech City, and we'll keep expanding to the busiest areas of the UK so that our customers always have a great connection to do the things they love."