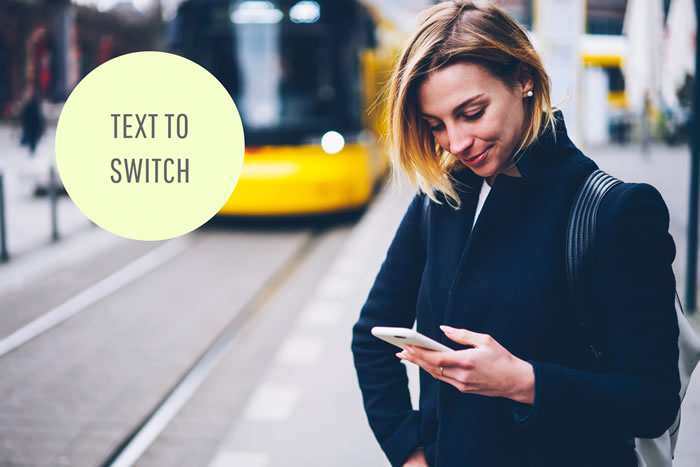 Switching network used to be a complicated and frustrating process, which involved calling your old network to tell them you wanted to leave to get a PAC code. However, that's all changed with new Text to Switch legislation which came into effect on July 1st 2019.
Text to Switch has made things so much easier as you can now check if you are eligible for an upgrade and switch networks simply by sending a couple of free text messages.
To make it even simpler, we've laid out exactly how to do it and highlighted what makes it so much easier now than it used to be.
1. Check if your existing contract is up by texting
Before you begin the switching process, it's important to make sure you're actually in a position to switch networks, which basically means ensuring you're not currently locked into a contract.
The easiest way to do that now is to text 'INFO' to 85075 free from your current number. You'll then get a reply saying whether you're still in contract and what if any charges you'll have to pay if you switch.
If you prefer you can still use the previous methods, such as using your network's app or online account will usually tell you how long you have left to go. Failing that, you can just give them a call and ask.
2. Get a PAC code with Text to Switch
Once you're set on leaving, then assuming you want to keep your old number you need to get something known as a PAC code from your old network and supply it to the one you're joining.
This used to be arguably the trickiest part of switching, as you'd have to call up your network to request it and deal with them trying to convince you to stay. You still can do this if you want, and if you don't mind the hard sell it might even be worth it, as they might offer you a good deal to stick around.
But assuming you're set on switching you can now simply text a number to get your PAC instead. Just text 'PAC' to 65075 from the number you want to keep, and you should get the code sent instantly.
If you want to move network and don't want to keep your number then text 'STAC' to 75075. This will give you a 'service termination authorisation code' which you can give to the new network you join instead of a PAC code, allowing them to shut down your current account without you having to talk to your current network.
3. Sign up to a new network
The next step is to sign up to the network you want to be with. You should consider prices, allowances, coverage and any extras when choosing.
Once you've signed up and got your new SIM card, simply give the new network your PAC (or STAC) code (usually by filling in a simple online form), and they will process the switch, which will usually be done within the next working day.
Note that you can sign up for a new plan either before or after getting your PAC code, the only thing to remember is that you need to use the code within 30 days, otherwise you'll need to request a new one.
Recommended SIM Only deals

12GB data

Unlimited mins

Unlimited texts

£8 a month

30GB data

Unlimited mins

Unlimited texts

£10 a month

Unlimited data

Unlimited mins

Unlimited texts

£16 a month

Compare SIM Only deals
FAQs
If I don't use my PAC/STAC code will my contract still be cancelled?
No, your contract only gets cancelled when you give your PAC or STAC code to a new network. If you request it but don't hand it out then your current contract continues. This is worth being aware of, as you don't want to end up paying for two contracts by signing up with a new network and not giving them your code. But it also means there's no pressure to switch once you've requested your code.
What happens if my PAC code expires and I still want to change network/port my number?
Then you can simply request a new PAC code following the steps above (with the simplest option being to text 'PAC' to 65075).
Will I lose service when porting my number?
Potentially, but not for long. While it can take around 24 hours (or longer if you request the port on a weekend) to actually transfer your number, your old number will remain active until right before the transfer is complete, so you'll likely only be without service for a few minutes at most.
If you notice that you don't have service during the process, try turning your phone off and on again.
Can I still transfer my number once my old account is closed?
No. It's very important to transfer your number before closing your account with your old network, as once you lose the number you can't easily get it back. The good news is that closing your account is handled automatically once you request the number transfer.
What SIM card size will I need from my new network?
This is another thing that makes changing network easier than it once was – they all send out multi-SIMs which usually contain all three possible SIM card sizes, so you don't need to specify when you order, just pop out the one that matches your current SIM card once it arrives.