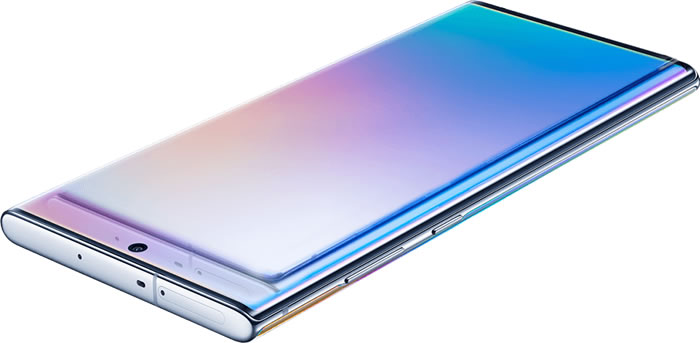 The Samsung Galaxy Note 10+ 5G is perhaps the best phone you can buy and it's certainly the best 5G phone that's currently available.
That's a big claim, as while there aren't many 5G handsets yet, most of the early ones are hugely impressive flagships, but the Samsung Galaxy Note 10+ 5G has them beat in a number of key ways, many of which make it a better fit for 5G specifically, as well as just making it a better phone.
Below, we've run through the five key things that make the Samsung Galaxy Note 10 Plus 5G not just a great handset, but a great 5G one.
1. It's got all the power you need to get the most out of 5G
5G is super fast, so it only makes sense to pair that supercharged network speed with a supercharged chipset and lots of RAM, which is exactly what the Samsung Galaxy Note 10 Plus 5G does.
It has an octa-core Exynos 9825 chipset with two cores clocked at 2.73GHz, two at 2.4GHz, and four at 1.9GHz.
That – along with its tiny 7nm size - makes it even faster and more efficient than the Exynos 9820 found inside the Samsung Galaxy S10 5G and at least a match for the Snapdragon 855 found in many other 5G handsets. It also supports the sort of next-gen content 5G might usher in, such as 8K video.
And the Samsung Galaxy Note 10 Plus 5G also has 12GB of RAM, which again, matches or beats just about every other handset around.
2. It's a productivity champion
With 5G you'll have the speed to properly work on the move, and with the Samsung Galaxy Note 10 Plus 5G you'll also have the hardware to do that, as it has both an S Pen stylus and Samsung DeX.
Starting with that stylus, the S Pen is ideal for sketching, jotting down notes by hand, or anything where you need more precision than a finger offers.
Samsung DeX meanwhile allows you to plug your Note 10 Plus 5G into a monitor or other larger screen, then be presented with a desktop-like operating system, so you can use your phone more like a computer. And those 5G speeds will come in all the more handy when you're loading desktop sites and streaming video to a larger display.
3. The stunning screen means you'll want to use 5G on it
The Samsung Galaxy Note 10 Plus 5G has one of the biggest and best smartphone screens around. It's a 6.8-inch 1440 x 3040 one with a pixel density of 498 pixels per inch, so it's massive and sharp, and it supports HDR10+. It also uses Dynamic AMOLED, allowing it to deliver superb contrast.
All of which is to say that this is a phone you're going to enjoy looking at and spending time with, especially when it comes to movies (which you can use 5G to stream seamlessly or download in an instant) and games (which with 5G you can download fast and play online with almost no latency).
4. It's got the battery life to see you through extended 5G use
There's a 4,300mAh battery inside the Samsung Galaxy Note 10 Plus 5G, which is one of the biggest batteries you'll find in a phone. That's a good thing too, since there's a massive screen to power, and if you're making the most of 5G then you're going to be regularly downloading and streaming content, which can push a battery.
Thankfully, you'll find plenty of breathing room here. Even if you're heavily using your Note 10 Plus 5G and making full use of your 5G data allowance, you still shouldn't be in danger of running out of juice before you run out of day.
5. It's an all-round, next-level flagship
The Samsung Galaxy Note 10 Plus 5G is a phone with an almost endless list of class-leading features. A great quad-lens rear camera? Check. An in-screen fingerprint scanner? Check. A premium, water-resistant design? Check. Lots of storage and a microSD card slot? You bet. Both fast and wireless charging? That's a check.
If you're investing in a 5G phone then you're investing in the future as much as the present, and the Samsung Galaxy Note 10 Plus 5G is a phone that will easily see you through the next few years without feeling particularly dated.
---
The Samsung Galaxy Note 10+ 5G will begin shipping on Friday 23rd August.