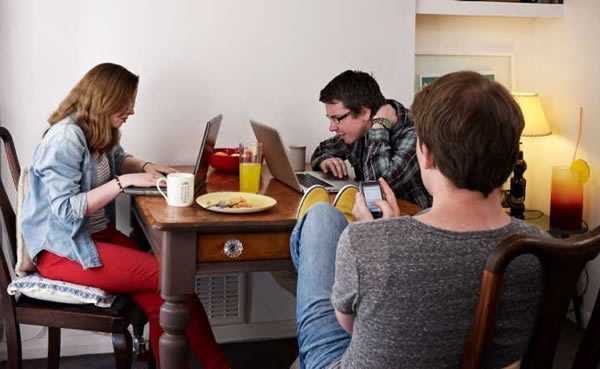 Updated last on 16th December, 2015.
Shared EE Plans Unravelled.
Most people are probably fine with one data allowance for one device, but ever more web enabled devices are being produced and more people are starting to use mobile data too, especially now that 4G is widely available, so it could be that you want to be able to use your data on multiple devices or that you want to share a plan with family or friends. Both of those things are possible with EE Shared Plans.
What is a Shared Plan?
As we hinted above, an EE Shared Plan essentially lets you share your data with multiple devices or people. Up to five devices can be added to an EE Shared Plan and that could be of use to a single person if they have a lot of devices that they want mobile data on (say maybe a work phone, a personal phone, a tablet and a mobile Wi-Fi dongle), or it can allow you to share your data with up to four other people, or some combination of the two.
While the focus is on data, shared plans can be used for minutes and texts too, which could come in handy if for example you want to put your whole family on a single plan, to keep things simple and get a single bill.
Shared plans also typically work out cheaper than individual plans for multiple people, so they're a great way to save some money.
Allowances and getting started
If you're an existing EE customer on an EE plan with 750MB of monthly data or more then just call EE customer services or visit a store and you can get your existing contract changed into a shared one. While if you're not yet a customer it's every bit as simple, just call EE or pop into a store, the only difference is that you'll be able to pick what allowances you want, rather than being stuck with what you already have.
Once you set up a Shared plan you'll be the 'Leader', which makes you accountable for it. You can then add up to four additional people or devices, each of which will have their own individual contract, but there'll just be the one monthly payment and the one set of allowances. Both the Leader and Sharers can keep track of data usage through the 'My EE' app or the 'My Account' page online.
When setting up a new Shared Plan you can choose between 1GB and 50GB of monthly data and all of the plans include unlimited calls and texts.
New people or devices can be added to a Shared Plan at any time and even 3G devices can be included, though of course they'll only get 3G data.
Phones, tablets, data SIMs, phone SIMs, mobile Wi-Fi devices and USB dongles can all be added to Shared Plans.
Things to bear in mind
The key thing to remember is that the 'Leader' is the account holder and is therefore financially responsible for the plan. As there's just one bill this shouldn't be too much of a problem, but all devices on the plan can incur charges, such as roaming charges and data add-ons, so it is possible to end up with some surprises on the bill.
If you find you need more data you can increase your allowance at any time during your contract by calling up customer services and paying a little extra each month, however you can only reduce your monthly data during the final month of your contract.
If you use up all your monthly data then you'll be prompted to buy more. Any user of the plan can opt to get more data, but if no-one does then you'll simply be cut off until next month, so it's not possible to exceed your limit.
Shared Plans come with all the same extras as a normal EE contract, such as £1 movie rentals every week.
Blocking content
If you're using a Shared Plan for your family and you have children on it then you may want to block certain content. That's not a problem. All devices start with a 'Moderate' content setting, which includes access to the likes of YouTube and Twitter, however if you want to change that setting on one or more devices there are two other options- 'Off', which doesn't block anything and 'Strict' which restricts access to many websites, including YouTube and Twitter.
To make a change simply log in to your 'My Account' page on the EE site.
Breaking up the group
If you want to end a Shared Plan altogether then the 'Leader' simply needs to end the plan after the minimum term, at which point the Sharers will need to move to standard EE plans in order to continue using data, minutes and texts.
If however the rest of the group wants to continue without the Leader then rather than closing the account the Leader must instead choose someone else to take it over.
If a Sharer wishes to leave before the end of the minimum term of the contract then they must either move on to a standard EE plan for the remainder of the term, buy out their remaining contract term at a set fee or give the remainder of their contract to another person, under a change of ownership.
If a Leader wishes to leave before the end of the minimum term then either a new leader must be chosen or everyone will be moved on to a standard EE plan with their own individual allowances for the remainder of the contract.
Find out more about 4GEE Shared Plans on EE here.