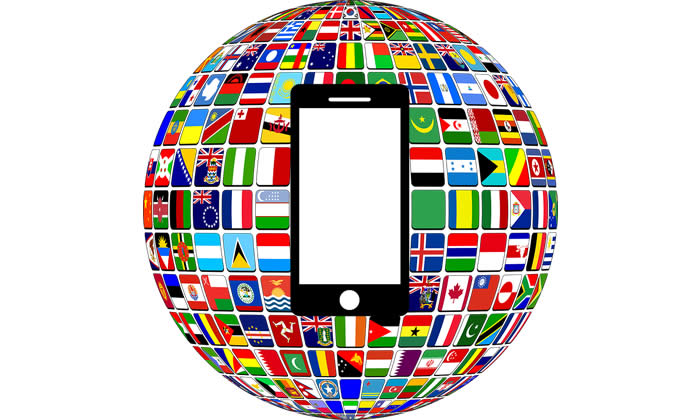 International calling rates is an often overlooked aspect of mobile networks, but it's an important one if you have friends or family who live abroad.
Standard rates are often high for international calls, especially if you're making a lot of them, but the good news is that many networks offer bundles or packs that make the cost a lot lower.
It's these that we'll focus on here, looking at the best options available in the UK. Below you'll find our picks in no particular order (as which is best depends on your need), so give them a read and for full details of each network, click through to our main network reviews, which you'll find linked for each entry.
Lebara Mobile
Lebara Mobile is built with international calling in mind, meaning that all SIM-only plans come with international calls included as standard.
You can get minutes for 42 destinations, and in many cases you'll get unlimited minutes, which is a rarity for international calls. However, there are a number of plans available depending on how many minutes you need and how much you want to spend.
Lebara International SIM deals

Plan

Bundle

Monthly Price

3GB plan

3GB data

1000 mins & texts

100 international mins

£5

50% off with code Voucher20

6GB plan

6GB data

Unlimited mins & texts

500 international mins

£10

50% off with code Voucher20

10GB plan

10GB data

Unlimited mins & texts

Unlimited international mins

£15

50% off with code Voucher20
As these are standard plans they also include UK minutes, texts, and data, and at the top end you can get unlimited everything, with plans also including 5G data.
The countries that are included cover the likes of Australia, Austria, Germany, China, the US, Spain, Singapore, and many other places.
EE
EE offers two packs that existing customers can add to their plans. There's the International pack and the International Extra pack.
EE International Packs

| | | |
| --- | --- | --- |
| Pack | Bundle | Monthly Price |
| International pack | 1000 minutes | £10 |
| International extra | 500 minutes | £20 |
The International pack gives you 1,000 international minutes that you can use for landlines and mobiles in 50 countries, including major destinations like the US, Australia, India, China, Canada, and much of Europe. It costs £10 per month, meaning you're paying just 1p per minute.
The International Extra pack despite its name actually gives you fewer minutes – just 500, and costs more at £20 per month (equating to 4p per minute), but it extends the list of countries to 100, so you can call mobiles and landlines in much of the world.
You can find the full list of locations for both packs here.
Three
Three has a couple of Call Abroad add-ons for contract customers that give you either 100 minutes to call abroad for £5 a month, or unlimited calls abroad for £10 a month.
Three International Add-ons

| | | |
| --- | --- | --- |
| Add-on | Bundle | Monthly Price |
| Call Abroad 100 | 100 minutes | £5 |
| Call Abroad Unlimited | Unlimited minutes | £10 |
It auto-renews every month and at the time of writing works for calls to 55 destinations, including the US, Canada, Japan, Australia, China, Thailand and many more. You'll find all the locations here.
Vodafone
If you're a contract customer on Vodafone then you can get a 100 international minutes add-on for £5 per month. This is called 'International Saver – 100 minutes', and the minutes work in 100 destinations, such as Australia, the US, China, Japan, Germany, France, Italy, and many, many more.
The network also offers 'International Saver – 500 minutes', which for £10 per month will give you 500 minutes to use in the same selection of countries. The full list of locations can be found here.
Vodafone International Add-ons

| | | |
| --- | --- | --- |
| Add-on | Bundle | Monthly Price |
| International Saver 100 | 100 minutes | £5 |
| International Saver 500 | 500 minutes | £10 |
On top of this, Vodafone also offers ways to reduce international calling costs for pay as you go customers. There's an 'Extra International Minutes' add-on, which gives you 50 minutes for just £5 per month.
Vodafone PAYG International Add-ons

| | | |
| --- | --- | --- |
| Add-on | Bundle | Price |
| Extra International Minutes | 50 minutes | £5 |
The list of included destinations can be found here, but it includes much of Europe, along with places like the US, China and India.
O2
O2 has a slightly more complicated approach than some, as it charges just £3 per month for its International bolt-on, which lets you call international landlines and mobiles from just 1p per minute.
O2 International Bolt-on

| | | |
| --- | --- | --- |
| Bolt-on | Bundle | Monthly Price |
| International bolt-on | Reduced rates from 1p per minute | £3 |
That 'from' is key though, as some locations cost more, and mobiles often cost more than landlines, though prices are still less than they would be without the bolt-on.
You can call landlines in the US, Australia, and China for 2p per minute for example, and in the US and China you'll also pay 2p per minute to call a mobile – but it goes up to 12p per minute for mobiles in Australia. The full list and prices can be found here.
Sky Mobile
For just £3 per month, Sky Mobile lets you add its 'International Saver' service to your plan. This is similar to O2's service, in that it gives you a discount on calls and texts to over 60 destinations, however, unlike O2's varied rate, on Sky it's a flat (albeit often higher) rate of 5p per minute whether calling landlines or mobiles.
Sky Mobile International Add-on

| | | |
| --- | --- | --- |
| Add-on | Bundle | Monthly Price |
| International saver | 5p per minute to mobiles and landlines | £3 |
Texts for what it's worth are mostly 10p, but for some places they're just 6p. The full list is similar to most other international calling schemes, but can be found on page 20 of this document.
Lyca Mobile
Lyca Mobile is a similar prospect to Lebara Mobile, in that international minutes are included as standard with most plans.
However, there's a wider selection of plans and they don't all include international calls to the same places. Some only include one or two countries, like India, which is ideal if you only really want to call those places, while others give you minutes to use in 41 destinations.
You can see the full list here, but there's a lot of overlap with other networks, meaning most of the key places are included. As with Lebara you can also get unlimited international minutes on some plans.
VOXI
VOXI has a '100 International Minutes Extra' add-on that you can purchase for £3 per month and which gives you 100 minutes to use in 100 destinations. This is very similar to one of Vodafone's offerings, which is no accident, as Vodafone runs VOXI. However, VOXI doesn't have the other international calling options that Vodafone offers.
VOXI International Add-on

| | | |
| --- | --- | --- |
| Bolt-on | Bundle | Monthly Price |
| 100 International minutes | 100 minutes | £3 |
Included locations for the 100 International Minutes add-on can be seen here, but it covers the likes of the US, Thailand, Russia, India, much of Europe, and more.
Conclusion
Depending on your needs you might find any of the above international calling options good, but there are a few things to note.
In terms of sheer number of inclusive locations, Vodafone and O2 are the winners – with Vodafone winning overall for having more international add-ons available.
If you don't want to worry about an add-on and just want to have the international minutes come as standard, then Lebara or Lyca Mobile are the obvious choices – they (along with Three) are also the ones to go for if you want unlimited minutes (though EE comes close with 1,000 minutes).
Meanwhile, if you want to keep the core cost low, then O2, Sky Mobile and VOXI are good bets, as they all have options that are just £3 per month, though in the case of VOXI that doesn't give you many minutes, while in the case of Sky and O2 it just gives you discounted minutes – so the price goes up as soon as you start making calls.