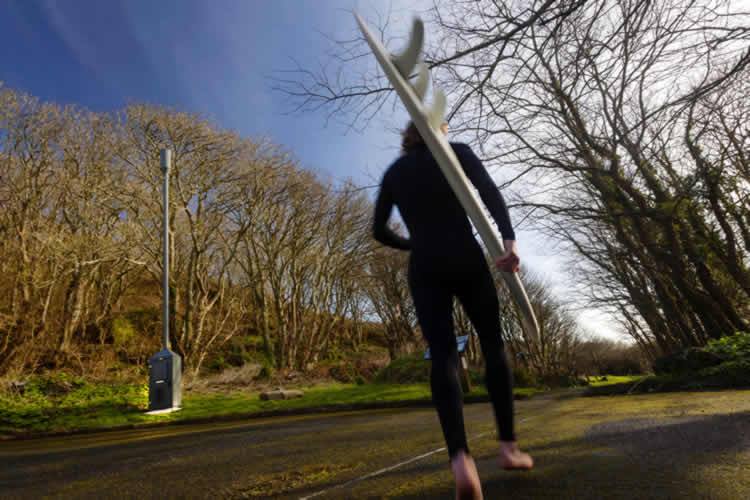 Mobile masts are needed to deliver 4G data, but they're not always desirable, as they're large, often ugly and can stand out in otherwise scenic locations. But Vodafone has deployed a solution to that problem – the UK's first 4G mini mobile mast.
The mast, which was installed in the village of Porthcurno on the Cornish coast, provides mobile data speeds of over 200Mbps – enough to smoothly stream, quickly download and do anything else that residents and visitors to the area would have previously wanted a Wi-Fi connection for.
The mast also delivers a strong voice signal, and even provides 4G coverage on the beach, yet it's just eight metres high when fully extended, which is roughly half the height of the shortest standard mast.
That makes it far less visible as it doesn't tower over everything else. In fact, it's not really any more of an eyesore than a lamp post, especially as it can be painted to blend in with the environment and doesn't require a large technology cabinet to be installed alongside it.
Vodafone notes that these attributes make it ideally suited for areas of Areas of Outstanding Natural Beauty, which otherwise might have had to go without 4G connectivity.
Quick to install
But the mast, which was developed in partnership with CommScope (an infrastructure technology company) could also be suitable for the likes of retail parks, rural hotels and tourist attractions, and it also benefits from being relatively quick to get up and running, taking around six months, which is roughly a third of the time a standard mast takes.
Vodafone UK's Chief Technology Officer Scott Petty said: "We're working hard to connect customers across the UK and our new mini mast will help provide 4G in places where other networks struggle to reach, while minimising the visual and environmental impact. It forms part of our major investment in our network and services to provide our customers reliable coverage where they live, work and travel."
Although only one such mast has been installed so far, it's easy to see how 4G mini masts could be a big part of Vodafone's network going forward, especially as rural and scenic locations are often currently the most lacking for mobile connectivity.
The construction of a 4G mini mast is just one of many ways Vodafone has recently improved its network, with other recent upgrades including the roll out of 4G in Innerleithen and improvements to its infrastructure at Gatwick Airport.