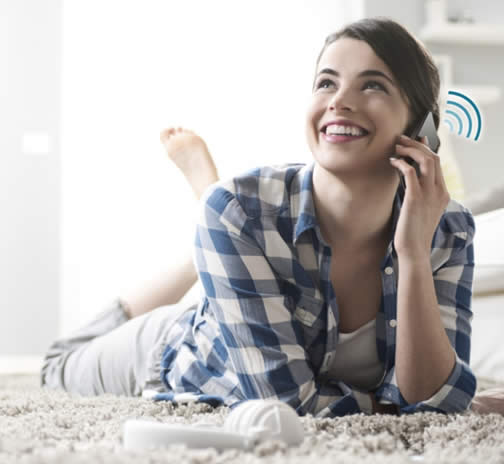 VoLTE (or Voice over LTE) is the ability to make and receive calls and also text over 4G. There are many advantages to it, which we've covered elsewhere, but they include higher quality calls with richer, more accurate audio, faster connections to calls, improved battery life, the ability to make and receive calls in more places and faster call connections.
Most major UK networks are working towards VoLTE, but they don't all offer it yet. So read on to find out which networks offer it now, how you can get it and when other networks will be rolling it out.
Three
Three is the first and currently only UK network with a live VoLTE service. Called 4G Super-Voice, the service uses Three's newly deployed 800MHz spectrum, which is long range and good at penetrating walls.
4G Super-Voice should be a seamless experience, simply using 4G networks to connect calls when available and it's already available to over 50% of the UK population indoors, with plans to bring it to 65% by the end of the year and to as many as 5.5 million customers by 2017.
However as well as being a Three customer in an area with 800MHz 4G coverage you also need to have received a software update to enable 4G Super-Voice and so far those have only been sent out to Samsung Galaxy S6, Samsung Galaxy S5 and LG G4 owners.
But by the end of the year it's expected that the iPhone 6s, iPhone 6s Plus, iPhone 6, iPhone 6 Plus, Samsung Galaxy S6 Edge, Samsung Galaxy S4, Samsung Galaxy Alpha, Samsung Galaxy A5, Samsung Galaxy A3, Samsung Galaxy Note 4, Samsung Galaxy Note 3, LG G3, HTC One M9, HTC One M8 Microsoft Lumia 735, Microsoft Lumia 640 and Huawei Honor 6+ will get it too.
EE
EE had originally planned to launch VoLTE before the end of summer 2015. That hasn't happened but it still aims to have a live VoLTE service before the end of the year and it must be getting close as it's begun nationwide trials.
It should be worth the wait too, as the network claims that the only reason it's taking longer than planned to roll it out is that it wants the service to be as good as possible when it does launch, with a goal of a dropped call rate of just 0.1%.
Vodafone
Vodafone doesn't have a VoLTE service yet either, but like EE it plans to launch one soon. It also predicted a summer 2015 launch, which hasn't quite happened, but we expect it will arrive before long. For the time being though we can't get much more precise than saying it's likely to arrive sometime this year.
O2
O2 is likely to be the last UK network to launch VoLTE, with trials set to run between October and December 2015 but a commercial roll out not expected until sometime in 2016.
Of course the network's impending merger with Three could see it well served for VoLTE ultimately anyway, but don't expect to be enjoying 4G calls on O2 any time this year.