If you have a laptop that you want to get online when away from home or the office then a mobile broadband dongle such as the Vodafone K5161 could be the ideal solution.
It's a simple, highly portable device that can provide a 4G-powered internet connection to Windows and Mac computers.
It has a lot going for it – including the lack of reliance on either a battery or mains power, but it's not without its limitations, so read on for a full review and overview.
Design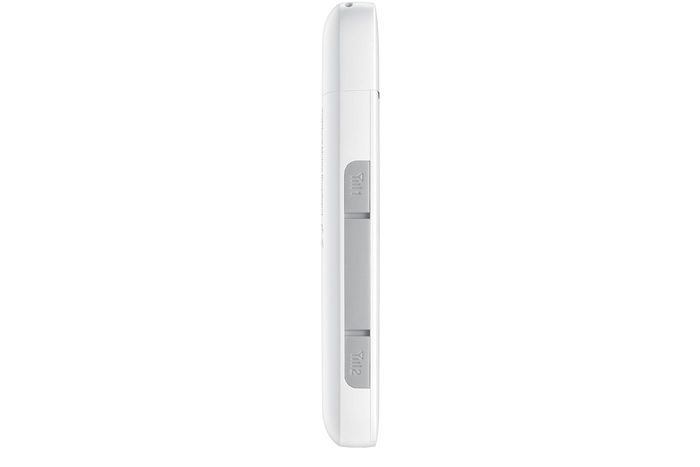 The Vodafone K5161 looks like most other dongles, which is to say that it looks like most USB sticks, because that's essentially what it is – a small 88 x 28 x 11.5 white oblong that plugs into the USB port of a computer.
That tiny size (and super-light 35g weight) means it's even more portable than typical mobile broadband devices. You can just chuck it in a bag or pocket and forget about it until you need to use it. If you store your laptop in a bag then you could simply store this alongside it, as it should easily fit.
Setup
Setup is about as simple as it gets since you just plug the Vodafone K5161 into your computer for instant connectivity. And it works with all devices running Windows 7 or later, or Mac OS X 10.9 or later, which in other words means it should work with the majority of laptops and desktops.
Of course, given that it's designed to be portable it will in most cases be laptops that you use it with – though if your Wi-Fi is ever down at home then it could be a handy backup for your desktop too.
Performance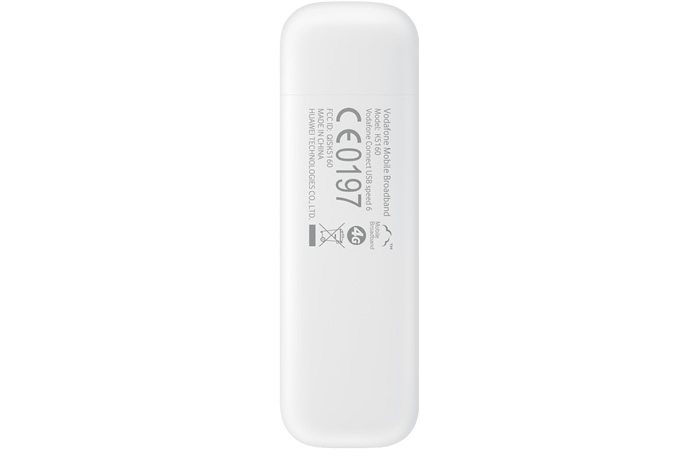 The Vodafone K5161 is a Cat 4 device, supporting download speeds on 4G of up to 150Mbps and upload speeds of up to 50Mbps. Those are solid speeds, though of course they're nowhere close to what you'd get on 5G or the fastest wired broadband connections.
Those are also the peak speeds, so in most situations your actual speed will be quite a lot lower, but should still generally be fast enough for most internet tasks. That's assuming you have a 4G connection, but Vodafone's 4G network covers over 99% of the UK population, so you should do in most places.
Unlike some other mobile broadband devices such as the Vodafone R219, the Vodafone K5161 can only get one device online at once, and since it has to be plugged into a USB port it only works with devices that have those – and more specifically only Windows and Mac devices.
That's quite limiting, but on the flip side it also doesn't need a battery or mains power, since it's powered by the device you plug it in to. So you don't need to worry about charging it, which is really handy.
Features
The Vodafone K5161 is light on extra features, but it does have a microSD card slot, so you can essentially add storage to the devices it's connected to by putting a card in. As it's a portable device it also gives you an easy way to move files from one computer to another – essentially giving it functionality more like a normal USB stick, though you'll have to buy a microSD card separately to do this.
Alternatives
If you're buying from Vodafone then the main alternative is the Vodafone R219, which is what you might want to opt for if you want to get more than one device online at once. This offers the same speeds as the K5161 but it can get up to 10 devices online at once wirelessly – which also means you're not limited to computers. Tablets, consoles, and anything else that supports Wi-Fi is fair game too.
However, that also means it has a battery that needs charging, and it's inevitably larger, making it slightly less portable.
On the dongle front, there aren't any other options from Vodafone at the time of writing. There are alternatives elsewhere, such as the Huawei E3372, but this again offers similar performance (in fact it seems the Vodafone K5161 might just be a rebranded version of this), so there's not much to choose between them or most other 4G dongles.
Plans
The Vodafone K5161 is available on both 30-day and 12-month plans, with the latter obviously having a lower monthly cost for the same allowances.
In both cases you can get a range of data up to unlimited, but do note that Vodafone has capped speeds on some of its unlimited plans. For uncapped speeds paired with unlimited data you need an 'Unlimited Max' plan.
Prices at the time of writing range from £6.67 per month plus £16.67 upfront for 2GB of data on a 12-month contract, to £27.50 per month and £25 upfront for unlimited data on a 30-day Unlimited Max plan.
Conclusion
The Vodafone K5161 is a very standard, conventional 4G dongle. That's no bad thing. It does everything it needs to and with the addition of a microSD card slot even a little bit more.
Its main issues – other than the lack of 5G or the fastest 4G specifications – stem from the very fact of it being a dongle – namely the limited number and type of devices you can connect it to. But if you mostly just want to get a laptop online then this is an ideal option.