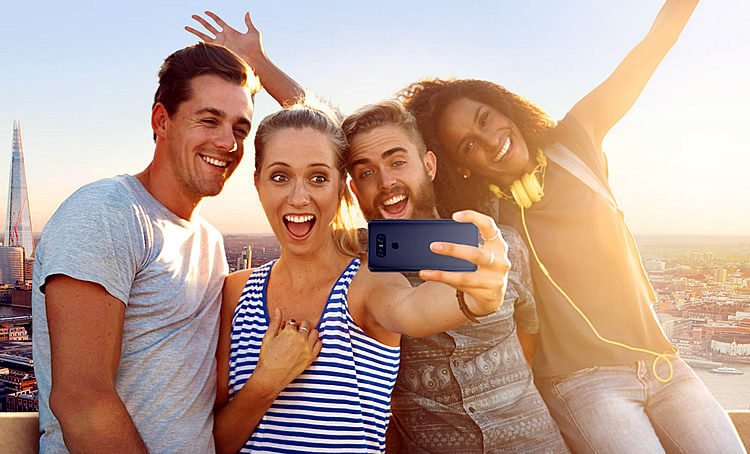 Vodafone recently announced a restructuring of its approach to roaming charges, with the result that customers can now use their phones in 40 popular European destinations without charge.
If you're a new or upgrading Vodafone customer signing up to one of the network operator's pay monthly plans on or after April 12 2017, you'll automatically be able to take advantage of the new Vodafone Global Roaming initiative. This promises to make using your mobile phone abroad much more affordable.
Vodafone Global Roaming covers 209 locations, 100 of which now offer sizeable savings. Most notable are Vodafone's 40 'Roam-free' countries, which equates to most of Europe plus Turkey. You can now use your phone in these countries exactly as you would at home, with all of your text, data, and call allowance intact - but at no extra charge.
In addition to Vodafone's new Roam-free areas are 60 'Roam-further' territories, which include popular non-European destinations such as the US and Australia. Vodafone customers can now take their UK call, data, and text allowance on holiday with them to these territories at an extra charge of £5 per day.
Vodafone also covers 109 so-called 'Extra Roaming' countries, which enable you to use your phone at standard roaming rates (see below).
Besides reducing the cost of roaming, Vodafone claims that it offers 'un-throttled 4G roaming' in more countries than any other UK mobile network. This means that Vodafone customers are more likely to get full 4G connectivity whilst using their phones abroad.
Vodafone Roam-free destinations
Vodafone claims that its 40 Roam-free destinations cover 80 percent of its customers' overseas trips each year. Here's the list in full:
Albania (4G), Austria (4G), Belgium (4G), Bosnia, Bulgaria (4G), Channel Islands (Jersey, Guernsey), Croatia (4G), Cyprus, Czech Republic (4G), Denmark (inc Faroe Islands) (4G), Estonia (4G), Finland (4G), France (4G), French West Indies, Germany (4G), Gibraltar, Greece (4G), Hungary (4G), Iceland (4G), Isle of Man (4G), Italy (inc Vatican City) (4G), Latvia (4G), Liechtenstein, Lithuania (4G), Luxembourg (4G), Malta, Monaco (4G), Netherlands (4G), Norway (4G), Poland (4G), Portugal (incl. Madeira) (4G), Republic of Ireland (4G), Romania (4G), San Marino (4G), Slovakia (4G), Slovenia (4G), Spain (incl. Canary Islands) (4G), Sweden (4G), Switzerland (4G), Turkey (4G)
Vodafone Roam-further destinations
Vodafone's Roam-further destinations include 60 popular non-European destinations. These are as follows:
Anguilla, Antigua and Barbuda, Argentina, Aruba, Australia, Barbados, Bermuda, Bonaire, Brazil, British Virgin Islands, Canada, Cayman Islands, Chile, China, Colombia, Congo, Democratic Republic of Costa Rica, Curacao, Dominica, Dominican Republic, Ecuador, Egypt, El Salvador, Ghana, Grenada, Guatemala, Guyana, Haiti, Hong Kong, India, Indonesia, Israel, Jamaica, Japan, Kenya, Lesotho, Mexico, Mozambique, New Zealand, Panama, Peru, Puerto Rico, Qatar, Russia, Saba, Serbia, Singapore, Sint Eustatius, Sint Maarten, South Africa, St Kitts and Nevis, St Lucia, St Vincent, Suriname, Thailand, Trinidad & Tobago, Turks & Caicos, Uruguay, US Virgin Islands, United States of America
Vodafone Extra Roaming destinations
Vodafone's Extra Roaming territories include much of the rest of the world. Vodafone customers using their phones in these countries will be subject to the network's standard roaming rates. Those territories are as follows:
Afghanistan, Armenia, Azerbaijan, Bahamas, Bahrain, Bangladesh, Benin, Botswana, Brunei, Cambodia, Central African Republic, Chad, Fiji, French Polynesia, Gabon, Georgia, Honduras, Iran, Iraq, Ivory Coast, Jordan, Kazakhstan, Kuwait, Macedonia, Malaysia, Moldova, Mongolia, Montenegro, Montserrat, Nicaragua, Niger, Nigeria, Pakistan, Palestine, Papua New Guinea, Paraguay, Philippines, Rwanda, Samoa Western, Solomon Islands, South Sudan, Sri Lanka, Swaziland, Taiwan, Tajikistan, Tanzania, Togo, Tonga, Uganda, Ukraine, Vanuatu, Venezuela, Yemen, Zambia, Algeria, Belarus, Bolivia, Cameroon, Guinea, Guinea-Bissau, Korea, Kyrgyzstan, Laos, Liberia, Macau, Malawi, Mauritania, Mauritius, Morocco, Myanmar, Oman, Saudi Arabia, Senegal, Seychelles, Sierra Leone, United Arab Emirates, Uzbekistan, Andorra, Burkina Faso, Burundi, Cape Verde, Gambia, Libya, Mali, Namibia, Nepal, Tunisia, Vietnam, Zimbabwe, Angola, Belize, Bhutan, Comoros, Cook Islands, Cuba, Djibouti, Equatorial Guinea, Ethiopia, Falkland Islands, Greenland, Lebanon, Madagascar, Maldives, New Caledonia, Saint Helen, Sao Tome and Principe, Syria, Timor, Turkmenistan