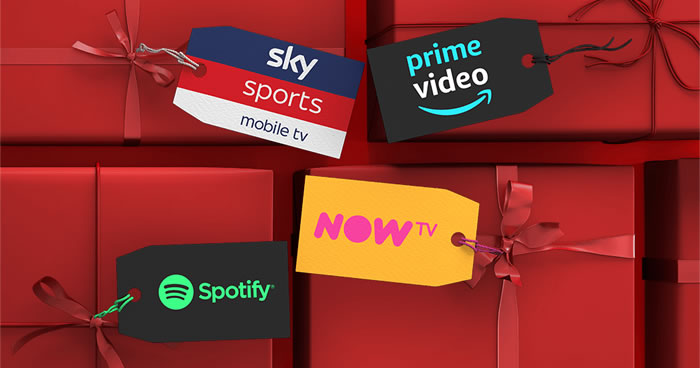 Vodafone offers some of the most compelling extras with its Pay Monthly and SIM Only smartphone plans. Namely, you can get a bundled subscription to an entertainment service of your choice.
Below we'll explain which entertainment services are available, which plans they're available on, and everything else you need to know about Vodafone entertainment packs.
What entertainment packs can I choose from on Vodafone?
Right now on select plans Vodafone will let you choose between a subscription to Amazon Prime Video, Now TV Entertainment, Spotify Premium and Sky Sports Mobile TV.
Amazon Prime Video includes a wide mix of TV shows and movies, including exclusives such as Jack Ryan. Now TV Entertainment is all TV shows, all the time, with over 300 box sets plus access to many channels, including Sky Atlantic. Spotify Premium puts millions of songs at your fingertips, and Sky Sports Mobile TV offers live sport, including Premier League football, Rugby, Boxing, NFL and more.
So in other words almost whatever kind of entertainment you're into, there should be something you'll like here.
Which plans come with entertainment?
You can get an entertainment pack with an Unlimited or Unlimited Max plan on Vodafone. The former is a plan with unlimited data at speeds of up to 10Mbps, while the latter gives you unlimited data at unrestricted speeds.
In either case they're a great partner for unlimited data, since you don't have to worry about using up all your data during a box set binge.
If you don't feel the need for unlimited data though then you can also get an entertainment pack with a 'Red' 20GB plan, which as the name suggests comes with 20GB of data.
However, entertainment packs don't come as standard with any of these plans, you have to specifically select an 'Unlimited with Entertainment' plan, an 'Unlimited Max with Entertainment' plan, or a 'Red 20GB with Entertainment' plan.
And these cost more than the same plan without entertainment. As such, the entertainment subscription isn't 'free', so much as it's bundled into the monthly price of your plan.
Though it's still generally cheaper than subscribing to one of these services separately. At the time of writing it costs £6 extra each month to add an entertainment subscription – we'll get to what these services cost separately below.
How long do the entertainment subscriptions last?
The entertainment subscriptions last as long as the contract, so if you get a 12-month SIM Only plan then you'll also get 12 months of an entertainment pack thrown in, while on a 24-month Pay Monthly plan with a phone you'll get – you guessed it – 24 months.
What else comes with an entertainment plan?
As well as a subscription to an entertainment service of your choice, you'll also get 100 UK to EU minutes thrown in on all plans that include entertainment.
How much are the subscriptions worth?
If bought separately, a subscription to Amazon Prime Video would cost £7.99 per month, while Spotify Premium would cost you £9.99 per month, Sky Sports Mobile TV starts at £5.99 per month, and Now TV Entertainment costs £8.99 per month.
So while they're not quite free on Vodafone they are generally cheaper than buying them individually, and that's before you factor in the UK to EU minutes.
If you're planning to pay for any of these services separately though then it is worth opting for the most expensive of them as a Vodafone entertainment pack, as you'll save the most money that way.