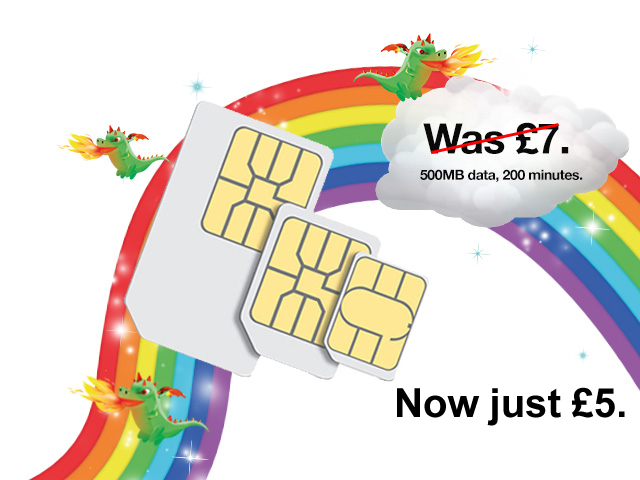 The most cost-effective mobile contracts, of course, tend to be those SIM-only plans that require you to provide the handset. Right now you can sign up for a 12-month Three Essential plan with 500MB of data, 200 minutes, and all-you-can-eat texts for just £5 per month. That's a saving of £2 each month.
We should point out that this plan doesn't include a Personal Hotspot facility, so you can't tether your laptop or tablet when you're away from a Wi-Fi hotspot. It also doesn't include Three's Feel At Home coverage, which lets you use your monthly plan allowance whilst roaming across 42 destinations worldwide. If you want those benefits added to the aforementioned SIM-only allowance, however, you can opt for the Three Advanced Plan at just £7 per month. Again, that's a saving of £2 per month.
If that data and minute allowance isn't sufficient for you, consider Three's range-topping Advanced Plan with 30GB of data and 600 minutes, as well as all-you-can-eat texts, Personal Hotspot and Feel At Home allowances. This plan offers the biggest SIM-only savings - at £20 per month you'll be saving £6 per month, or £72 over the entire 12-month span of the contract.
iPhone 7 deals for storage hunters
Perhaps your current phone isn't in any condition to last another 12 months, or maybe you feel it's time for an upgrade. Either way, the handset every smartphone shopper has to at least consider right now is the iPhone 7.
Apple's latest flagship phone comes with the brightest and most colour-rich 4.7-inch Retina display the company has ever made, as well as its most potent A10 Fusion processor and a class-leading 12-megapixel camera with optical image stabilisation. The iPhone 7 will even survive total water immersion, which is a particularly useful feature right now in the rainy UK.
Fortunately, Three has some excellent contract offers that will secure you an iPhone 7 as part of the deal. Simply choose any of its 24-month iPhone 7 Advanced Plans with at least 4GB of data, and you'll get an iPhone 7 with 128GB storage for the same price as the 32GB model. Just to drive home the extent of that saving, if you were to walk into an Apple Store today and buy an iPhone 7 outright, there would be a £100 difference between the 32GB and 128GB models.
If we were to pick out the one tier among Three's iPhone 7 plans that offer the best value right now, we'd have to direct your attention to the 8GB Advanced Plan. Not only do you get the aforementioned free 128GB model upgrade, but you also get a large chunk of money knocked off the monthly payments. At £45 per month, that's a saving of £9 per month over the usual price - or £216 in total over the entire 24-month contract.
All we'd say in conclusion is that these iPhone 7 offers are subject to stock availability, so swift action is advisable.