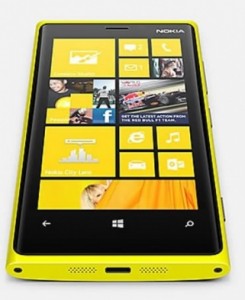 There is no doubt that the Nokia Lumia 920 is Nokia's best smartphone for many years and now we here that Nokia are claiming this is the World's best business smartphone. Looking at the video below we are not sure how Nokia claim the Lumia is the best business phone in the world.
What is very clear to us here at 4G.co.uk is that any business running Windows on its computer network, PCs, tablets etc. could very well benefit from having the same operating system upon its businesses' smartphones and tablets. There are obvious benefits by having outlook, exchange, powerpoint and word on both PCs and mobile devices – it just makes sense.
4G.co.uk reviewed the 4G enabled Nokia Lumia 920 when our reviewer concluded "Loads of features from the PureView camera; Crisp, vibrant display; simple solid design; excellent Nokia apps and wireless charging" and we awarded it 4 stars out of 5. The Nokia Lumia 920 4G review can be found here.
Nokia say the Nokia Lumia 920 and 820 are selling extremely well – particularly in America where AT&T are reporting very strong sales – but to-date we are not aware of any official figures from Nokia so can't really say how well it is actually selling.
We agree the Nokia Lumia 920 is a great 4G phone but we are not sure how Nokia say this is the worlds best phone for business but we can't say its not either – particularly for businesses that already run Windows for their PCs.