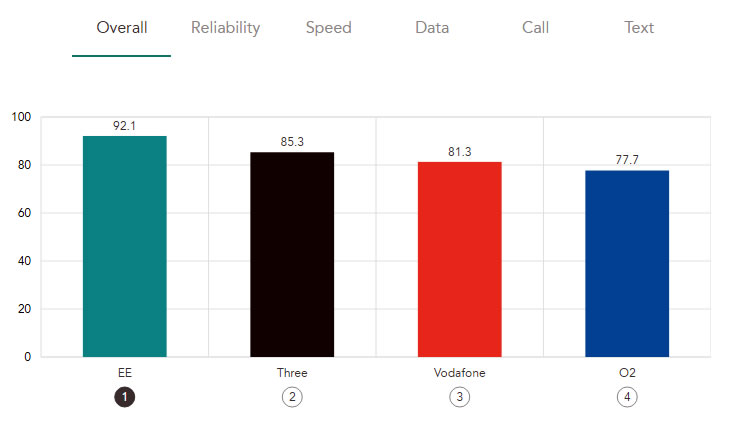 What can we expect to see from the UK's 4G networks in the first half of 2017, and what should customers be demanding?
One way to formulate a well-informed wish list is to look at credible reviews from the same period of last year. For example, late last year, telecoms analytics firm RootMetrics released a detailed report on the performance of UK mobile networks during the first half of 2016.
EE Wins Again
The overall winner was EE, which continues to offer the most extensive 4G network coverage in the country. Indeed, not only did EE come first in the Overall category, it also won each of the five distinct sub-categories of mobile performance that RootMetrics examines: Reliability, Speed, Data, Call, and Text.
EE also secured a clean sweep when breaking the results down according to the UK's four constituent countries, winning in each of England, Scotland, Wales and Northern Ireland.
That's not to say that EE has nothing to work on as we head deeper into 2017. Customers (whether current or prospective) should note that the network failed to secure a RootScore Award in one specific area: network reliability performance.
Three's Speed Needs Improvement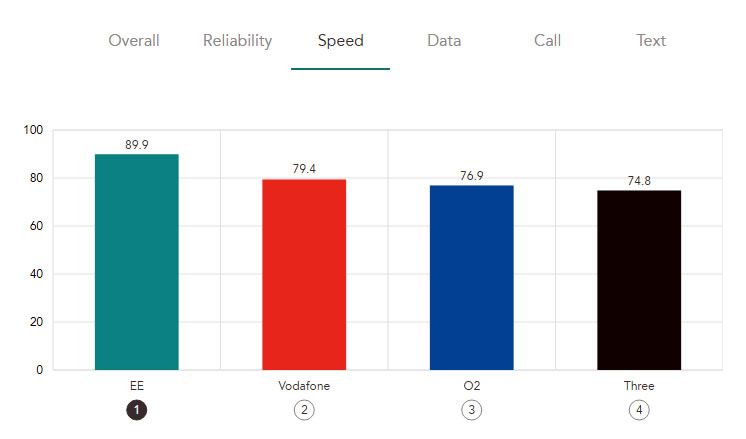 While EE remains the UK network to beat, there isn't a huge gap to Three in second place overall. The UK's smallest network landed behind EE in the Reliability, Speed, Data, Call, and Text categories. It also secured a RootScore Award for Network Reliability - which, as we've just discussed, was EE's one relative weak point this time last year.
Where Three customers should be demanding improvement, however, is in the speed of their network. In this particular area, the operator trailed all three of its rivals.
Vodafone Shown to be a Strong Contender
At first glance, Vodafone found itself in its natural position during the first half of 2016. The UK's third-biggest mobile network landed in third place overall. It was also third in Reliability and Data, second in Speed, and joint second in Text.
RootMetrics found Vodafone UK to be "strong in a number of categories" and much improved over 2015. Remember, though, that the network immediately in front of it (Three) is a smaller player in the industry, so Vodafone customers will expect these improvements to continue in 2017.
O2 Trails a Shade
Finally (in both senses of the word) we have O2. The UK's second biggest network ended up in last place overall. In terms of RootMetrics's Reliability, Data, Call and Text categories, O2 was the worst of the UK's four major networks in early 2016. It finished just above Three in third place for Speed.
In fairness to O2, RootMetrics points out that the network's underperformance has much to do with the sizeable improvements made by its rivals. O2's biggest weakness, moreover, lies in the performance and coverage of its 4G network outside of metropolitan areas. The network's customers - particularly those in rural areas - will do well to demand major improvements to their coverage throughout 2017.
Useful reading: How Fast is 4G read here.