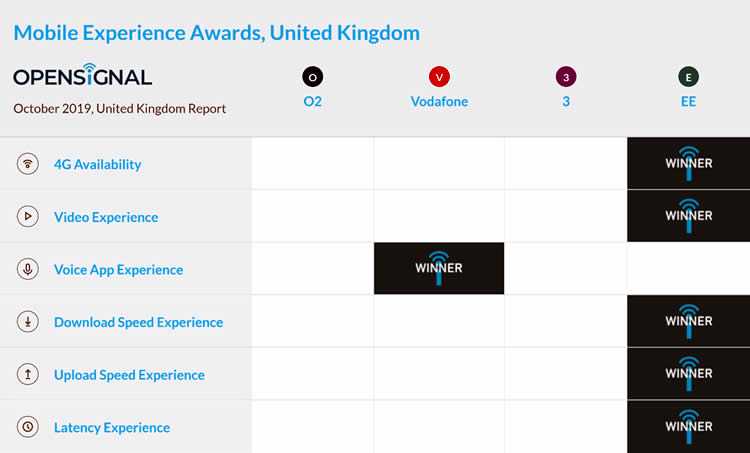 Ever since 4G first launched, EE has tended to top performance charts, and while Three, O2 and Vodafone have started to close in when it comes to things like coverage, they still can't match EE overall, as the latest report from Opensignal shows.
In a report period covering June 1st – August 29th, during which 1,289,618,186 measurements were taken by 500,220 devices, EE won five out of six national awards given by Opensignal.
These include '4G Availability', 'Video Experience', 'Download Speed Experience', 'Upload Speed Experience', and 'Latency Experience.'
| | |
| --- | --- |
| Network | 4G Availability |
| EE | 91.2% |
| Vodafone | 84.2% |
| O2 | 85.7% |
| Three | 76.2% |

For 4G Availability (which measures the proportion of time Opensignal users have a 4G connection), every network improved since the last report, but EE did so by the most, impressively crossing the 90% availability mark for 91.2%. O2's availability was boosted by the second most, putting it in second place overall with 85.7% national availability. Vodafone and Three only improved by a small amount each and came in at 84.2% and 76.2% respectively.
There's not much change for any network in terms of Video Experience. EE came out top with 68.4 points (out of 100), followed by Vodafone on 67.7, then O2 on 64.6, and finally Three on 62.5. So there's not much to choose in this category.
| | | |
| --- | --- | --- |
| Network | Combined Download Average | 4G Download Average |
| EE | 31.5Mbps | 33.7Mbps |
| Vodafone | 22Mbps | 25.1Mbps |
| O2 | 15.1Mbps | 16.9Mbps |
| Three | 18.2Mbps | 21.6Mbps |
Next up, Download Speed Experience, in which EE stormed ahead with an average combined speed of 31.5Mbps (and an average 4G speed of 33.7Mbps). Its combined 3G and 4G speed is almost 2Mbps more than on the previous report and puts it miles ahead of rivals. Vodafone managed a combined 22Mbps and a 4G average of 25.1Mbps, Three's combined was 18.2Mbps, while its 4G was 21.6Mbps, and O2's combined average was just 15.1Mbps, with a 4G average of 16.9Mbps.
It's a similar story for uploads. EE scored 8.2/8.9Mbps for combined and 4G speeds respectively, Vodafone got 6.7/7.8Mbps, Three managed 5.9/7.4Mbps, and O2 got 5.0/5.7Mbps.
All four networks improved their Latency Experience (which is a measure of the responsiveness of the network), but EE still edged the win, with an average of 39.2ms (where lower is better). Next up was Vodafone with 42.2ms, then O2 with 42.7ms, and finally Three with 50.6ms.
EE's not on top everywhere
EE also won the vast majority of these awards regionally. The only area where EE wasn't typically coming out on top was Voice App Experience, which is a test designed to measure the quality of voice apps, such as Skype and WhatsApp.
In this EE actually came last nationally, with a score of 76.0 (out of 100). Vodafone won this one with 80.2, followed by O2 with 78.9 and then Three with 78.4.
So the takeaways overall beyond the fact that EE is leading in most ways, are that Three seems to be struggling the most, but that all four networks are generally improving.
It will be interesting to see if 5G changes things. It's tempting to think EE will continue its lead, especially as it was the first UK network to switch on a 5G service, just as it was with 4G, but Three has the most 5G spectrum, so it could be placed to make a major comeback in the coming years.