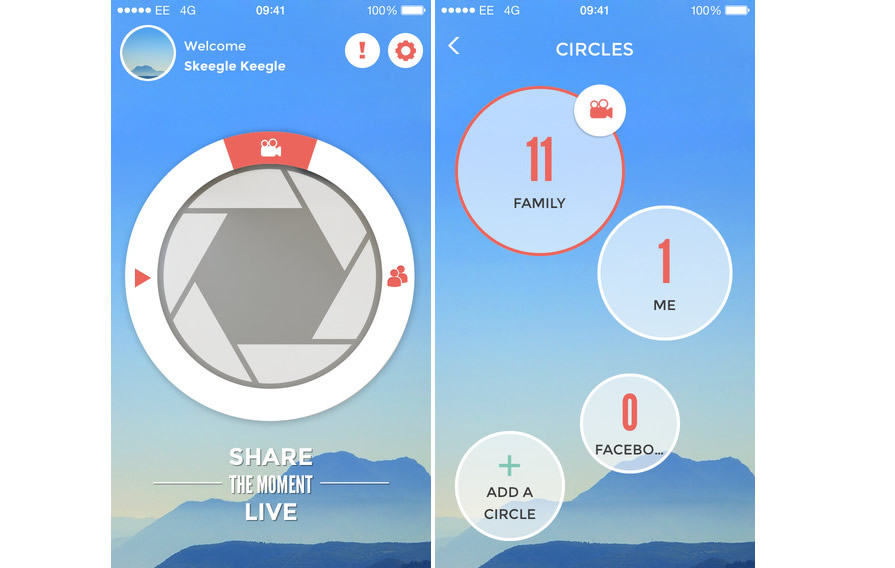 You may not have heard of Skeegle, but if EE has any say in the matter you likely will soon. The app is a new live streaming service from the mobile network and it's got a lot going for it and we've got all the information you need, from what it is and what it can do to how you can get it.
What is Skeegle?
Skeegle is a live streaming app. So it allows users to film with their phone and send a live stream of that video to others. That's not a new idea, in fact Periscope and Meerkat are both popular recent takes on it, but while they are typically open streams (which is to say anyone can watch them) Skeegle is more private, with only people of your choice being able to access the streams.
What can it do?
Aside from live video streaming not much. It's very much an app that's designed to do one thing, but it does it well, particularly when it comes to standing out from rivals with its privacy features.
Live video is of course all about immediacy, so you don't want to spend ages customising who can see each video. Skeegle makes that part easy as you can set up groups in the app, adding people from your phone book to them and naming each group. Then when you want to stream a video you can just select which pre-existing groups to share it with in a single tap.
Viewing streams is also simple. Anyone you've chosen to share a stream with will get an alert through the app when you're on air or if they don't have the app they'll be sent a text. Then they can view it either from the app or from a browser window, so viewers don't even need the app.
Although Skeegle is focused on live streaming there's no need to worry if you miss the action or want to relive it, as videos are stored in the cloud and can be replayed by the streamer or anyone they were shared with.
However the person who created the stream can always change who the replay is available for and even delete it.
How do I get it?
Skeegle is out now as a free download from the Apple App Store and Google Play. All you need to use it is a smartphone (ideally with a camera), running iOS 7 and above or Android 4.3 and above. It also works with the new 4GEE Action Cam. It's not currently available for tablets but it may be one day.
Do I need to be an EE customer?
No. Although the app was funded by EE it's available to everyone regardless of network. In fact EE's branding is absent from the app, so you could easily not even realise it was an EE creation.
How do I set it up?
Once you've downloaded, installed and launched Skeegle you'll be asked to link your Facebook account. Then you'll have to give it your phone number and verify it by entering a code the app will text to you. After that you're ready to start streaming, though you might want to set up some groups to share streams with first.
Does Skeegle cost anything to use?
It's a free service, but it requires data. Streams can be broadcast or viewed over 3G, 4G or Wi-Fi and a 10 minute live stream will use roughly 150MB of data to broadcast, so it's not too heavy on the data use but it's something to be aware of if you plan to stream a lot or have only a small data allowance.
Skeegle and the 4GEE Action Cam
Although you can use Skeegle with most iOS or Android devices it really seems to have been designed as a partner for the 4GEE Action Cam. The Action Cam is a GoPro competitor, so in other words it's a rugged camera designed to be strapped to helmets and handlebars so you can film your adventures. But unlike other UK action cameras the 4GEE Action Cam is 4G enabled, meaning you can upload your photos and footage instantly. Pair it with Skeegle and you can go one better and even live stream the action. So whether you're bungee jumping, mountain biking or hang gliding you can share the experience with your friends and family as it happens.
Checkout the 4GEE Action Cam in store
What else should I know about Skeegle?
Although anyone with a device which can receive an SMS message is able to view Skeegle streams you currently need a UK mobile phone number to create an account and broadcast them. However EE has confirmed that it will be launching the app in new countries soon.
You also currently need a Facebook account to log in to Skeegle, but alternate options will be added soon.
Are there any downsides to Skeegle?
As Skeegle is designed to be more private than the likes of Meerkat and Periscope it's not ideal if you want to share a stream with the general public.
It's also lacking a few features. For example there's no way to see who if anyone is viewing your live streams. But this and other features are likely to be added over time as Skeegle continues to evolve.