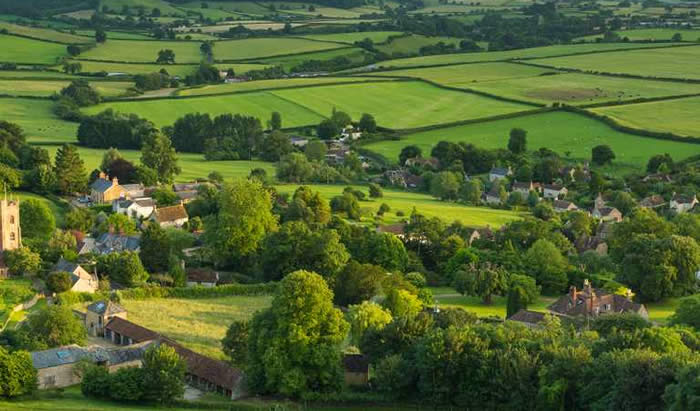 Broadband can be a troublesome thing in rural areas, particularly when sticking to standard or fibre broadband, as while these are often the simplest and fastest ways to get your home online in urban locations, they depend on you being near a telephone exchange or street cabinet, otherwise the speeds can plummet.
On top of which, broadband infrastructure isn't always upgraded as much in rural areas as urban ones, as with fewer potential customers it's not seen as a priority, so you might not even be able to get fibre broadband. All of which means you might be stuck with very slow standard or fibre broadband speeds, if you can even get them at all. But there are other ways to get rural broadband, with one of the best often being 4G home broadband.
This can still be a solution even if you don't get a 4G signal on your phone, and we'll explain why below. Then, we'll take a look at other rural broadband options, in case you've decided 4G isn't for you.
Rural 4G home broadband
4G home broadband means getting your home internet via a 4G signal rather than via fibre optic cable or phone line. You will have a 4G router that will wirelessly broadcast a network that all your gadgets can connect to. It's easy to set up (no engineer visit) and you don't need a phone line, so you could get rid of your landline and save some money.
If you have poor broadband speeds from standard or fibre broadband, but you can get a 4G signal on your phone, then chances are that 4G broadband will offer a better experience, but even if you have poor 4G phone signal as well, there's a good chance it will work and offer an upgrade on what you have now, thanks to specialist 4G rural broadband providers.
4G National Broadband (also known as 4G Internet) is a company that specifically focuses on providing 4G broadband where fibre doesn't reach – including rural locations.
It doesn't have its own infrastructure though, instead, the company will optionally connect a high gain directional antenna to your property which can latch on to outdoor 4G signals, broadcast on UK mobile networks.
It then amplifies those signals and transmits them to a 4G router inside your home. So if its antenna can potentially pick up 4G signal from any network, then this solution will work for you – and remember, as noted above, this antenna is a lot better at picking up signals than a smartphone is.
Depending on what coverage is like where you are though, the company might not even need to install that antenna – its 4G router might be enough on its own, in which case your setup costs will be lower.
4G National Broadband claims to be able to offer 4G broadband to over 99% of homes and businesses across the UK, so chances are it has you covered, and it advertises average speeds of 25Mbps at the time of writing, which will be better than conventional broadband in many cases. 4G National Broadband also offers plans with unlimited data, so you don't need to worry about your usage.
4G National Broadband

Unlimited data

12-month contract

£99 upfront
BroadbandShack offers a similar service to 4G Internet – its router can latch on to any 4G signal, and if needed an external antenna can be installed to boost performance. Its coverage therefore is similar to 4G Internet, with BroadbandShack claiming to offer 99% availability across UK homes and businesses, and the company also offers plans with up to unlimited data.
You can also go direct to a mobile network for your 4G home broadband. If you live somewhere rural, a service like 4G Internet or BroadbandShack is typically better, since it's not tied to a specific network, but if you know you get good 4G signal from one or more mobile networks, then you could potentially also get 4G home broadband from them.
At the time of writing, EE, Three and Vodafone all offer 4G home broadband. The tech involved and the end result is similar to the options above – you get a 4G router, and optionally an external antenna. But again, you'll be tied to the specific network you choose.
How fast is 4G home broadband?
4G speeds are variable, and depend on a number of factors. If you have 4G on your phone you should have some idea of what speeds to expect, but the good news is that if anything it should be slightly faster for home broadband, as your router will have a better antenna.
4G National Broadband advertises average speeds of 25Mbps, so that's in the ballpark of what you should expect in most cases, but speeds in some properties will be significantly higher.
Other options
While 4G home broadband will be the best alternative to standard or fibre broadband for many people in rural areas – even those who don't have good 4G coverage, there are other alternatives too. Below, we'll take a brief look at your other options.
Satellite broadband
Satellite broadband doesn't rely on infrastructure on the ground, you just need to get a satellite dish attached to your property, and – as long as your home has a clear view of the sky (which isn't usually a problem in rural places) – you should be able to receive a clear and uninterrupted internet connection.
Sounds good? Well, it can be, but it also tends to be an expensive option, and often comes with restrictive data limits. Plus, while speeds tend to be reasonable, the way it works – by sending and receiving signals to a satellite orbiting Earth – means latency is high, which in turn makes it no good for online gaming.
Fixed wireless broadband
Fixed wireless broadband involves a transmitter being installed in a village, which will then transmit internet to various connected homes and businesses. So if there's such a transmitter in your village, you may be able to pay to tap into this.
However, this won't be available in all places, and if your home isn't in line of site of the transmitter then it may not receive a good signal. Speeds and costs for this type of internet are also highly variable.
Bonded broadband
Bonded broadband is a brute force approach. It's essentially standard broadband internet, but it combines multiple ADSL lines to double (or more) your internet speed. It can have good results, but it's also often very pricey, and is typically aimed at businesses rather than homes.
Will rural broadband get better?
Absolutely, but how much better and how soon is a trickier question to answer. Infrastructure will continue to be upgraded and 5G will eventually start arriving in rural locations, giving residents and businesses access to 5G home broadband too (which is like 4G home broadband just faster). In fact, a small but growing number of rural areas already have access to 5G.
But because the return on investment can be low for internet companies in rural areas, many of them may never fully catch up with their urban neighbours.