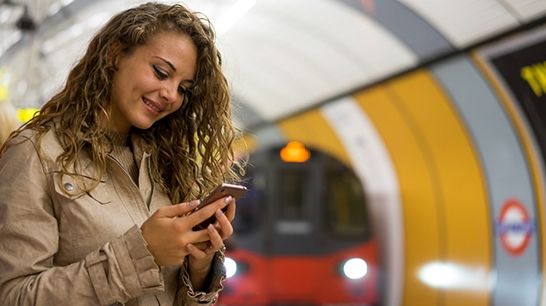 Millions of people use the London Underground every day, yet for the duration they're down there they won't have a mobile signal, leaving them cut off from the world, but that's all going to change.
Transport for London (TfL) has revealed that from 2019 you'll start to get a 4G signal when riding the tube, so you'll be able to get online both at the stations and when trains are moving through the tunnels.
This follows a successful trial of 4G which took place on the Waterloo & City line over the summer and included making calls from one station to the other without the signal dropping.
The next step is for TfL to choose a service partner, which it aims to do by 2018. Then the first stations will be connected from 2019, which suggests it might not be until 2020 or beyond that there's comprehensive coverage on the London Underground.
But it should be worth the wait. Most of the UK now has 4G coverage on one network or another, and most towns, cities and villages have it on all networks, but there are still some signal blackspots and the London Underground is perhaps the most significant.
The roll out of 4G will allow those on the tube to check their emails, browse the net, stream videos and music, use social media and stay in touch with the outside world, making a potentially dull journey a lot more enjoyable and productive.
And it's badly needed. Vodafone reports that it has seen usage of mobile data traffic increase by around 300 per cent in London alone over the last two years, so there's clearly a huge demand for mobile internet from those who live and work in London, not to mention tourists.
Of course, by the time the London Underground does get 4G the rest of the UK will likely be close to getting its first taste of 5G, but it's a big step in the right direction.