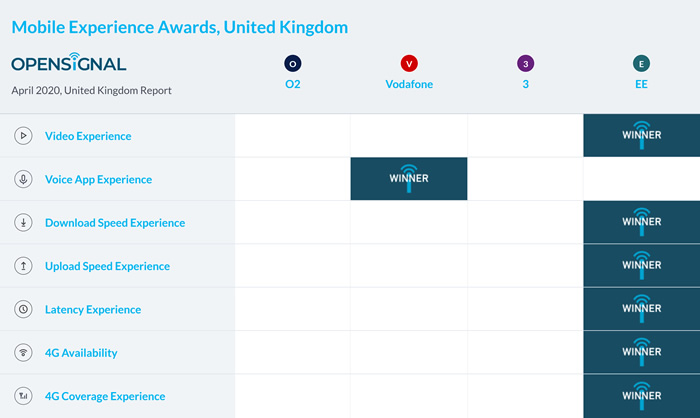 Opensignal regularly carries out extensive tests of the UK's mobile networks, and EE usually excels, with the latest tests being no exception.
In a report published in April 2020 but covering a period from December 2019 to February 2020, EE won six of the seven Mobile Experience Awards given away by Opensignal.
It won for video experience, download speed experience, upload speed experience, latency experience, 4G availability, and 4G coverage experience, only missing out on the voice app experience award, which was won by Vodafone.
Digging in a little deeper, notable points include the percentage of time 4G was available being 94.8% on EE, which is both far higher than rivals (all of which are at under 90%, with Three a distant last at 80%), and a significant 3.6% boost on a report from six months earlier, showing that EE is continuing to improve its 4G coverage substantially, even in the era of 5G.
Unsurprisingly therefore EE also leads for 4G coverage experience, though it's only slightly ahead of O2, with EE scoring a 9.6 (out of 10), while O2 scored 9.4. Vodafone and Three trailed with 9.0 and 8.6 respectively.
Faster downloads and uploads
EE also made big strides for download speed relative to rivals, with an average 4G speed of 35.9Mbps and an average overall one of 34.6Mbps. Vodafone is in second place but miles behind with an average 4G speed of 25.4Mbps and average overall of 23.0Mbps. In fact, EE has increased its lead over Vodafone by 2.1Mbps since the previous report.
Three and O2 are even slower, with average 4G/overall download speeds of 22.4/19.1Mbps for Three and 18.0/16.6Mbps for O2. Though it's worth noting that those are still respectable speeds and that all these networks now offer partial 5G coverage, which wasn't scored separately.
For upload speeds, EE led with a 4G average of 10.2Mbps and an overall average of 9.7. Vodafone was again second, this time with 9.1/8.2Mbps, followed again by Three with 8.2/6.7Mbps then O2 with 6.4/5.8Mbps.
Latency hasn't changed much since the previous report, but EE, Vodafone and O2 all have slightly better results, while Three's are slightly worse. EE leads here with an average of 37.4 milliseconds (ms), followed by Vodafone with 41.5ms, then O2 with 41.9ms and Three with 51.7ms.
Video and voice
For video experience, while EE won there too, all four networks performed well – and generally better than on the previous report. EE scored 75.6 (out of 100), putting it in the 'excellent' category, while Vodafone, O2 and Three were all considered 'very good', with scores of 72.4, 70.5, and 68.2 respectively.
Finally, the one category that EE didn't win: voice app experience. This basically measures call quality, with Vodafone coming out on top with 81.4 out of 100, closely followed by EE with 80.9, then O2 with 80.5, and finally Three with 78.8. All except Three fall into the 'good' category, with Three landing at the top end of 'acceptable'.
These measurements were based on 2,168,000,452 readings from 524,487 devices, so they should be fairly accurate, and it's no wonder EE came out on top across the UK, as it also won 68 out of a total possible 96 city-level awards and drew for another 27, with Vodafone being the only other network to claim a city-level award, and only winning one.