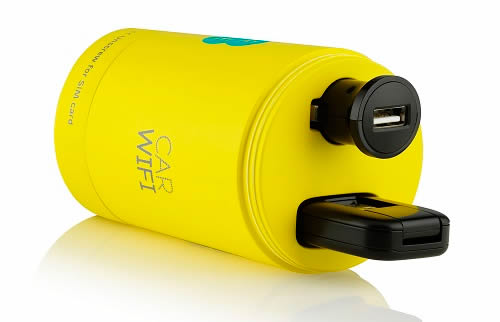 You probably know that EE is a big deal when it comes to 4G, with the most widespread network in the UK. You may also know that it offers mobile WiFi solutions using its 4G network, but did you know that it offers car WiFi as well? Read on for all the details.
What is it?
Car WiFi is basically what the name suggests- WiFi in your car, allowing you (or more likely your passengers) to enjoy a fast internet connection when on the move on any of their WiFi compatible devices, so not just phones but tablets, laptops and handheld consoles too.
That means everyone in the car can watch videos, listen to music, browse the net, check their social networks, email and more in what could otherwise be wasted time, keeping them entertained or giving them the tools to be productive. EE's even made a video about it, so you can see it in action.
How does it work?
Car WiFi from EE uses its 4G network, so you'll be getting the same coverage and similar speeds to if you browsed over 4G on an EE smartphone.
But it's more flexible than just using a smartphone, as you can also connect other devices like laptops and tablets. You do this by purchasing a Car WiFi device, which broadcasts a signal in the car, allowing multiple devices to connect to it, much like a compute or other device could connect to a WiFi network in the home or office.
Better yet, you can plug the car WiFi device into your 12 volt power socket, so it's powered by the car and won't run out of battery. It even has a USB port so you can plug other devices into it and keep them charged.
Plus it can connect to up to 10 devices at once, so even with a car full of people everyone should be able to get online.
What do I need?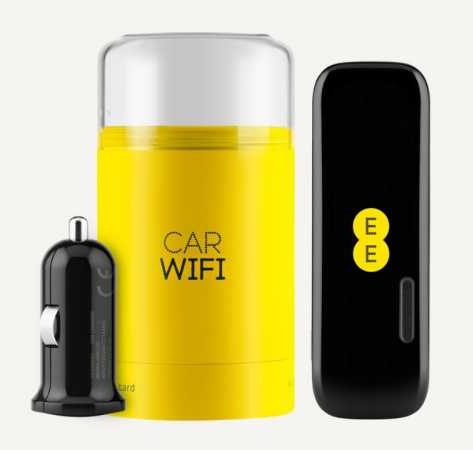 EE's first car WiFi device was called the Buzzard and it's followed it up with a new one dubbed, you guessed it, the Buzzard 2. The original Buzzard has now been discontinued, so it's the Buzzard 2 that you'll want.
The Buzzard 2 is available on either pay as you go or pay monthly. If you opt for pay as you go then of course you'll have to buy the device outright, which at time of writing costs £49.99, though it has a £104.99 RRP.
Alternatively you can get it free on plans starting at £10 per month for 24 months. For £10 you get 1GB of data, while £15 per month plans net you 3GB. There are also 30 day plans with the same cost and allowances, but these include a £19.99 upfront cost for the Buzzard 2 itself.
Then there are 4GEE Extra plans, which come with larger allowances and allow you to make use of EE double speed and 4G+. For £20 you can get 15GB of data, £30 will get you 25GB and £50 will net you 50GB and those are all on 24 month contracts with no upfront cost.
As with the standard tariffs there are also 30 day 4GEE Extra plans, with both the £20 and £30 options above being available, but carrying a £19.99 upfront cost for the device.
If you opt to get it on pay as you go then you'll have to top it up with data and there are only two options available here. You can either purchase 6GB of data, which will cost £49.99 and expire after 90 days, or you can grab 24GB, which will set you back £99.99 and lasts for a year.
Another option if you're already an EE customer is to share your mobile phone data allowance with EE car WiFi for £8 per month, but unless you have heaps of data this probably isn't a great idea.
Where can I use it?
You can use EE car WiFi anywhere you can get an EE signal. Currently over 75% of the UK population across 281 large towns and cities (plus thousands of smaller towns and villages) can get 4G from EE. Coverage in rural areas isn't quite so good, so if you're on a long drive you may well lose your connection at times, but it's getting better all the time and if there's no 4G available but there is 3G then it will switch to the slower speeds rather than cutting the connection altogether.
Plus EE is working hard to combat this by making sure major roads have 4G coverage and it's even installed 4G on the channel tunnel, so if you're crossing over to Europe you'll be able to get 4G all the way to France.
You can also use data abroad and if you're in Belgium, France, Canada, Germany, Italy, Luxembourg, Moldova, Netherlands, Norway, Poland, Portugal, Russia, Saudi Arabia, Spain, Switzerland or the United Arab Emirates you can even get 4G data, but to get any kind of data abroad you'll have to buy an add on.
Getting started
Once you've got the Buzzard 2 from EE just plug it in to your car's 12v power socket then press and hold the power button for two seconds until you see a static yellow or green light.
The device should come with a card with its WiFi network name and password, so once it's powered on just search for WiFi networks on the device you want to connect to it, select the one on the card and enter the password.
That's basically all there is to it, though if you're a pay as you go customer you'll then need to open your browser, which will take you to a registration page, so just fill that out and your SIM will be fully activated.