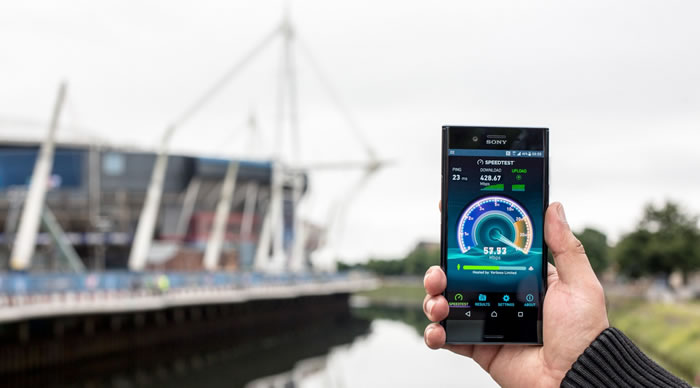 If you're on EE you'll know its 4G network is very fast, but it's capable of so much more, as the company has just demonstrated, by reaching download speeds of 750Mbps and upload speeds of 110Mbps.
Those speeds were demonstrated live at Wembley Stadium, and are more than twice as fast as the UK's fastest commercial fibre broadband. In fact, they're not too far off what we might be getting with 5G.
Of course, you're not going to quite reach those speeds in the real world, but EE is upgrading its network so that you can get far faster mobile data than currently. That upgrade work has already been completed in London's Tech City and Cardiff (where the network recorded real world speeds of 428Mbps), and EE plans to roll these network upgrades out to more major cities throughout 2017 and 2018.
So if you live in a city and you're on EE you could be in for a serious speed boost soon – and we mean serious. EE's typical 4G download speeds at the moment are under 40Mbps, while its double speed service tops out at around 60Mbps and even its 4G+ service only hits around 90Mbps.
Those speeds are high compared to rivals, but shooting up into the hundreds as has been demonstrated in Cardiff (or to 750Mbps as seen at Wembley Stadium) would be a quantum leap in speed.
Higher resolution and higher speed
You might be asking why you'd need all that speed? Well, EE's answer is that you can seamlessly stream 4K HDR content, or download large files in a flash.
The latter of those uses could be handy for anyone, but the former requires a device capable of playing 4K HDR video, which right now limits you to the Sony Xperia XZ Premium.
That, not coincidentally, is also the device that EE achieved these speeds on, as it also supports Gigabit LTE, a technology which allows for superfast data speeds and in this case is enabled by the Qualcomm Snapdragon 835 chipset at the heart of the Xperia XZ Premium.
So in other words you'll need a cutting-edge phone like the XZ Premium to even hit these new speeds, and to make the most of them for video streaming you'll need the XZ Premium itself, or to wait for other handsets to launch with 4K displays.
But even if you can't benefit right now, these network improvements show that EE is staying well ahead of the competition, so you can rest assured that if you're on the network you'll always have the best speeds available, even if your gadgets can't quite keep up.