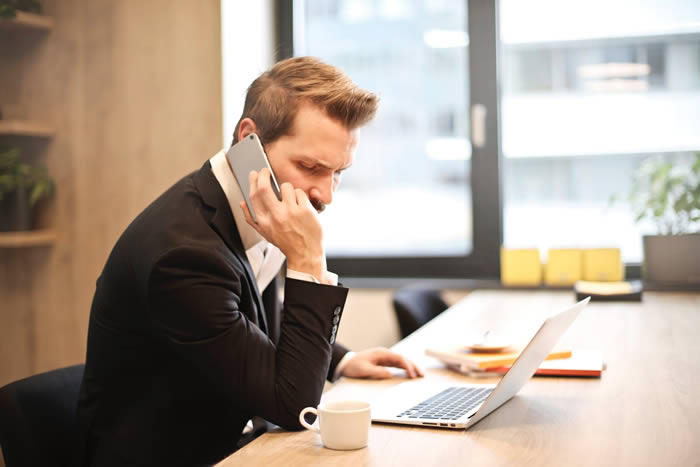 In this guide, we take a look at the very best SIM-only deals for business. We find the best contracts that offer a SIM for your existing device whilst delivering all of the calls, data, and features that you need.
In 2022, many companies no longer supply handsets for their employees, instead, they offer a SIM to put into existing devices. This saves money and offers flexibility as you aren't paying for a smartphone on the contract too.
So, if you are looking to supply SIM-only contracts for your employees, then you've come to the right place. We are going to look at the very best SIM-only deals from EE, Three, O2, Vodafone and BT Mobile.
Three – Best value for money
If you're looking for a great deal for a low price, Three has you covered. If you go for the 24-month Unlimited plan it's a steal at £15 per month. With that, you'll receive unlimited texts, unlimited minutes, and unlimited data. You'll also benefit from personal hotspot support, allowing you to use your phone to provide internet to other devices if there isn't any Wi-Fi available.
This Three SIM-only contract also includes 5G and roaming (with up to 12GB of data) in 71 destinations (at a cost of £2+ per day), covering Europe and beyond, so if your work takes you abroad it's a strong choice.
Plus, as well as the price being competitive, Three will beat deals offered by EE, Vodafone and O2 by at least £1 a month with its Price Promise.
Recommended Three Business SIM Deal

24-month plan

Unlimited data

Unlimited minutes

Unlimited texts

£15 per month
EE – Best for perks
EE's SIM-only business plans aren't the cheapest, but they are packed full of features.
Take the 24-month, unlimited data Business Full Works plan, which – you guessed it – has unlimited data, but also unlimited minutes and texts, 5G, 500 minutes to call Europe with, and additional Service Benefits and Smart Benefits.
For the Smart Benefits, you get a subscription to Apple Arcade and Apple TV Plus, along with a third benefit that you can choose, from a selection including Apple Music, BT Sport Ultimate, Microsoft 365 Personal, or an extra 500 minutes to call Europe from the UK.
And as for those Service Benefits, you'll get an annual device MOT, a lifetime guarantee (with a next-day replacement service at no extra cost), and the option to upgrade anytime (potentially at an additional cost).
In other words, this plan is jam-packed with features, and even EE's cheaper plans have some of these perks.
Recommended EE Business SIM Deal

24-month contract

Unlimited data

Unlimited minutes

Unlimited texts

£36.10 per month
O2 – Best for international calls
O2 offers a very impressive 5G SIM-only contract for those who often need to make calls/texts between countries. With its 20GB 12-month plan, unlimited minutes and texts are not just for the UK but include calling and texting Europe from the UK too (albeit capped at 500 of each for that). If you are often calling Europe for work, this contract really is a no-brainer.
Plus, this plan comes with free access to O2's Wi-Fi hotspots, data rollover, and access to offers and discounts through O2 Priority.
You do get slightly less data for more money than some other deals, but the Europe benefits do make up for this, it all just depends on what you need more. And you can opt for more data if you need, with up to unlimited data available (for £26 per month on a 12-month plan). The key thing to keep in mind when selecting one of these SIM-only contracts is exactly what will suit you, your business, and employees best. Is data, price, or international minutes more important?
Recommended O2 SIM Deal

12-month plan

20GB of data

Unlimited minutes

Unlimited texts

£18 per month
Vodafone – Best for travel
If you are constantly running out of data, Vodafone has one of the best SIM-only contracts for you. The plan offers unlimited 5G data along with unlimited calls and texts. You won't have to worry about data allowances while streaming music, movies or answering emails. It's ideal for being on-the-go when you might not have access to Wi-Fi, for example, when travelling.
Global roaming is also included in the contract with 83 roaming locations offered at no extra cost. That makes this an excellent choice if your business is global. The plan also comes with unlimited picture messages, device care, which includes device health checks and a valuation, and access to Vodafone's VeryMe Rewards app, packed with exclusive offers from other brands.
Vodafone offers a strong all-round contract that covers practically all bases. It's more expensive than some of our selections, but with everything that's included it's a very attractive offer.
Recommended Vodafone SIM Deal

12-month SIM-only

Unlimited data

Unlimited minutes

Unlimited texts

£32.50 per month
BT – A reasonable deal
Our BT selection might not offer the best deal out of the bunch, but it can be a great option thanks to the unlimited BT Wi-Fi provided. If you are looking to spend a similar amount to the other plans, you will receive slightly less data at – in this case - only 30GB. However, unlimited access to over 5 million BT Wi-fi hotspots could potentially make up for the lack of data.
The plan also includes unlimited calls and texts, which is standard in most SIM-only plans these days. As with many plans you can also use your allowances in the EU, which is great for business. You'll benefit from constant connectivity as your calls, texts and data will all work overseas.
Also, if you are looking for a new broadband or fibre plan for your business, you will receive £5 per month off your SIM-only plan if you get it through BT. That isn't a bad deal at all.
Recommended BT Business SIM Deal

12-month SIM-only

30GB data

Unlimited minutes

Unlimited texts

£24 per month
*note that all prices exclude VAT