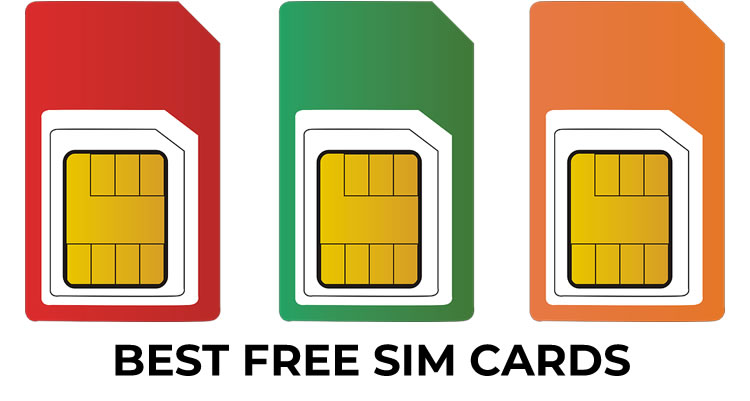 If you're shopping for a Pay As You Go SIM card you've got a whole bunch of options, with numerous networks offering them alongside numerous packs, prices, and perks. But what if you don't want to spend any money upfront?
In that case, your options are more limited, but there's still quite a bit of choice. To make things easier, below we've highlighted the best free Pay As You SIM cards available right now.
These are SIM cards that you can order without either buying a pack alongside them or paying for the SIM card itself – so they're completely free.
Three
Extensive roaming and exclusive discounts
With Three – and all of the following networks – you can either order a SIM card with no allowances and top up later, or you can order it pre-loaded with a pack or credit amount of your choice.
In the case of Three specifically, the available pack options top out at unlimited data, and 5G is included, so this can be seen as a premium Pay As You Go option. Lower allowances are of course also available, but all packs come with 5G.
Every pack also comes with unlimited minutes and texts, and you can roam for free in 71 destinations, with a 12GB fair use limit on data.
You'll also get access to the network's Three+ app, packed with exclusive offers and discounts from other brands.
Outside your pack you'll be charged 10p per minute, 10p per text and 5p per megabyte.
Vodafone
Data Rollover and weekly rewards
Vodafone offers a number of Pay As You Go bundles and they top out at unlimited data. That one and the 100GB bundle also support 5G, but the cheaper bundles don't.
You can also roam at no extra cost in 51 European destinations (up to a monthly fair use limit of 25GB), and other perks of Vodafone's Pay As You Go service include data rollover – giving you another 30 days to use the data in your bundle - and access to Vodafone's VeryMe Rewards service. This includes weekly treats, giveaways, and prize draws.
Bundles are the standard way to use Pay As You Go on Vodafone, and they're quite pricey compared to most Pay As You Go offerings (though you get quite a lot with them, as explained above). But Vodafone also offers Pay As You Go 1, which for £1 each day you use your phone gives you unlimited minutes, unlimited texts, and 50MB of data. So that's okay if you talk and text a lot but mostly stick to Wi-Fi for data.
Order free Vodafone PAYG SIM >
Asda Mobile
Low prices but capped speeds
If you're after a cheap Pay As You Go plan then Asda Mobile is a good choice, as its bundles – which top out at unlimited data – are less expensive than most alternatives. That said, be careful about which one you choose, as despite advertising 5G, some of the bundles cap your speeds at very un-5G like levels.
Choose one of those plans and you'll save additional money, but just make sure you know what you're paying for. The top bundle is uncapped though.
Outside of bundles, Asda Mobile's Pay As You Go rates are very reasonable too, with the network charging 4p per minute, 4p per text, and 4p per megabyte. Being so cheap there isn't much in the way of extras, but you can roam at no additional cost in 36 European destinations (up to a 25GB fair usage limit).
Giffgaff
A wide range of goodybags
Giffgaff isn't the cheapest Pay As You Go network or the most expensive, sitting somewhere in the middle, but what it does have is a wide range of goodybags that you can select from, so you have more choice over your allowances than on some networks. And yes, 5G comes as standard and unlimited data is available.
Choose to go without a goodybag and you'll pay 25p per minute, 10p per text and 10p per megabyte – which we wouldn't recommend. The goodybags (which all last 30 days) are much better value.
With Giffgaff you can also roam at no extra cost in 37 European destinations (up to a 20GB fair usage limit).
Order free GiffGafff PAYG SIM >
Lebara
Cheap rates and international perks
Lebara – like Asda Mobile – offers some of the very cheapest bundles that can be paired with a Pay As You Go SIM card. These also top out at unlimited data and include 5G.
But with Lebara – unlike Asda Mobile – there aren't any speed caps, and you also benefit from minutes that you can use internationally, to call 42 countries, so this is a great choice if you're regularly calling abroad. You can also roam in both the EU and India at no extra cost – with a fair usage limit of 10GB in India and a variable level elsewhere.
Asda Mobile is still worth considering over Lebara if you just want to Pay As You Go without a pack though, as while Asda Mobile is very cheap for that, Lebara charges 25p per minute, 19p per text, and 9p per megabyte.
What other networks offer Pay As You Go SIM cards?
While the options above are – in our opinion - the best free Pay As You Go SIM cards, they aren't the only options.
EE, O2, iD Mobile, Lyca Mobile and Tesco Mobile offer Pay As You Go SIM cards as well, and in the case of Lyca Mobile you can also get the card completely free of charge.
The others are technically 'free' too, in that the card itself won't cost you anything, but you will have to buy a pack or top up in order to get it, so you'll still be spending money during the order process.