Looking for an exclusive SIM Only deal that is actually cheaper than on Three themselves. Check out this super 4GB of data deal for just £9. This is a limited time offer so don't hang around too long.
This super deal costs just £9 per month, down from a standard price of £17 per month. That's a saving of £8 each month, which adds up to a massive £96 saving over the 12-month life of the contract.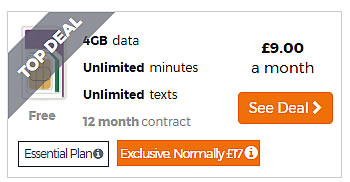 And this offer isn't just generous with data, it also nets you unlimited minutes and unlimited texts, so you can talk and text as much as you want, and browse and stream for hours on end.
If you're happy with your current phone or just want to save some money, the exclusive 4GB of data for just £9 is tough to beat – but it's only available for a limited time, so grab it while you can.