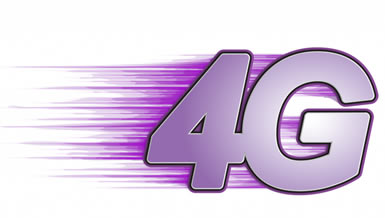 An overview of 4G mobile networks in the UK.
4G is the biggest thing to have happened to the UK mobile networks since, well, 3G and now finally every network has launched to some extent. But while the technology might be the same across networks you can still expect a very different experience depending on which operator you go with as coverage, pricing, speeds and extras all vary from network to network. So what's the current state of play? Read on to find out.
EE 4G
EE has really gone from strength to strength in its pursuit of 4G dominance. The network made the most of its head start and now has 4G capabilities in 160 towns and cities across the UK, accounting for more than 60% of the UK population. Better still by the end of the year EE plans to bring 4G access to 98% of the UK population.
Not only that but the network has also rolled out double speed 4G to 20 towns and cities and is even trialling quad speed 4G in London's Tech City, with a plan to start rolling it out nationally this year.
Additionally EE is working on bringing 4G to shopping centres, such as Manchester's intu Trafford Centre, which has been enjoying 4G connectivity since September. EE even plans to have 4G up and running in the channel tunnel this summer.
All of this investment in 4G has translated to more than 2 million active 4GEE customers and EE looks on target to reach 5 million subscribers by the end of the year.
EE used to be prohibitively expensive but even that isn't really the case any more as the networks prices have dropped. Now you can get a phone with 500MB of 4G data, 1000 minutes and unlimited texts from just £18.99 per month, though of course high end handsets and higher data allowances will cost more.
If you opt for a plan with unlimited minutes then you can also access a few extras, with a choice of either a Deezer streaming music subscription, 16 live TV channels available to stream on your phone or two free games every month.
O2 4G
O2 has only been in the 4G game for a few months but already it's brought the service to 13 cities and 120 surrounding towns. That amounts to roughly 17 million people, or 28% of the indoor population of the UK.
That still puts the O2's 4G network quite a way behind EE, particularly as it doesn't have any of the double or quad speed capabilities that EE offers, but there's time to catch up. Indeed the network plans to bring 4G to 98% of the UK by the end of 2015, so within the next two years just about everyone should at least be able to get standard speed 4G from O2, but that puts the network a year behind EE.
In terms of prices O2 starts out a little cheaper than EE, with handsets starting from £17 per month. That's not much less than EE's £18.99 but you get twice as much data (1GB) as well as unlimited minutes and texts.
O2's selection of extras is a little underwhelming though. You get exclusive offers through Priority moments and access to the Top 40 through O2 Tracks, but neither adds a substantial amount of value to your contract.

Vodafone 4G
Vodafone's status is currently much the same as O2's, because the two networks have agreed to share masts, so like O2, Vodafone has a live 4G network in 13 cities across the UK and aims to bring it to 98% of the UK population by the end of 2015.
Vodafone's 4G tariffs currently start at a rather steep £34 per month. But for that you get 2GB of data, unlimited texts and minutes and for a limited time Vodafone is also offering an additional 4GB of monthly data for the length of your contract.
Plus the network has some very compelling extras, as subscribers get a choice of either a Spotify premium subscription or a Sky Sports Mobile subscription.

Three 4G
Three has put in a slower performance so far. It didn't launch its 4G network until December, at which point it rolled it out to London, Manchester, Birmingham and Reading, but rather than giving all its customers in those cities access to 4G it limited it to just 3000 people, so it's more of a trial than a true launch.
At time of writing nothing has changed and there's no word on exactly when Three will rollout 4G properly, though the network has promised that 4G will be in 50 towns and cities by the end of 2014.
Three has also stated that 1.5 million of its customers who already have 4G enabled devices will be able to make use of 4G from sometime in February, but that surely still leaves a lot of customers high and dry.
On a more positive note Three is aiming to bring 4G to 98% of the UK population by the end of 2015, which is the same goal as O2 and Vodafone have. But the network has confirmed that major locations including Bangor, Swansea, Newport, Bath, Canterbury, Chester, Hereford, Lancaster, Lincoln, Salisbury, St Albans, Sunderland, Wakefield, Winchester and Worcester won't get access to 4G until 2015, so it won't just be small towns that are left waiting.
When Three does get its 4G network up and running properly there's a lot to look forward to, as it's bringing 4G to customers at no extra cost. There'll also be no need to sign a new contract and it's the only UK network to offer unlimited 4G data.
Summary
EE has been leading the way all along when it comes to 4G and that is still the case now. If anything the network is in a stronger position than ever as its once off-putting prices have now been lowered and the network has a greater range of tariff options than any of the competition and just as many tablets and phones to choose from.
O2 and Vodafone are on a fairly level playing field and are making reasonable progress, but they have a lot of catching up to do and O2's extras aren't all that interesting. Three meanwhile is yet to deliver much of anything, leaving it trailing last in the UK's 4G battle.
Looking to find out more about Double Speed 4G?