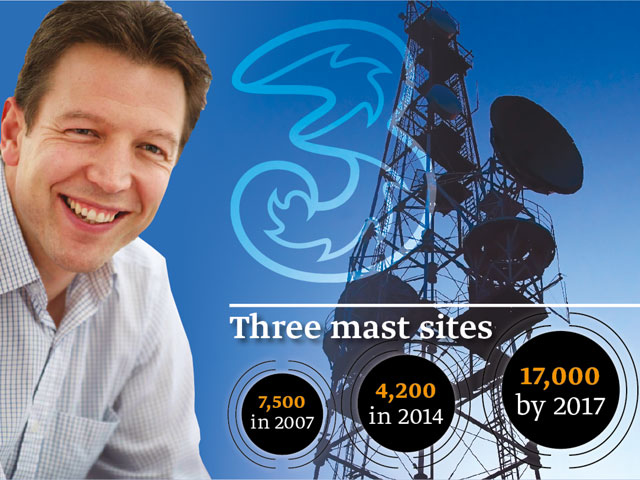 Like all the UK networks Three has big plans for the coming years. Vodafone's CEO Jeroen Hoencamp recently gave some insight into his networks plans and now Three's CEO, Dave Dyson, is doing the same.
In an interview with MobileNewsCWP, Dyson revealed several key areas of focus for its network. For one thing roaming fans have reason to get excited, because Three wants to make its Feel At Home service (which allows customers to use their minutes, texts and data abroad at no extra cost) to be available worldwide.
It's already available in 18 countries, accounting for around 65% of the trips that Three customers will make in the next year, but with EU plans to scrap roaming charges possibly being delayed to 2018 Three wants to extend that to 100%.
As for how that will happen, Dyson suggests that initially Three's InTouch service could be the answer, if that can be made to work abroad, as its allows for calls and texts to be made over Wi-Fi.
Dyson also revealed that his network is putting reliability ahead of speed. Three's average 4G speed is currently 18Mbps, which he claims is more than enough for the majority of its users.
So rather than pushing for LTE-A and the like, Three wants improved coverage and greater reliability and it's doing well on both fronts. Coverage has grown to 55% of the UK population and it's only going to continue to grow, with plans to increase mast numbers from 14,200 to 17,000 by 2017.
The network is also planning to launch VoLTE in the third quarter of 2015, which should boost its coverage for calls.
As for reliability the network is seemingly doing well there too, going from being the most complained about network in quarter 2 of 2012, to the least complained about in quarter 1 of 2014. Complaints can be down to more than just reliability of course, but that's likely to be a major factor.
All these improvements have seen Three's 4G subscribers grow steadily too, with more than 3.5 million customers accessing the network in the last 90 days. Dyson also made assurances that even if Hutchison's plans to acquire O2 go through that shouldn't affect its relationship with EE, with which it signed a three year deal in February 2014 to share infrastructure and help spread the costs of a 4G rollout.
Speaking of the O2 deal, if it does go through then Three's coverage could really skyrocket, as the network could gain access to O2's 18,500 masts, for around 35,500 in total.
With these reveals we're beginning to get a clear picture of how each network's strategy differs. Three is focussed on reliability and coverage, including the ability to use its service abroad.
Vodafone, as revealed recently by Hoencamp, isn't focused on speed either, but nor is it putting rapid expansion as a priority, instead it wants to make sure there's a strong, consistent signal in all of its 4G locations.
Vodafone is also putting a focus on content, with compelling extras like Netflix and Spotify Premium included with its 4G packages. Dyson touched on this saying that having an easy way to access content like this is handy, but the key for Three is ensuring the coverage is there, which makes sense, because without coverage a streaming service is useless.
EE hasn't been quite so vocal on is plans, but you can get an idea of its focus by looking at the state of its network now. For EE speed clearly is a priority, having launched double-speed 4G and LTE-A in select locations. The network is also ahead on 4G coverage, but that's largely thanks to launching before its competitors.
It feels positioned as a premium network, where it's not looking to be the cheapest but you get high speeds and loads of coverage for your money, while Three is aiming to be great value by offering 4G at no extra cost, unlimited data tariffs and free roaming and Vodafone is looking to extras to add value.
O2's position is less clear. It has none of the high speed LTE-A areas found on EE or Vodafone, less compelling extras than Vodafone and less obvious value than Three. At the moment it seems to be sitting in a murky middle ground, but if Hutchison Whampoa does buy the network then that could all change.