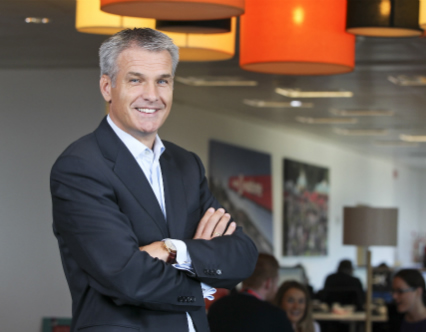 EE has consistently impressed us with its rapid 4G rollout, but it seems that Vodafone isn't even trying to compete when it comes to speed.
In a recent blog post Vodafone UK's CEO Jeroen Hoencamp elaborated on the firms 4G strategy and being the first to deliver nationwide coverage isn't part of it.
"It's not about who's got the most coverage," Hoencamp says. "It's more about having the strongest signal. We'd love to expand the network faster, but it's about doing it right first time; I'd rather do it at the pace we're doing and get it right, than try to go faster and build a thin and flimsy network. You can have a few sites here and there, but that would give you really patchy signal. We only turn 4G on when we have built or updated enough sites.
"So instead of just having 4G in the centre of a town and saying that the whole town has 4G, we don't say it's there until it's there. It's about us being able to prove that people are happy with it."
So Vodafone won't claim to have coverage in an area and potentially won't even turn 4G on in an area until its coverage is good there. That makes sense, as while you could argue that patchy coverage is better than no coverage it could also give users a bad impression of the networks 4G capabilities.
But it's not just rollout speeds that Vodafone is relatively unconcerned about, it's also not trying to deliver the fastest data speeds.
Hoencamp explains that "wherever we build 4G, we've proved that we can deliver great unbeatable 4G speeds and coverage, but it's not a race to have the highest speeds because when it comes to mobile, speed only gets you so far.
"We could build a network just to achieve massive speeds, but the reality is that you don't currently need anything beyond 20Mbps on a mobile device. Even for streaming video you only need a couple of megabits per second, so we think less about absolute speed and more about using that bandwidth to enable more customers to enjoy great content on the move, even in the busiest places and at the busiest times."
There's a certain amount of truth in that, but it ignores the desire to download large apps and videos. The extra speed may not help much when browsing or streaming but when uploading or downloading a large file it does. Such activity may well make up a small amount of mobile use, but it's still a factor.
Of course while Vodafone claims speed isn't its priority that hasn't stopped it bringing LTE-A to London, Birmingham and Manchester, allowing it to deliver some of the fastest speeds of any UK network in those locations.
One detail which we find surprising is that according to Hoencamp most mobile activity takes place indoors and so ensuring its indoor performance is strong is a priority. We'd have expected most people would use Wi-Fi when indoors, even if they're on a mobile device, while mobile data would get used more when outside or on public transport, but presumably Vodafone's figures are right.
Hoencamp is also aware that many people don't truly understand 4G, but for him that's not a problem.
"Many customers don't know what 4G is," he says. "Many customers don't care what 4G is. All customers want is consistency, so that wherever they go they have strong signal, so that they can do what they want wherever they are. And you want to know that it's really a step up from what you've seen before.
"So if you show people 4G as part of a big bundle with unlimited calls and texts, lots of data and content from Sky Sports, Spotify or Now TV Entertainment, then that's the way to do it. People tend to take technology for granted, so we need to make it seamless and easy for people to use, and worry free, so that they can forget about it."
It's a fair point and its part of why Vodafone has worked to ensure its extras like Spotify and Netflix stand out. As Hoencamp says "4G is the enabler: content is the real driver of what people do and care about. Customers shouldn't worry or care about the latest back end technology – they care about the newest handsets and what they can do on them."
Tell them that they can download at 150Mbps and the response might be quite muted, but show them Netflix running seamlessly on a phone with no Wi-Fi and that could get their attention, especially when that content is included in the price of the phone contract.
Finally Hoencamp touched on the future. He acknowledged that 4G may already seem outdated to some but that he is still hugely impressed by it and that whatever your views it's here for the long haul. Because to Vodafone 4G isn't a sprint but a marathon.
"We believe our 4G network is really futureproof." Hoencamp explained. "It's here to stay for a long time, but what we offer will always continue to improve. We'll add more content partners, and there will be new technologies overlaid which will make the network even better, and even faster. It'll never stop and we'll continue to make things seamless.