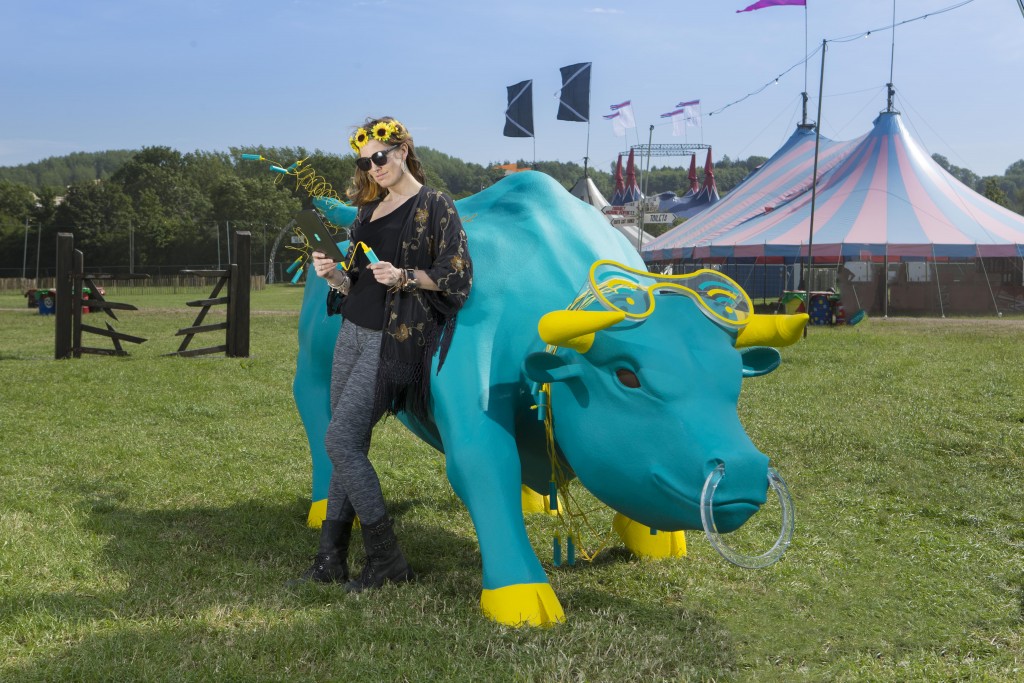 If you're a regular reader you're probably aware that EE is going to be keeping festival goers connected at Glastonbury this year, but the network has just announced the centrepiece of its on-site infrastructure.
Meet the 4GEE Charging Bull. This huge bull, decked out in EE's blue and yellow colours, is more than just an art installation, it also acts as a double-speed 4G Wi-Fi hotspot, keeping visitors connected a the highest possible speeds so they can stay in touch with the outside world and share all their photos and videos in a flash.
It's available to all for free, so if you're headed to Glastonbury keep an eye out for it near the main EE Recharge tent and Power Bar Exchange.
It's got another trick up its sleeve too, as it can also be used to charge EE Power Bars, which, as has previously been announced, are available for free to EE customers and can be exchanged on-site for a fully charged one if yours runs down and you don't feel like plugging it in.
But why a bull we hear you ask? Well, aside from the puntastic name it's also been inspired by a famous Somerset resident known as Field Marshall, which once held the title of 'Britain's Biggest Bull.'
Spencer McHugh, Director of Brand at EE, said: "As social media usage on our network continues to soar, we have worked with Glastonbury to deliver the most connected festival experience ever for 2015. As well as the EE Charging Bull there will be multiple public Wi-Fi hotspots on site for all to use and through our EE Power Bar Exchange service we are delivering the biggest phone charging operation of any music festival in the world.
We want to help everyone there stay in touch with friends and share every memory, using our innovative technology to get the most out of their experience at the UK's biggest music festival."
As well as Power Bars, the Charging Bull and public Wi-Fi hotspots, EE has also helped create the official Glastonbury app, which offers news, set times, live streams, maps and more and it's available to download now for free, whatever network you're on.
So don't forget to grab it before you set off. Then again you should easily be able to download it on site given EE's extensive infrastructure.