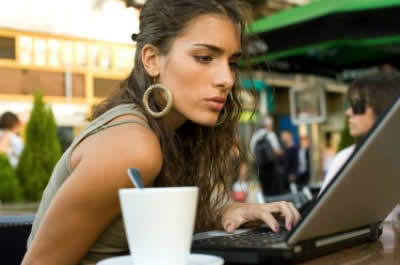 In news that should surprise no-one, Ofcom has found that 4G significantly outperforms 3G, but while that finding was to be expected the details are somewhat more enlightening.
Ofcom collected 120,000 test samples from Edinburgh, Leeds, London, Newcastle and Poole/Bournemouth between October and December 2014, seeing how each of the UK networks performed for download speeds, upload speeds, web browsing speed and latency on both 4G and 3G.
The average 4G download speed across all networks and locations was 14.7Mbit/s, which is more than double the average 3G speed of 5.9Mbit/s, though given that 4G is tipped to be around five times faster that's not actually that impressive.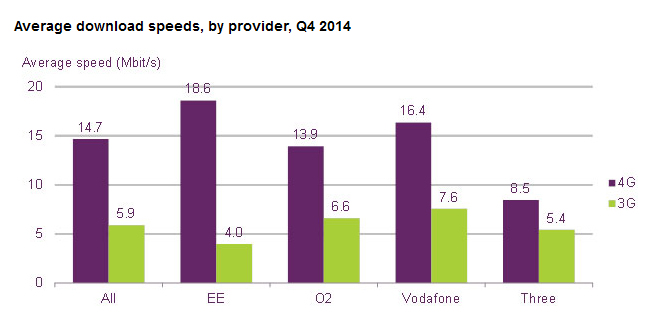 The difference in upload speeds is more impressive though, with 4G averaging 13.6Mbit/s, while 3G averaged 1.6Mbit/s, making 4G more than eight times faster.
There wasn't a huge difference in latency, with 4G reaching an average of 53.1 milliseconds (ms), while 3G averaged 63.5ms- with lower times being better.
However there's quite a difference again when we come to web browsing speed, with 4G taking on average 0.72 seconds to loads a standard web page, while 3G took on average 1.04 seconds.
If we look at how the networks fared individually EE offered the fastest download speeds in the areas tested, averaging 18.6Mbit/s, followed by Vodafone with 16.4Mbit/s, then O2 with 13.9Mbit/s and last of all Three with just 8.5Mbit/s.
However Ofcom noted that 97% of test samples across the four networks provided 4G download speeds of above 2Mbit/s, which is generally fast enough for high capacity video services.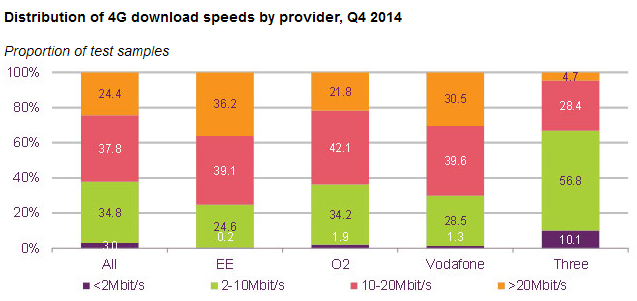 Surprisingly for web browsing speeds the results are flipped, with Three proving the fastest on average at 0.63 seconds to load a page, followed by O2 at 0.71 seconds, then Vodafone at 0.76 and EE at 0.77. Plus almost a third of EE's sample pages failed to load within 15 seconds.
When it comes to upload speeds the results are similar to downloads, as you'd expect, with EE taking the lead, followed by O2, then Vodafone and Three in last place. EE also had the lowest average latency, though Three was a close second, followed by O2 and then Vodafone.
Interestingly average 4G speeds actually appear to have dropped in some places since an earlier Ofcom test in June 2014, with Edinburgh reporting average download speeds of 16.8Mbit/s in June and 14.7Mbit/s in October-December. That's likely because of more people taking up 4G services, so as it grows in popularity there's a risk that average speeds could continue to drop.
Still, performance in the tests was mostly positive, regardless of location or network and certainly far better than 3G, which is the important thing. Soon 4G speeds will be in everyone's hands too, as EE's 4G network now covers 81% of UK homes and businesses according to the report, while O2's covers 66%,
Vodafone's covers 65% and Three's covers 53%.