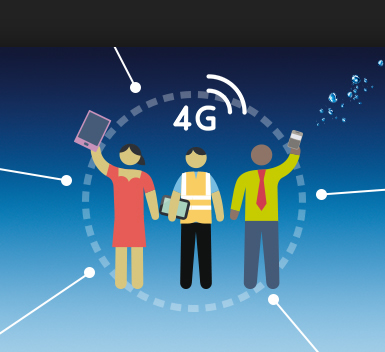 O2 has just hit a major milestone in its 4G rollout, with superfast O2 4G being switched on in its 500th UK town. Ipswich is the town in question and it means that O2 customers in the area can now surf the web, stream music and videos, shop, work and communicate faster and better than ever on their phones.
If you're an O2 customer in the Ipswich area with a 4G device then you should already be able to benefit from the roll out, as you'll already have been moved onto a 4G tariff at no extra cost.
Derek McManus, Chief Operating Officer, O2, said "This is a significant step in bringing 4G to our customers and is our fastest ever roll-out of new mobile technology. At the same time, we've been transforming the core part of our network to introduce new features to enhance our customer's experience such as HD Voice which brings higher and clearer quality sound to calls. We're also getting ready to launch new capabilities like voice and video calls over 4G in the coming months."
With the switch on in Ipswich O2 has now reached 70% outdoor 4G population coverage. It's a big moment for the network but it's just the start, as it's part of a £3 billion 5 year upgrade plan, set to bring 4G to the nation in O2's fastest ever roll out, with a goal of bringing it to 98% of the UK population before the end of 2017, while also modernising its existing 2G and 3G networks.
So expect to see more 4G in more places in the coming months and years, as well as an all-round more reliable network, for both voice and data.