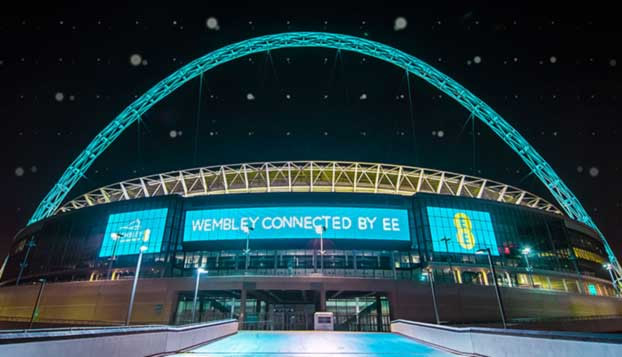 EE has made a lot of its partnership with Wembley Stadium, upgrading its 4G and 3G capacity, creating a Wembley app and rolling out mobile and contactless payment options, but now in a surprising move it's also used the partnership to launch a web series.
The show, which there's a trailer for already, is called The Wembley Cup and it's a ten part series starting on July 18th and running with three episodes a week until Saturday August 8th.
It stars famous YouTuber Spencer FC, who has nearly 700K subscribers and in this series sets out to form a team made up of other YouTube personalities with the goal of defeating a rival team at a football match in Wembley Stadium.

The rival team is headed by MiniMinter, another YouTube star with 2.5 million subscribers and in the run up to the showdown Spencer FC will put his potential team through a series of challenges, to help him decide which of them to bring out onto the pitch with him.
Highlights of the series will include a game of 'footgolf', where golf is played with a football, and a training session with professional coaches at the FA's National Football Centre at St George's Park.
The show will also see Spencer FC take on England star Andros Townsend at a football video game played out on Wembley Stadium's big screen. He's not the only famous face who'll make an appearance either, as Matt Le Tissier, Martin Keown, Ray Wilkins and women's under 23's England star Melissa Lawley have also been confirmed for the show.
Spencer McHugh, Director of Brand at EE, said: "We are always looking at exciting new ways to bring our Wembley partnership to life, and a collaboration with these phenomenally popular YouTube stars – who between them have over 25m subscribers and 3.5billion video views – seemed like the perfect opportunity to entertain their football-loving audience. An online series on this scale, involving 28 YouTubers and a host of sporting celebrities, has never been done before. We hope those tuning in will enjoy the completely unique content we've created with this ambitious project."
The show will be available to watch both on Spencer FC's YouTube channel and on EE's website and of course it will be viewable on 4G as well as Wi-Fi, so you can watch it whenever and wherever. If you're a real EE fan you could even tune into it on EE TV.