EE TV is here and it aims to bring television into the 21st century with a host of innovative, mobile-centric features.
What is EE TV?
EE TV is basically a Freeview box, but a very good and very innovative one, with a 1TB hard drive which you can record up to four programmes at once to, with space for up to 600 hours of standard definition TV or 300 hours of HD content.
There's also a 'Replay' feature which allows you to view anything that aired in the last 24 hours on six nominated channels, a 'Restart' feature which lets you skip back to the beginning of a programme that's part way through on any of those six channels, standard catch up and on demand services and parental controls.
Coming from a mobile network it also unsurprisingly has a host of smartphone and tablet features which are explained below.
How do my smartphone and tablet tie in to it?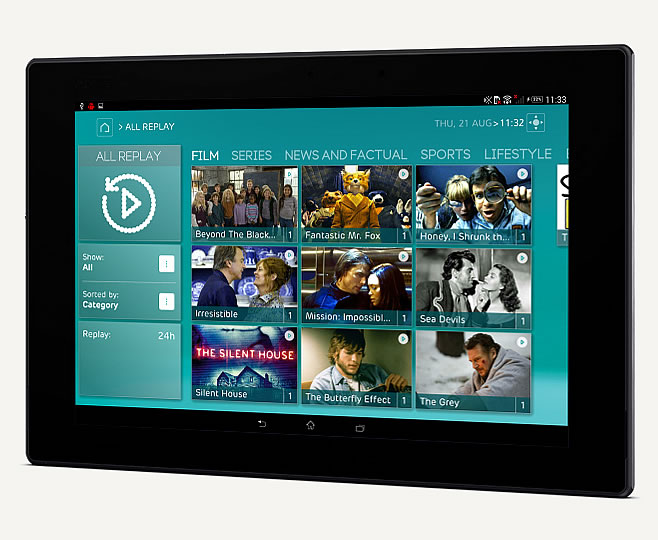 One of EE TV's best and most innovative features is 'Multi Screen', allowing you to view up to four different live or recorded programmes on your TV and three compatible phones or tablets, all at the same time.
So unlike most TV services you're not chained to your living room and the big screen, with just a single box allowing everyone in the family to watch what they want, where they want.
And you're not just watching, you can also pause, rewind and record content from any of these devices.
It's also easy to move from your phone or tablet to a big screen, as just by flicking your fingers across the screen towards your TV you can make it appear on the TV. You can see it in action in the video above.
You can also now bring content from your main TV to your mobile device with the 'Fetch' feature, you can't use gestures for this one, but a tap of the Fetch button or a tap of the screen if you're watching TV in the app will do it, as you can see in the video above.
As well as using the smaller screen of your smartphone or tablet to watch things on you can also use it as a high tech remote control for the EE TV box, allowing you to browse programmes without interrupting whatever's on the big screen.
You can also use your phone or tablet as a Companion Screen to pause or rewind whatever you're watching on your TV and set things to record from anywhere in your house, giving you far more power and flexibility than a conventional television remote.
Plus you can use your mobile device to pause or rewind whatever you're watching on your TV and set things to record from anywhere in your house, giving you far more power and flexibility than a conventional television remote.
EE TV's Companion Screen option will also display extra information about the show on your smartphone or tablet, let you enable subtitles and audio descriptions and includes a Share button to easily let friends and family on social media know what you're watching.
What channels are included?
EE TV comes with over 70 Freeview channels, 13 of which are in HD. Channels include BBC One, BBC Two, ITV, Channel 4, BBC Three, BBC Four, BBC News, Channel 5, ITV 2, ITV 3, Dave, More 4, Film 4, ITV 4, E4, Sky News and many more.
There are also on demand and catch up services, such as BBC iPlayer, YouTube and Wuaki.tv. Premium channels such as Sky Sports and Sky Movies can be added from just £3.99 per month.
Since launch EE has also added MUBI to the service, delivering a new film every day to subscribers, plus over 100 international and foreign language channels such as France 24 and Brazil TV have been added too.
My TV
Not only are there loads of channels, but finding content is easy with the 'My TV' feature, which lets you select your favourite shows and channels and then always be able to see at a glance what content you might enjoy, including both live and recorded shows. Check out the video above to get started adding programmes to your favourites.
This favourited content can be sorted in a variety of ways too, alphabetically for example, or by channel, date or category.
A powerful search feature makes hunting for a specific show easy too and with 'My Photos & Videos' you can easily browse local content and then send it to your TV, so you can see your photos and home movies on a big screen. Check out the video above to see it in action.
EE TV in action
There's a lot to take in, but in practice EE TV couldn't be simpler. Check out the video below for a more visual overview of all the key EE TV features.
How much does it cost?
The EE TV box is worth £300, but it's free with unlimited home broadband when customer's sign up for a new 18 month contract from £4.95 per month for six months then £12.95 per month, plus monthly line rental from £16.40. That offer is available to EE, Orange and T-Mobile customers.
How do I get it?
To get EE TV you'll need to be a pay as you go or pay monthly mobile customer with EE, T-Mobile or Orange and have an EE home broadband account. Then you can just sign up online or call EE's sales team to get hold of it.
What else do I need to know?
EE promises that EE TV will get better over time, with new channels, services and features likely to be added. In fact it's already had a bunch of new features added since launch, such as 'My TV', new channels and a Companion Screen mode. It's also easy to setup (just plug it in, enter your Wi-Fi password and scan for channels) and has an intuitive interface and loads of features, including some that are rarely seen elsewhere- such as being able to stream content to your phone or tablet.
It's worth noting that currently it's also entirely reliant on Wi-Fi, so you can't stream over 4G when away from home for example, but this is another thing that EE hopes to offer in the future.