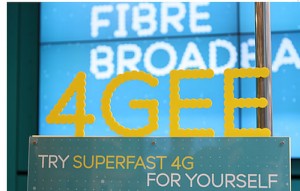 In a bid to reward their mobile customers for their loyalty, EE have announced some new broadband and call bundles that come at an appetising price point for existing customers of EE, T-Mobile and Orange.
There is a choice of six plans, all of which offer unlimited home broadband. You can choose between standard broadband of up to 14 Mbps along with weekend calls for just £5 a month, or upgrade it to anytime and mobile calls for £12 a month.
If you want faster broadband you can alternatively opt for fibre broadband capable of up to 38 Mbps along with weekend calls for £15 a month or 38 Mbps fibre broadband plus anytime and mobile calls for £22 a month.
If you still feel the need for more speed EE have a top tier option of fibre broadband that can manage a superfast 76 Mbps. Going for that along with weekend calls will set you back £25 a month while 76 Mbps fibre broadband plus anytime and mobile calls will cost you £29 a month.
The weekend calls option gives you unlimited weekend calls to other landlines and includes 0845 and 0870 numbers, while the 'anytime and mobile' option gives you unlimited landline calls seven days a week and also grants you 1000 minutes per month that can be used to call mobiles.
While anyone can take out these packages the above prices only apply to existing EE, Orange and T-Mobile customers. Everyone else has to pay £5 more. The prices also don't include line rental which comes in at £14.75 a month.
Sylvain Thevenot, Director of Home Marketing and Propositions at EE said:
"With summer holidays fast approaching and the whole family looking to get online, it's more important than ever that people have a superfast broadband connection to help keep harmony within the household. With our new best value unlimited fibre plans, we are not only making fibre broadband more affordable, but also making sure everyone can enjoy the Internet at the highest possible speed even when connected at the same time."
 - though that average is heavily weighted by standard broadband, take out fibre with anyone else and you can expect similarly impressive speeds.
However the £15 a month plus line rental starting price for unlimited fibre broadband and calls is currently the best monthly price in the UK for that speed. As we've said that price is only available for existing mobile customers, but if you fall into that camp it's well worth considering. Even better if you're not sure about it, until the end of June existing mobile customers can sign up to try it for free for three months. It's not totally free as you still need to pay the line rental and any out of bundle call charges, but that's all.